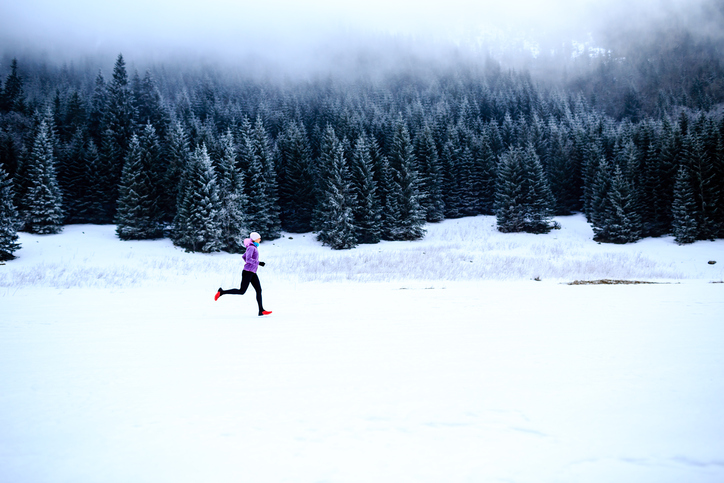 Shorter days. Cold, grey weather. Cozy pajamas. It's a wonder we get out of bed for work, let alone a workout come wintertime. But just because the temps dip doesn't mean you should put your workouts on hold — especially with big holiday gatherings just around the corner. Here are a few tips to combat those winter woes and help you get your sweat on!
1. Invest in proper gear.
Not only will the right clothes and shoes protect you from the elements — the extra splurge might motivate you to make the expense worthwhile. Plus, with the right apparel, there are few activities you can't do outside. So, what exactly should you stock up on? Sweat-wicking synthetic layers (not cotton, since it absorbs too much moisture), a wind-resistant and water-repellant jacket, and trail shoes with deep, slip-resistant treads.
2. Sign up for a race in 2017.
Love running? Commit to a half-marathon or an obstacle course race in March or April. That way, you'll be more inclined to stick to your workout schedule during December and January. Don't like hitting the pavement? There are plenty of casual 5k races to choose from. Case in point? The Color Run. A favorite amongst kids (and adults), this race is less about your 10-minute mile and more about having a blast. Runners are doused from head to toe in vibrantly hued, non-toxic powder at each kilometer marker. The only rule? Wear white!
3. Bring your cardio inside.
Rain, wind, and snow can provide less than optimal conditions for your winter runs, so consider a different kind of no-equipment cardio to beat the cold weather blues. Exercises like burpees, squats, and push-ups can easily be done indoors and require zero equipment.
But if you're looking for a fun program to end 2016 with a bang, Beachbody just launched CORE DE FORCE. It's a 30-day MMA-inspired workout that uses punch-kick combinations and straightforward bodyweight moves to help you burn fat, delivered to you by our newest Super Trainers, Joel and Jericho. And the good news? You can do it in your living room, den, or garage.
4. …Or embrace the chill.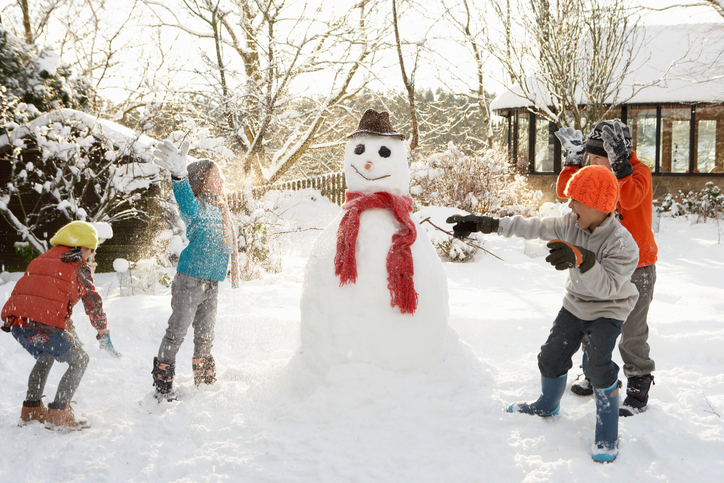 You might not realize it, but your favorite winter activities can also double as big calorie-burners. And we're not just talking about ice skating, snowboarding, or skiing. Bundle up and head outside for 30 minutes of shoveling snow, or more fun activities (think building a snowman, sledding, or starting a snowball fight with your kids), to get your blood pumping!
5. Swim.
No, not in the lake. Head to your local indoor swimming pool and dive right in! Not only does swimming give you an awesome total-body workout, but it can help you burn anywhere from 300–500 calories per hour. That's like a slice of pecan pie!
6. Embark on a high-tech treasure hunt.
This one is tons of fun for the whole family. If the weather isn't too frightful, head outside for "geocaching." The idea is simple: use your smartphone and GPS to connect to the internet and create a free account on Geocaching.com. Then choose the geocache you want to find and navigate to its location. While some are easy to hunt down, others are trickier. But one thing's for certain — you'll get your heart rate up while you explore your neighborhood!
7. Take up an indoor sport.
Got a competitive streak? Give a seasonal indoor sport a shot. From soccer and racquetball to basketball and dodgeball, there are plenty of leagues you can join at your local community center, high school, or college. Not only will you make new friends, but the weekly games and practices can help you stay on track.