In order to understand the power of Core De Force and Shakeology, read below.
"I'm so much more confident now."

"Who knew a little punching and kicking could make me so strong?"

"These workouts make me feel like a badass!"
These are just some of the comments pouring in on Core De Force, the new MMA-style fitness program from trainers Joel Freeman and Jericho McMatthews. That's because these workouts don't just burn tons of fat—they also make you feel powerful, strong, and confident!
The secret sauce is the combination of boxing, kickboxing, and Muay Thai moves, put together in a way that blasts fat all over, especially around your belly. You use your whole body to punch, kick, strike, and jab your way through 3-minute rounds. It's sweaty, and it's totally addictive…you learn to love the feeling that comes from facing a challenge, then beating it. And with Joel and Jericho on your side, you keep coming back for more.
The eating plan in Core De Force is also unusual, in that over time you actually increase your calories a little to keep your energy high so you can burn more fat. Cool, huh? And of course, pairing Core De Force and Shakeology is an essential part of the eating plan because it's such a great source of nutrition when you're working out hard.
But don't take it from us. See what these two Core De Force and Shakeology success stories have to say about unleashing their inner fighters and finding their confidence.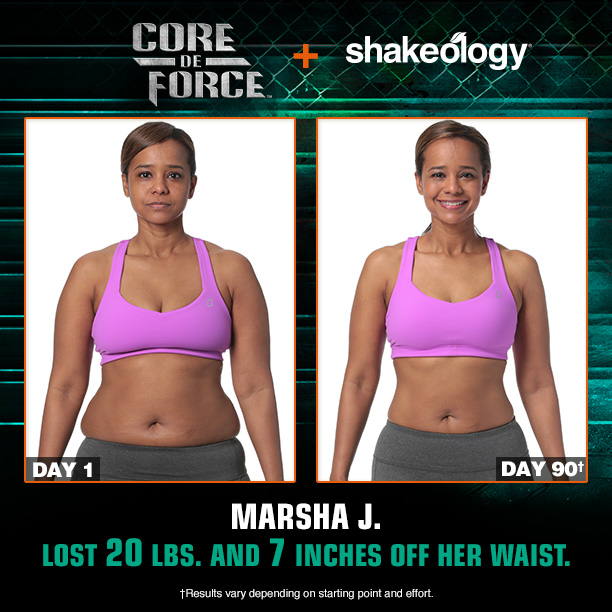 "Now I feel empowered to push through any challenge in my life."
"I needed a change. I was unhappy with my body and my health, and I felt defeated. My motivation was to lose the body fat and get back my 26-inch waist.
Core De Force is so effective because the workouts are fun, and they totally engage your mind and body. I learned about food and controlling my portions, and eating to fuel my body. Joel and Jericho are full of energy and helped me push past my comfort zone.
I love the boxing moves. The combinations are challenging and make me focus on form. And the bodyweight workout really improved my upper body strength and tone. I lost almost 30 inches all over my body. My waist is now 26.5 inches and I have definition in my abs.
I also learned to be open to new ideas and methods, and to try new things. At first I didn't think I needed Shakeology, until I realized it helped give me more energy and tasted great. It was nice to have a sweet treat daily, kind of like a little cheat.
My family and friends are so proud of me. But even more important, I feel strong and healthy and confident. Now I know that you can only give your best to others when you take care of yourself first!"
---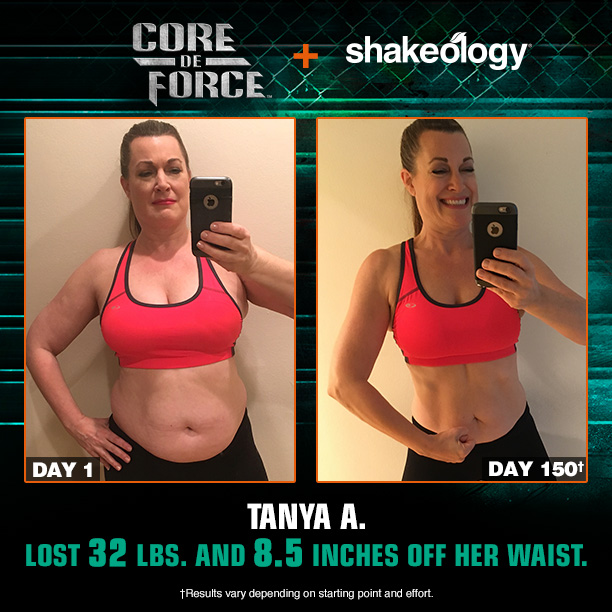 "Core De Force not only changed my body, it gave me strength to change my life!"
"After a rough couple of years I needed to reclaim my life and my fitness. I know what it's like to feel physically powerful, and I was definitely not that.
I had packed on a ton of weight in my midsection, I had no arm definition, and I hid under baggy clothes. Even though I had landed on my feet emotionally, I was ready to change my life physically, for me and my daughter.
I knew I was going to work hard and commit all the way with Core De Force. But seeing the inches start to drop off was surreal. I lost 24 pounds and 32 inches! My waist has shrunk, I have definition all over my body, I can shimmy into my skinny jeans. Now I'm showing my arms proudly.
I feel strong. I feel younger. I can honestly say that I feel "hot" again. I proved that I can kick butt, overcome challenges, and get results. I'm proud of that accomplishment, but even more proud that I've inspired my teenage daughter to get healthy and set her own fitness goals.
If a 52-year-old, flabby, business-owner single mom can do this, so can you.
The workouts are tough, but effective. They engage your entire body. I especially love all the kicking moves. Strength is sexy! And Shakeology definitely helps curb my hunger in between meals so I stay on track.
I'm proud of my transformation and I hope it inspires others to transform themselves. Don't give up! Whatever stage you're in, just start. Move. Everything after that is momentum, and it's contagious. Take command of your life. I promise you won't regret it!"
Want your own Core De Force and Shakeology to see if your results measure up? Click here!