Ready for a workout and nutrition combo that'll rock your world and make you feel like you can conquer anything? Then you're going to love Core De Force and Shakeology! Core de Force is our newest workout program! It fuses mixed martial arts–inspired workouts with bodyweight training and high-energy cardio to burn a ton of calories, slash inches off your waist, and basically turn you into a lean, mean fat-burning machine.
Trainers Joel Freeman and Jericho McMatthews took moves from boxing, kickboxing, and Muay Thai and created a series of 3-minute "rounds" that work your whole body, with special emphasis on your core. They also included strength workouts that use only your body weight (no equipment needed), plus active recovery and relief workouts to give your muscles a chance to relax.
So if you're dying to see a six-pack, or you'd just be happy to get rid of the muffin top and tighten your abs, Core De Force can help you get there. It's perfect for intermediate and advanced exercisers, but there's a modifier and move breakdowns to help anyone get up to speed fast.
As you'd expect, Core De Force comes with an easy-to-follow nutrition plan that includes Shakeology. Because you're going to appreciate that dense nutrition when you're punching and kicking and sweating the pounds off.
So what kind of results can you get from Core De Force and Shakeology? Check out Franquie and Glen, who left it all in the ring and came out winners. We think that's worth fighting for.
"Core De Force helped me take back control of my life."
"I knew I wanted to shed the extra pounds, but I was insecure and didn't have confidence in myself. I was depressed, and started to hide from family and friends. As I sunk further my weight kept going up, up, up.
When I started Core De Force I didn't even have a goal because I was so unsure of myself. But I was motivated to stick with it and not give up. I found that I love the pace of the workouts, and the way Jericho kept me engaged with her warm, friendly energy. And Joel was awesome and really cool, and he made me push harder than what I thought I was capable of.
Now I've lost a total of 41.5 inches. My midsection, my legs, my whole body has changed. Shakeology gave me the perfect boost to keep going with Core De Force. I had the energy levels I needed to keep pushing. I loved all the workouts, especially the MMA Skill workouts. Jab, cross, uppercut, uppercut…I even loved the Alligator Push Ups.
Core De Force is so effective because it works your whole body, and it's fast and fun. Bonus: it makes you feel like a total badass! I feel amazing and ready to keep going. I'm confident I can do it and I feel more energetic. More important, I feel like I'm back in control of my life."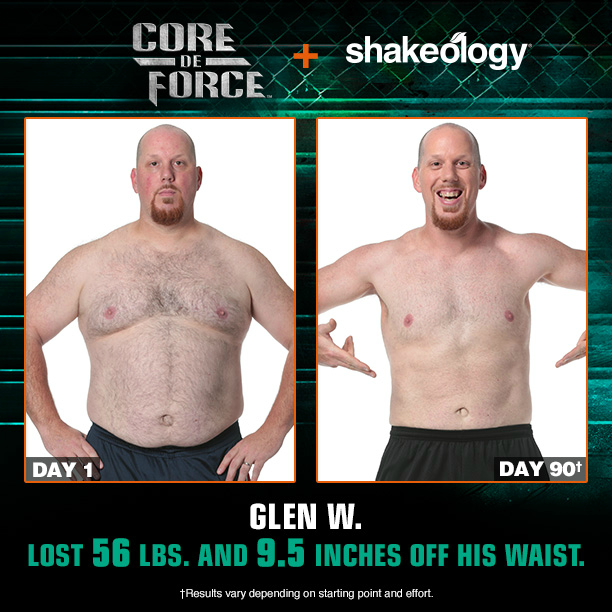 "Now I'm reliving my high school glory days."
"I used to be a 'big' chef that struggled with nutrition. I was depressed about my weight and starting to worry about my overall health. My original goal was to get down to my high school weight of 215 pounds. But when I was realistic, I decided that looking healthy and getting rid of my belly was the main objective. I just wanted to go to the beach with no shirt.
Everyone was skeptical about the program when I started. But now, I get such great compliments on my results. I've seen major changes in my abs, shoulders, biceps, triceps, quads—even my neck and even my jawline. I've motivated a lot of people to start their own transformations, too!
Physically I feel stronger than ever. I no longer fear push ups! The 3 minute rounds in each workout are awesome. I really enjoyed the pace and intensity level. By the end I rarely took breaks.  Jericho has great form, and reminds you to use full rotation in all your moves. She's a fighter! And Joel always brings energy and makes sure you give MAXIMUM EFFORT. He's a beast.
I loved drinking Shakeology during Core De Force. I felt that it helped me maintain my energy throughout my day. I will never forget this journey. This is just the beginning for me, not the end. Thank you, Core De Force!"