It's coming. Whether you're ready or not–it's almost Halloween! In order to make sure you aren't tricking yourself with not-so-good-for-you treats, we took the liberty to create a guilt-free snack made with Shakeology! Using healthy ingredients and Shakeology instead of processed, chemically enhanced ingredients delivers a dash of dense nutrition rather than a sprinkling of regret.
So you're on board, right? Shakeology makes everything you put it in a little more awesome. Okay, good.  Because while snagging a few candy bars (yes, even the "fun-sized" ones) may seem harmless, it actually is an unnecessary bump in the road. This year, truly treat yourself with our pumpkin-flavored, pumpkin-shaped Shakeology Jack-O-Lantern Protein Balls!  Who says you have to sacrifice festivities for health? Check out the recipe and make it for yourself! What do you think?
Shakeology Jack-O-Lantern Protein Balls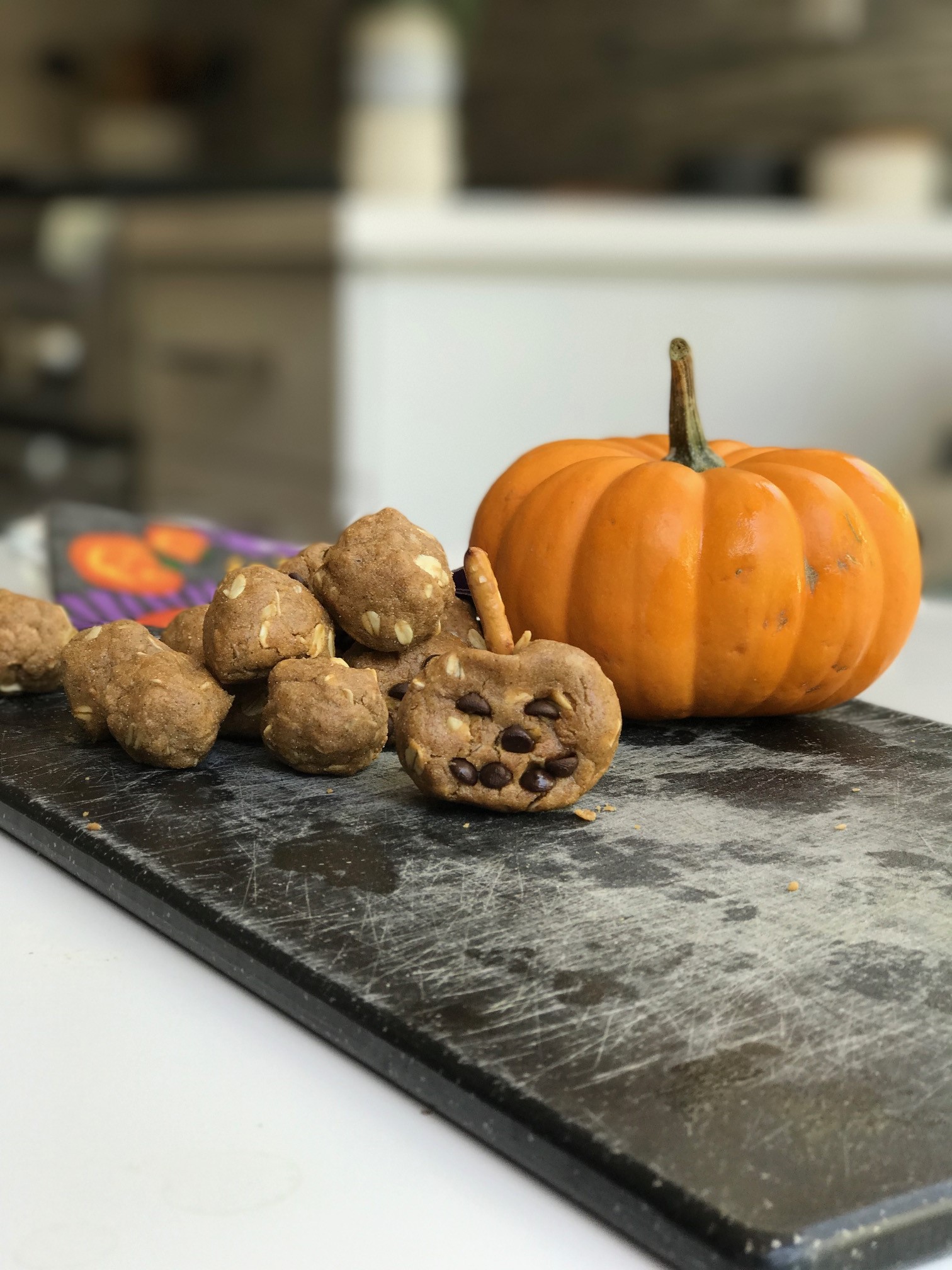 (Makes about 12 servings, 2 balls each)
Total Time: 1 hr. 15 min.
Prep Time: 15 min.
Cooking Time: None
¾ cup all-natural smooth peanut butter
¼ cup pure pumpkin puree
¼ cup raw honey
¾ cup dry old-fashioned rolled oats
3 scoops Vanilla Shakeology
½ tsp. ground cinnamon
2 Tbsp. mini chocolate chips
12 small pretzel sticks, each broken into 2 pieces
Combine peanut butter, pumpkin, honey, oats, Shakeology, and cinnamon in a medium bowl; mix well with clean hands or a rubber spatula.
Shape mixture into twenty four walnut size balls.
Arrange chocolate chips in protein balls to resemble jack-o-lantern faces. Stick a pretzel piece into the top of each protein ball to make a stem.
Place in airtight container; refrigerate for at least 1 hour before serving.
Nutritional Information (per serving):
Calories: 184
Total Fat: 10 g
Saturated Fat: 2 g
Cholesterol: 2 mg
Sodium: 138 mg
Carbohydrates: 18 g
Fiber: 2 g
Sugars: 10 g
Protein: 9 g
Fix Portions