When you're already struggling to find time for yourself in your busy day, but you want to lose weight, like, yesterday — you need something quick that actually works.
You're in luck — because the 22 Minute Hard Corps fitness program only takes 22 minutes out of your day. Yeah, the workouts are quick — but these no-nonsense, military-style workouts led by legendary trainer Tony Horton give you the "basic training" that'll whip your body into serious shape. Can someone say abs?
The good news? Though the program is strict, drinking Shakeology can make every day feel like a cheat day. Yep, you can have "chocolate" every day. You need that dense nutrition when you're working hard, plus the delicious flavor helps you crush any cravings for sweets — which makes it easier to stick to your plan and get that lean, tight body you want.
Wondering how others did with the 22 Minute Hard Corps program and Shakeology? Check out these transformations and see for yourself how the weight "falls off" when you "fall in" for 22 minutes a day.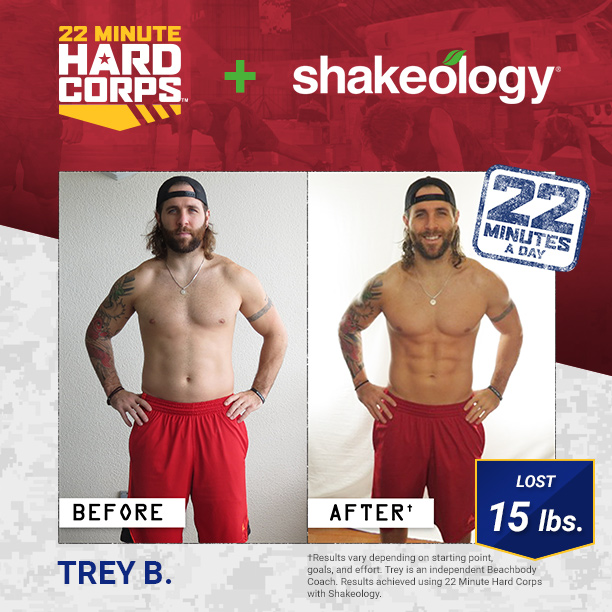 "My abs and core were where I saw the most results."
"I had tried a lot of programs before and didn't expect to see much in terms of results. But I heard Tony Horton had worked overseas with soldiers and thought he'd be just the person to really kick my butt. And he did. He made me laugh, he's a great trainer, and he isn't afraid to keep you in check!
The 22 Minute Hard Corps workouts and meal plan kept me accountable and on track. I loved the resistance trainings with sandbags as well as the Special Ops workouts because they're unique and different, which is what I was looking for in my next training.
Plus, I lost a total of 9.5 inches of fat! I definitely lost a lot of body fat in my stomach, chest, face, and my abs and core, which is where I saw the biggest change. My friends were blown away by my results, and by how much I couldn't stop talking about the program.
Shakeology was a huge help, too. Before it, I was addicted to cinnamon buns and could not be trusted around them. The shakes helped me curb my urges for sweets and now my fiancé and I even make desserts with Shakeology."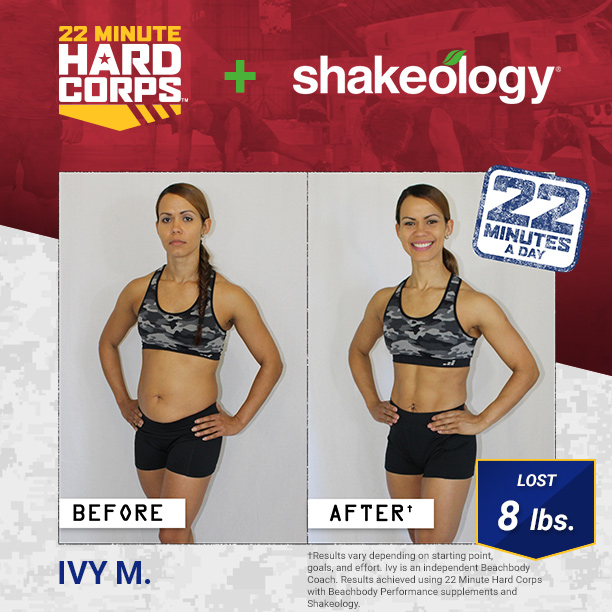 "I'm a busy mom and to know I can fit my workout in at home early in the morning in 22 minutes is a great advantage."
"My husband is in the military and I stay home taking care of two kids, which keeps me pretty busy. It also makes it hard to get to the gym. At the beginning of the 22 Minute Hard Corps program, I was skeptical. But after my weight started going down the first week, I got excited. I went harder on the workouts. I replaced my heavily sugared and creamed coffee with Shakeology daily. I followed the program's nutrition plan to a 'T'.
As I kept going, my abs and legs started popping out with great definition, and I got back down to my goal weight! I'm very impressed that with 22 Minute Hard Corps, I now believe it's possible to get fit from home.
What I like best about this program is that Tony Horton is direct, specific, and very funny. He pushes me at the right time — just when I feel like giving up. Thank you, Tony!"