When you're 100% serious about losing weight and getting in shape — and you want to start seeing results fast — what do you do? You turn to 21 Day Fix EXTREME, of course.
This no-nonsense fitness and nutrition program doesn't mess around. It's all about strict, clean eating (which is totally simple thanks to the color-coded portion-control containers that come with your program) and 30-minute workouts that are short, but definitely challenging.
Unlike 21 Day Fix, which allows room for treats, this extreme version asks you to keep your diet tight for 21 days. And you need to give max effort during your workouts. Because honestly, that's what it takes to get those extreme results in less time.
The good news? You still get to drink Shakeology during 21 Day Fix EXTREME. You need that dense nutrition when you're working hard, plus the delicious flavor helps you crush any cravings for sweets — which makes it easier to stick to your plan and get that lean, shredded body you're after.
6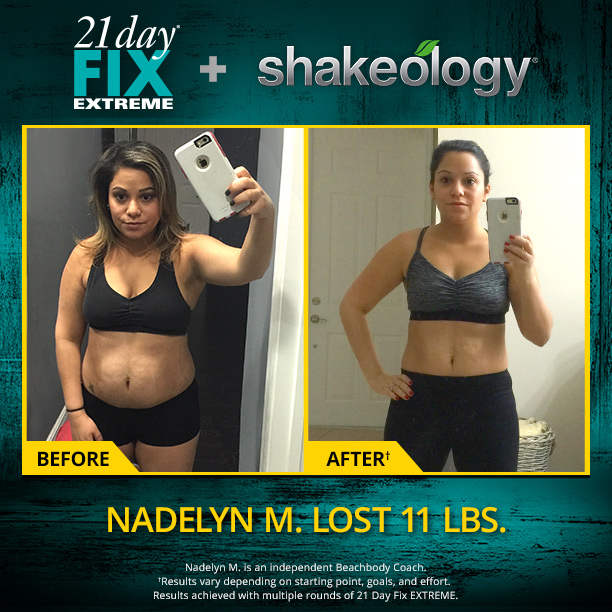 "I tried every 'quick fix' diet, but I never truly worked out and changed my eating habits."
"After having two kids 18 months apart, my body wasn't the same. As a nurse, I worked crazy shifts and ate anything that was fast — and it was usually unhealthy. I felt overweight, tired, and just unhappy with my body.
I wanted to be a good example for my kids. The greatest challenge was that I tried every 'quick fix' diet, but I never truly worked out and changed my eating habits. After starting the program and drinking Shakeology, I have better energy levels and I actually look forward to working out. I especially love that the workouts are only 30 minutes and very easy to follow.
I'm proud that I can complete an entire workout without following the modifier. And the meal plan is so easy to follow, I can even portion out my foods when I go to restaurants. Now I look forward to any form of physical activity and have tons of energy. I can hardly believe that's me!"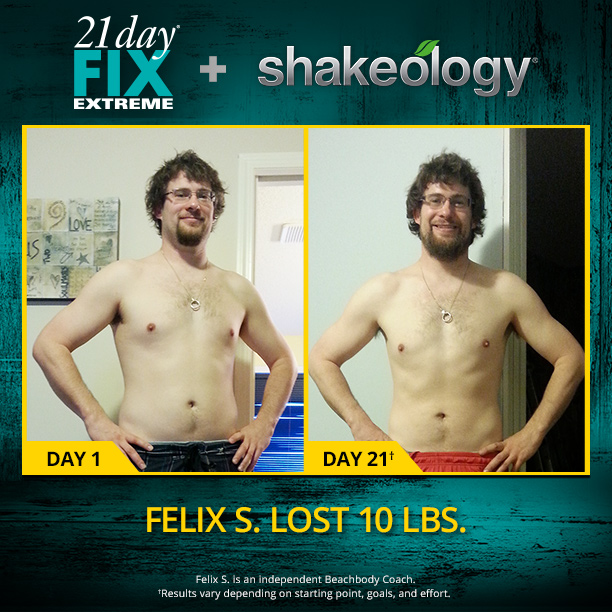 "My wife was my inspiration to get started. Now we push each other to be better."
"Before 21 Day Fix EXTREME, I was overweight and tired. I felt uncomfortable taking my shirt off. Then my wife started the program, and I decided to join her so we could do this journey together.
What I like best about this program is that it taught me how to eat right, and I feel like I get to eat lots of food. And drinking Shakeology helped kill any cravings I had, so I could stay on plan. I lost 4 inches off my waist, and now I don't have a spare tire anymore. I have better flexibility and mobility — and I can run 5.5 km in 30 minutes!"