With Labor Day weekend just around the corner, we're definitely in the home stretch of summer. So before fall blows into town, why not squeeze in some more summer fun while the weather's still warm?
Ready to think outside your living room and take your workout outside? Think PiYo, a fun, flexible workout you can do indoors or out. Just imagine stretching and sweating it out on the beach. Or in a park. Or in your own backyard. Or virtually anywhere (with Beachbody On Demand, you can!). Breathe in the fresh air and soak up some sunshine while you sculpt your body and get leaner. It'll motivate you even more!
Because you don't need any equipment, except maybe a yoga mat, PiYo is the perfect versatile workout. This invigorating mix of yoga, Pilates, and cardio all-in-one builds lean muscle, burns calories, improves flexibility, and boosts your metabolism. Its fast-moving, flowing sequences help sculpt and define your body. It's also low impact, so it's great for all fitness levels and is easy on the joints. And when you pair your 25- to 45-minute PiYo workouts with a daily dose of Shakeology, you've got one lean, sculpted, and sexy body in the making!
Wondering what PiYo and Shakeology can do for you? Check out what it did for these two women when they tried it for the first time.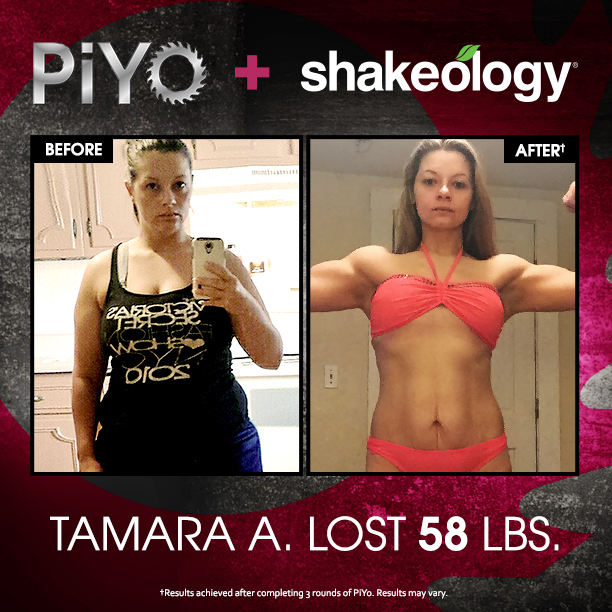 "PiYo has completely changed my outlook on fitness. I love to work out now!"
"I had gained a lot of weight with my third pregnancy and needed to find a low-impact workout. Through my Beachbody Coach, I heard about PiYo. It was just what I needed. It was low impact and developed by my favorite trainer, Chalene Johnson, so I knew it would burn a lot of calories.
Since I've been doing PiYo, my whole body has changed. I've lost weight, gained lean muscle, and gained strength. I'm much leaner, and it doesn't even look like I've had three kids. I can do planks and I can even do pull-ups, which I could never do before.
I have so much more energy now, too. I drank Shakeology while I did the PiYo program, which helped me maintain the healthy energy I needed to do the workouts. Plus, having my Shakeology was always a nice treat after a tough workout!
PiYo has completely changed my outlook on fitness. I love to work out now! And the results I've gotten are awesome. I've lost 60 pounds, 6 pant sizes, and over 35 inches. Thanks to PiYo, I feel much more confident and stronger, both physically and mentally."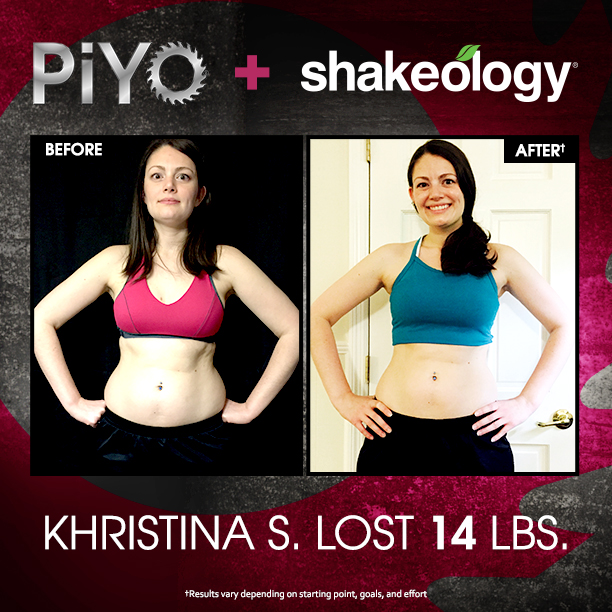 "My results were more than just skin-deep. I'm happier. I feel better."
"At the beginning of 2015, I had hit an all-time low with my health and fitness. I was at the heaviest weight I had ever been in my life.
I was desperate for a change because I felt so uncomfortable in my own skin, and I didn't fit in most of my clothes anymore.
In April, a Beachbody Coach invited me to join her Challenge Group. The accountability of the group sounded enticing. I immediately said yes, and ordered a Shakeology and PiYo Challenge Pack. I chose PiYo because I was really out of shape and was experiencing some joint pain, so I wanted to ease into exercise with a low-impact program.
Adding Shakeology to my diet helped provide me with the energy I needed to start working out. I committed to following the PiYo program for 60 days and continued to drink Shakeology every day.
The PiYo trainer, Chalene Johnson, is so encouraging as she leads the exercises; she really makes you feel like you are the superhero of your own story. I stayed motivated through the support of about 10 other ladies plus my Coach in a Challenge Group. I knew my Coach had my back, and we were in this new fitness journey together.
In 60 days, I lost 14 pounds, 9.8 inches, and 2 pant sizes!
My results are more than just skin-deep. I'm happier. I feel better. I overcame an obstacle in my life, and accomplished something I was proud of. This is not a quick fix for me. This is my new way of life."