Happy National Ice Cream Sandwich Day! By now, you probably know that the Shakeology team has become quite the expert group in turning what was once an unhealthy meal into a delicious guilt-free snack! In honor of our favorite holiday, National Ice Cream Sandwich day, we created these delicious Shakeology Ice Cream Sanwiches that pack dense nutrition in with dense deliciousness. Tell us what you think!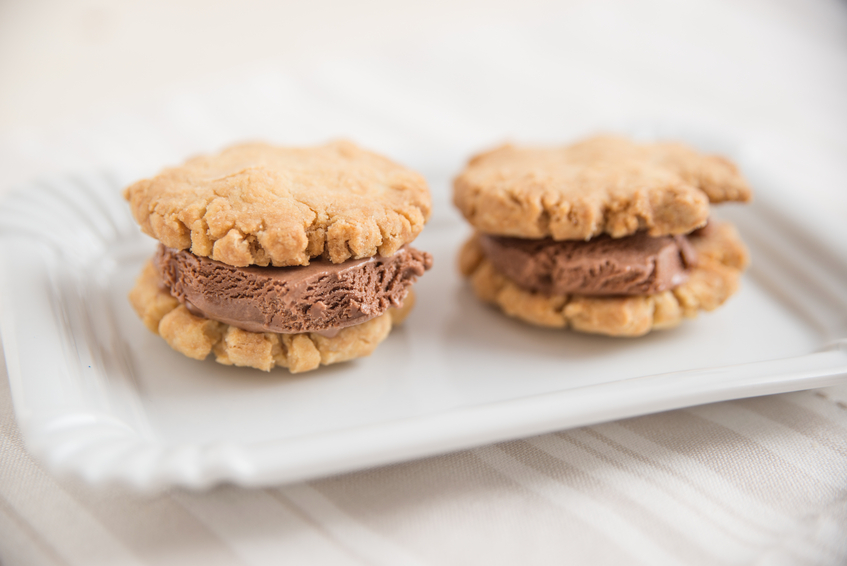 Mini Peanut Butter and Chocolate Shakeology Ice Cream Sandwiches
(Makes 6 sandwiches)
Total Time: 2 hrs. 55 min.
Prep Time: 15 min.
Cooking Time: 10 min.
INGREDIENTS FOR ICE CREAM
3 Tbsp. unsweetened almond milk
1 large banana, cut into chunks, frozen
2 Tbsp. all-natural peanut butter
1 scoop Chocolate Vegan Shakeology
INGREDIENTS FOR COOKIES
Nonstick cooking spray
1 cup almond flour, sift after measuring
1 dash sea salt (or Himalayan Salt)
1 dash baking soda
2 Tbsp. pure maple syrup
1 Tbsp. extra virgin organic coconut oil, melted
1 tsp. pure vanilla extract
2 tsp. unsweetened almond milk
Parchment paper
For Ice Cream:
1. Place almond milk, banana, peanut butter, and Shakeology in food processor (or blender). Process until smooth.
2. Freeze until ready to use.
For Cookies:
1. Preheat oven to 325° F.
2. Lightly coat large baking sheet with spray. Set aside.
3. Combine almond flour, salt, and baking soda in a medium bowl; mix well. Set aside.
4. Combine maple syrup, oil, and extract in a small bowl; mix well.
5. Add maple syrup mixture to almond flour mixture. Add almond milk; mixing to break up clumps of dough. Form dough into a ball with clean hands. Place on parchment paper. Roll into a 7-inch long log. Freeze for 50 to 60 minutes, or until firm.
6. Cut log into twelve slices. Spread slices out on prepared baking sheet.
7. Bake for 8 to 10 minutes, or until set.
8. Cool for 10 minutes on baking sheet. Loosen with metal spatula, remove from baking sheet and cool completely on a wire rack (or on parchment paper).
For Ice Cream Sandwiches:
1. Place 2 Tbsp. ice cream on one cookie. Top with a second cookie. Repeat with remaining cookies.
2. Freeze for 1 hour; serve immediately.
Nutritional Information:
Calories: 228
Fix Portions
½ Purple
1½ Yellow
1½ tsp.