It's summertime, and everyone seems to be showing off a lot more skin. Not quite ready to bare it all? No worries, with 21 Day Fix and Shakeology all you need is three weeks and some dedication and you'll be swimsuit-ready before summer ends.
The great thing about 21 Day Fix is that it isn't just an exercise program. It combines straightforward, 30-minute workouts with a super-simple portion-control system. That means you can eat food you actually like, just in the right portions. Lose weight without feeling like you're on a diet? Sounds like a win-win! And Shakeology is the perfect addition to your 21 Day Fix Eating Plan. What's better than a delicious shake loaded with nutrients that'll help you maintain your energy levels and satisfy your cravings?
Check out these stories from two people who committed to 21 Day Fix and Shakeology and got the summer bodies they've always wanted.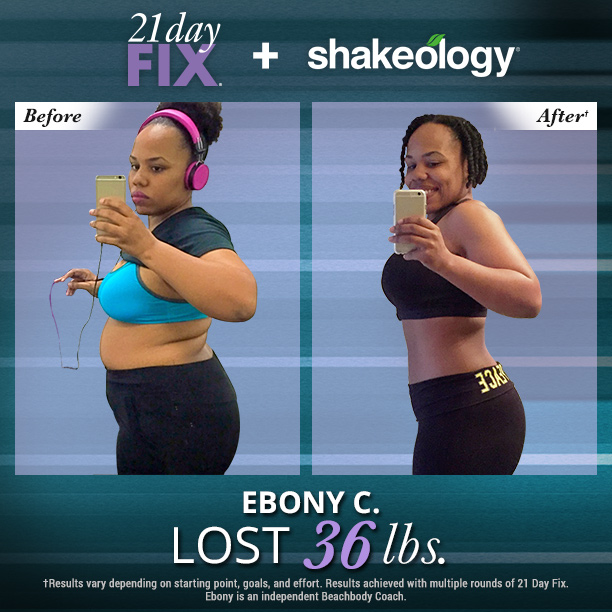 "Some days I triumphed and some days were bad, but in the end I WON the war!"
"I was motivated to begin 21 Day Fix because I was tired of being fat and bloated. I was tired of not having energy. I was about to hit 200 pounds, and I couldn't button my pants anymore. I was turning into someone I no longer recognized.
21 Day Fix was simple, which I liked. I used to spend 30 minutes a day mindlessly playing around on social media — so using that time to do a 21 Day Fix workout instead was a no-brainer. The program also taught me how to eat healthy and like it. Not all healthy food needs to be boring — especially when you throw Shakeology into the mix. Shakeology is like a milkshake that's good for you, so swapping a glass for chocolate chip cookies (my former addiction) was easy!
I used to be a serial quitter — never giving anything enough time to really make a difference. 21 Day Fix was different. I think Autumn got through to me when she said, 'You gotta lose 1 pound first.' I stuck with that mentality and kept going, even when I wanted to stop.
After completing 21 Day Fix, I am so proud of myself. My waist is smaller, I feel better, and I am becoming the person I have always aspired to be. I envisioned myself as a 'fit chick' that runs races, eats well, works out daily, and is energetic! I am happy to say I have become more like this fit chick with each passing day."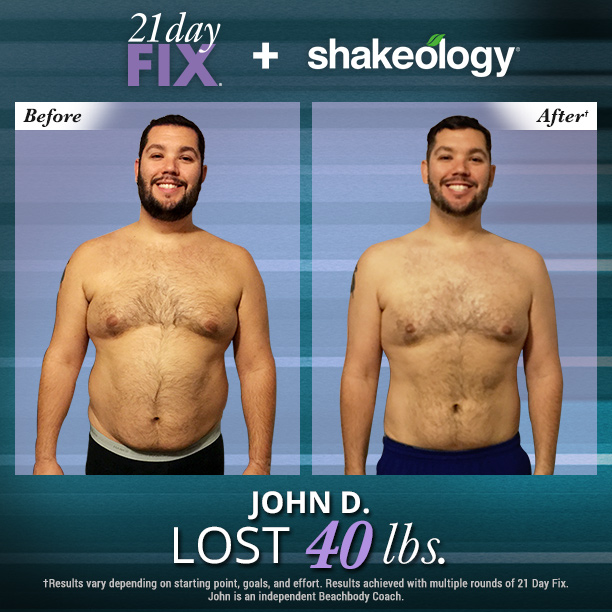 "I tell as many people as I can about 21 Day Fix. It's an easy concept, but you have to put in the work."
"Before 21 Day Fix, I struggled with portion sizes and not listening to my body. I would eat much more than I should. I never went to the beach or walked outside my house shirtless because I was embarrassed of my body. I wanted to lose weight and live a more active, healthier lifestyle with my wife and son.
What I liked most about 21 Day Fix was how it fit into my busy schedule. The workouts were diverse and the containers, plus the Eating Guide, helped me control my portions.
In addition to the containers, Shakeology helped improve my eating habits. I used to crave certain foods and overeat every morning. I've also noticed how Shakeology helps me maintain my energy levels. Shakeology is also so cost-effective because of all the nutrition you get in each serving, which is under $5.
I've lost 40 pounds and have gone down 3 sizes. I used to avoid physical activity, and now willingly run, do push-ups, and planks! I've lost the weight, and now am focusing on building muscle. Will I be using the portion-control containers for this? Absolutely. People comment on my new body all the time. As someone who used to be self-conscious, this caught me off-guard at first, but now I love telling them about my weight-loss journey!"