It's summer. It's hot. But the question is… are you? If you have to think about that answer, then it's time you turn up the heat and go all in with 21 Day Fix EXTREME. Sure, the workouts are harder than 21 Day Fix, but harder workouts give you a much harder and defined body. And at 30 minutes each, you can't really say no! That, combined with easy-to-follow (but less lenient on those "cheat" meals) portion-control guides, make this program a go-to for getting shredded results. Especially when it's summer and you're supposed to be baring skin.
Check out the stories of these two women who were stuck in a rut, but found 21 Day Fix EXTREME and Shakeology to get them out. This killer combo helped them lose weight while giving them a whole new perspective on healthy eating and living. Remember, extreme results start with 21 Day Fix EXTREME.
---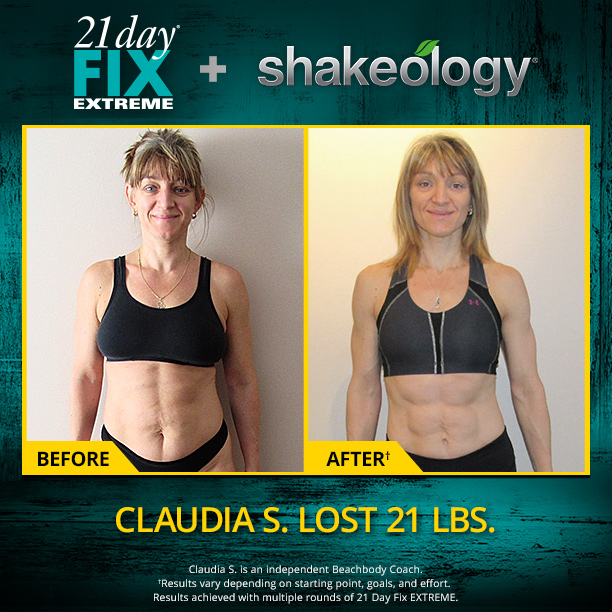 "21 Day Fix EXTREME helped me find my true self again."
"I've always been a very active person, going to the gym 4–5 times per week. Last year I spent six months training intensively for a half marathon, yet I still felt heavy and wasn't seeing visible results. Plain and simple, I was far from happy and needed a new plan of attack.
Thankfully, back in October a good friend of mine introduced me to 21 Day Fix EXTREME. My initial goal was to lose 5 to 12 pounds, but the workouts were fun and the portion-control containers were so easy to use that I ended up doing four rounds and experienced results that I never imagined — especially the transformation in my abdomen. So far I've lost 20 lbs., 16.5 inches off my whole body, and my body fat percentage went down.
One of the best things about this program is that the workouts are only 30 minutes, which I can easily squeeze in to even my busiest days. And I think that Autumn is an amazing trainer! She's so fun and motivating and I absolutely love working out with her.
I've also been drinking Shakeology for the last three months and truly believe that this shake has been a key contributor to my transformation. Not only does it taste amazing, it has so many nutrients, has provided me with energy, reduced my cravings, and has helped improve my digestion.
Words can't describe how wonderful it feels to have reached my health and fitness goals. Today I'm so much stronger and happier than I've ever been."
---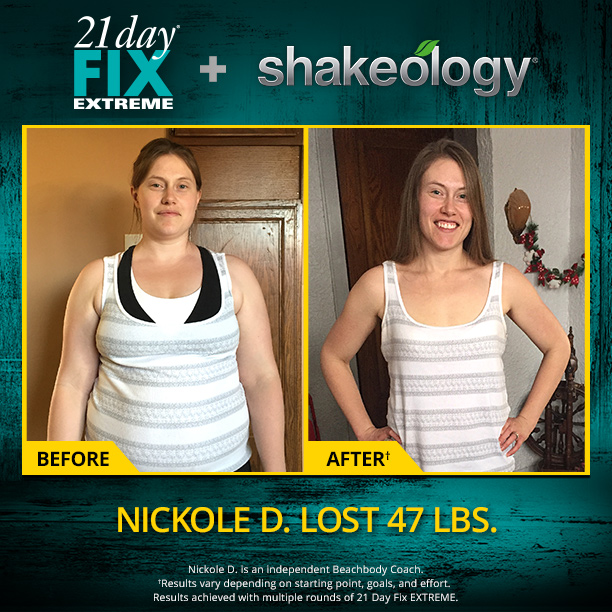 "I can now look at my reflection without feeling sad."
"Even though I had been exercising prior to 21 Day Fix EXTREME, I was actually gaining weight. I knew I needed to change my ways and was desperate for help. My initial goal was to lose 30 lbs. of 'baby weight' and to just become healthier overall. I have four kids and they were all born fairly close to one another. Needless to say, I've put my body and my self-esteem through the wringer.
By the end of round three of 21 Day Fix EXTREME, I was a changed person. Not only did my body look so much better on the outside, I was completely transformed on the inside as well. The 21 Day Fix EXTREME workouts really pushed my limits. I loved how matter-of-fact Autumn was, and she made giving up NOT an option. Plus, the color-coded Portion Fix containers were life changing and have become an ingrained part of the way I eat. Even when I don't use the containers, I'm divvying up food portions in my head and counting containers.
I've also been drinking Shakeology for nine months and it truly does keep me from scarfing down junk when I'm in a rush for a meal. Not only is it incredibly delicious, it's providing my body with the nutrition it needs on a daily basis. Plus, it has helped improve my regularity as well.
When I finally reached my 30 lb. weight-loss goal, I celebrated by vowing to lose another 10. I ended up doing eight rounds of 21 Day Fix EXTREME and lost 47 lbs.! Now, working out and eating healthy isn't about losing weight, it's about living an incredibly happy and healthy life."