It's that time of year again where one male and female are each crowned with the title of Ultimate Health Grand Prize Winner and they EACH get to take home 25 GRAND! These people made it through several rounds of voting when they entered the Beachbody Challenge and now it's time to decide who gets the grand prize. But the thing is, they don't win if you don't vote. So scroll down and check out their before and after photos along with their transformation stories, then vote for finalists who inspire you the most.
Click the images to vote!
---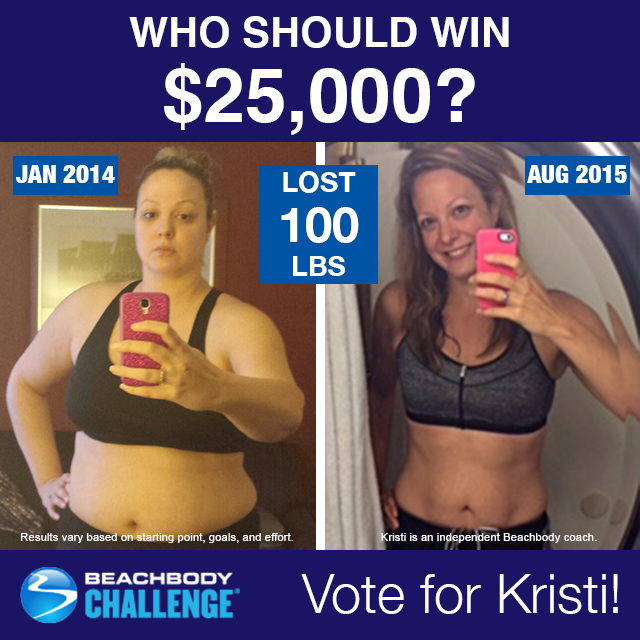 Kristi H.
"My doctor did NOT want to put me on meds as a quick fix to my extremely high blood pressure due to being overweight, so he challenged me to lose 30 lbs. in 90 days by eating healthier and exercising. So with Beachbody's incredible programs, shakes, and my Coach's never-ending encouragement, in ONLY 60 days, I hit that goal! And in a little over a year and a half, I've lost a total of 100 lbs. and 55.75 inches off my 6'1″ frame. BAM!"
---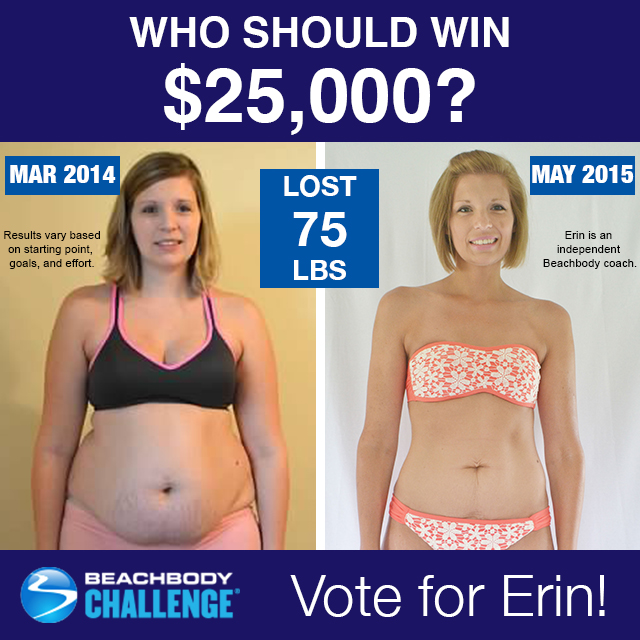 Erin T.
"The heartbeats behind my transformation are my daughters, because I truly feared that they'd grow up and be exactly like me. But since losing 75 lbs., I'm the healthy, fit mom I always wanted to be. Now I can chase my older daughter on her bike while pushing a stroller with the little one in it up a hill. Because my kids see me exercising and eating healthy, they copy my behavior, which has significantly changed their lives as well."
---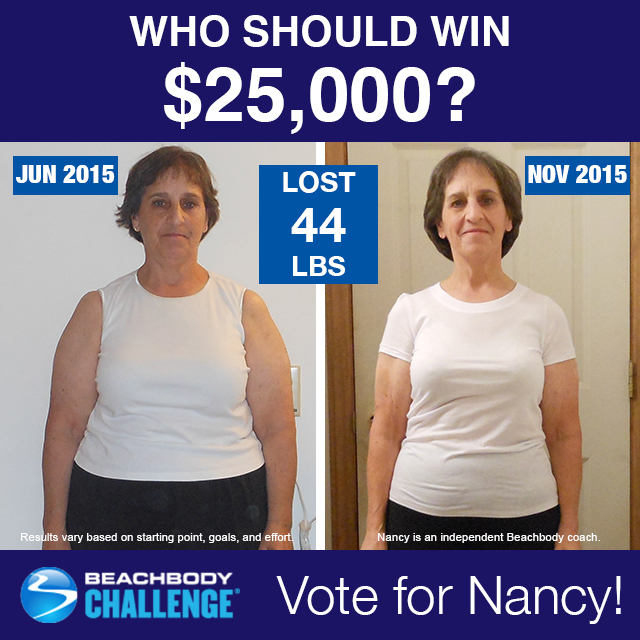 Nancy T.
"My motivation to finally lose weight and get healthy at 59 was to be around to see my daughter get married someday, as well as see my son's young son grow up. Now that I've lost almost 50 lbs. in 5 months, I finally feel worthy of being alive. This is the first time that I've actually made a significant life change, and I have no desire to go back to where I was."
---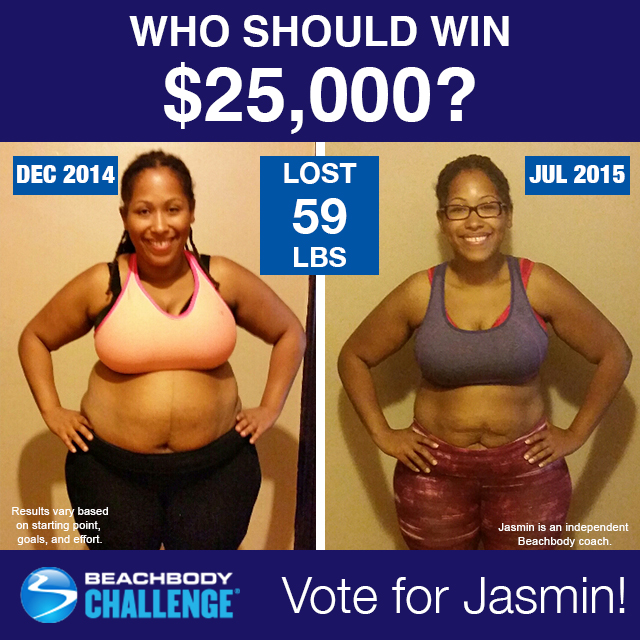 Jasmine W.
"As a full-time teacher, dance coach, wife, and mom of twin sons and a daughter, it was a real challenge to find time to exercise. Plus, due to being plagued with a rare health condition, my doctor told me the only way to lose the stomach fat was to get plastic surgery. I refused, and instead turned to Beachbody. I've lost 59 lbs. and 4 dress sizes and feel absolutely incredible."
---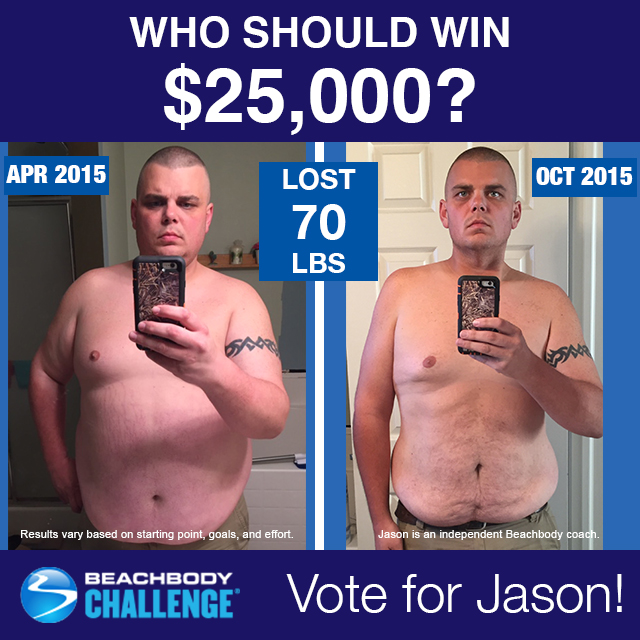 Jason B. 
"Last year for my annual firefighter's physical, I fasted for 12 hours, yet my blood sugar score still came back at 249. My doctor instantly started loading me up on meds—which I was not fond of. So I went home, threw out all the bad, sugary food, and found me a Beachbody Coach and 21 Day Fix. Over the past year I've lost 91 lbs., am addicted to running (not food), and have had to buy all new clothes, and uniforms."
---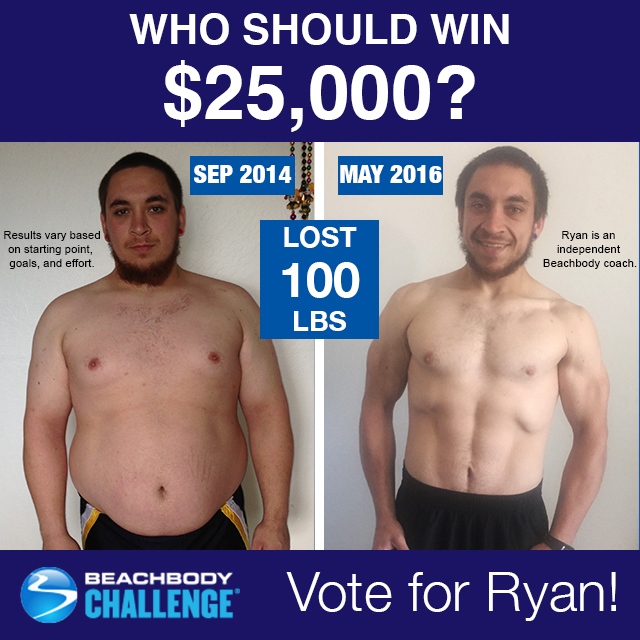 Ryan B.
"My inspiration for change was when my youngest son was born—I wondered how much longer I'd be around for him, or for my 5 other kids. I knew I had to change. So I turned to Beachbody and learned that if you have ambition, motivation, drive, and determination, you can do anything you want in life. I NEVER gave up and lost 100 lbs. and 13 pant sizes in a year."
---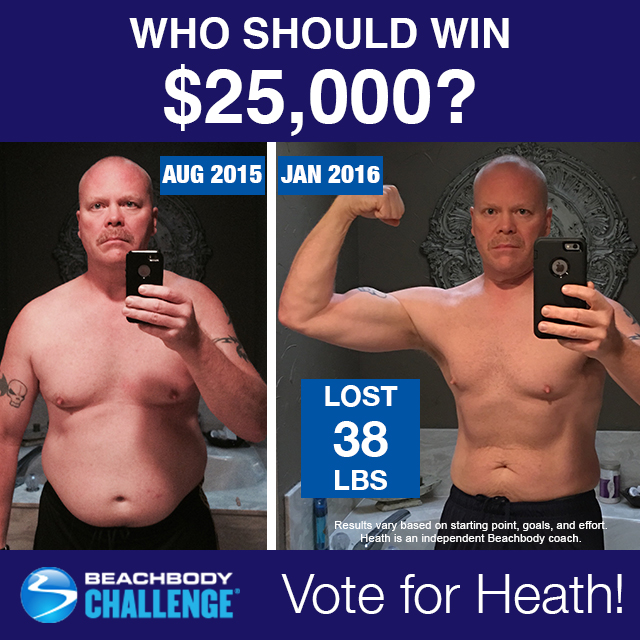 Heath G.
"After returning from Iraq in 2011, my marriage ended, I got injured at work and had to have knee surgery, and from all the sitting around I packed on a ton of weight. I couldn't stand myself anymore, so I reached out to Beachbody, lost 20 lbs. in the first 3 weeks, and built muscles I forgot existed. Now I'm a fit 50-year-old Deputy Sherriff that loves life."
---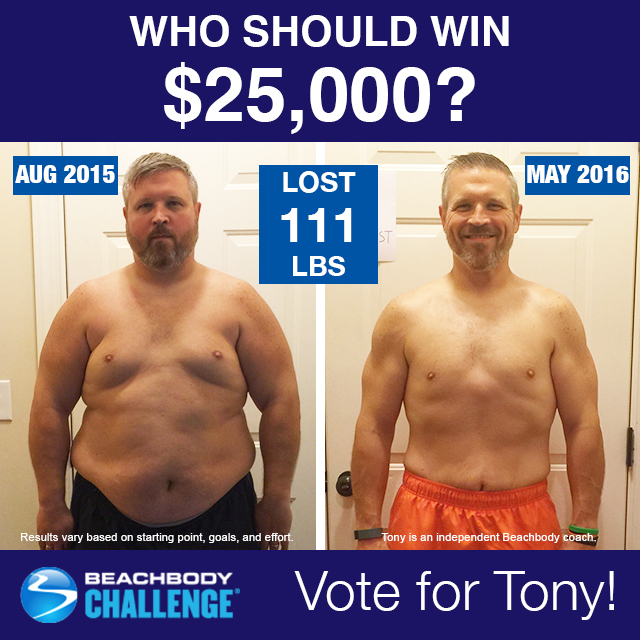 Tony P.
"At 41 and weighing over 300 lbs. I knew that if I didn't change my ways I'd never see either of my kids get married, nor would I get to enjoy retirement. So I turned to my niece, who's a Beachbody Coach and had lost a ton of weight, and asked her for help. After losing 111 lbs., my 15-year-old daughter hugged me the other night and wrapped her arms completely around me for the first time in her life. Not only was she proud of my success, so was I."