Don't you hate it when you're in the middle of making a recipe, you go for an ingredient on the list, and… it's… M-I-A?! Hey, we've all been there. And while some might zip out to the store real quick to get that "thing" they don't have, most of us… well… we might throw a little temper tantrum before… who knows what.

While it's impossible to make an ingredient magically appear (no matter how loud we scream), it is possible to substitute an ingredient with a mixture of a few other kitchen staples. And in many cases, this trick can actually make your recipe a heck of a lot healthier as well as make your marvelous masterpiece edible for someone with a special diet.

Whether you're in a bind or you're looking to customize your recipes, we've created a list of a few key ingredient substitutions for healthy baking!  Figure out which ones work best for you and your friends!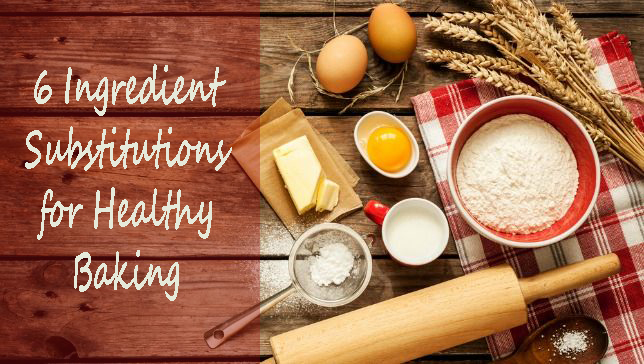 EGGS:
1 egg= 3 tablespoons of water, plus 1 Tbsp. chia seeds (combine and let sit for 10–15 minutes until it gels — great for baking)
1 egg=1 Tbsp. ground flax seeds, plus 2–3 Tbsp.  water (simmer water and flax over low heat until it starts to gel — great for baking)
1 egg= ¼ cup egg substitute (Egg Beaters, Second Nature, Scramblers)
1 egg= 2 Tbsp. mayonnaise (best when used in pastries and baked goods)
---
SUGAR:
1 c. sugar= 1 c. applesauce,but reduce the overall liquid in the recipe by ¼ cup. Health Benefit: 1 cup of applesauce contains about 100 calories, but a cup of sugar packs over 770 calories.
2 Tbsp. sugar =½ tsp.  vanilla extract
---
BUTTER:
1 c. butter= 2–3 Tbsp. of chia seeds, plus 1 c. of water. Let the chia seeds mixture sit for 15 minutes so it absorbs the water. (But don't sub out all the butter, only about half for best results.)
1 c. butter= 1 c. mashed bananas . Works best in brownies and cookies.
---
FLOUR:
1 c. flour = ½ cup coconut flour.  But because coconut flour is fibrous and incredibly absorbent, use 1 extra egg per ounce of coconut flour you use, along with a dash of water.
1 c.flour =1 cup of pureed black beans (works best in brownies)
---
BAKING POWDER:
1 tsp. baking powder = ¼ tsp. baking soda, plus ½ tsp. cream of tartar
1 tsp. baking powder = ¼ tsp. baking soda, plus ½ cup buttermilk (but decrease liquid in recipe by ½ cup)
(PS: There is NO trick to make homemade baking soda. That can only come from Mother Earth.)

---
CHOCOLATE:
Unsweetened Chocolate = 3 Tbsp. cocoa, plus 1 Tbsp. butter, regular margarine, or vegetable oil
Semisweet Chocolate = 1 square unsweetened chocolate, plus 1 Tbsp. sugar
If you're more of a visual learner, here is an infographic we created to break down the substitutions.