Summer's around the corner, which means you'll be baring more skin. If the thought of short-shorts and bathing suits makes you cringe, it might be time to kick-start your weight-loss journey. Adding 3-Day Refresh, a quick and easy clean-eating program, to some killer cardio in INSANITY MAX:30, then fueling your body with nutrient-dense Shakeology is the perfect combo to get your summer bod before the season's over. Check out these Success Stories of two people who took advantage of INSANITY MAX:30, Shakeology, and 3-Day Refresh and discover what inspired their journeys, as well as how they transformed their lives and reached their goals.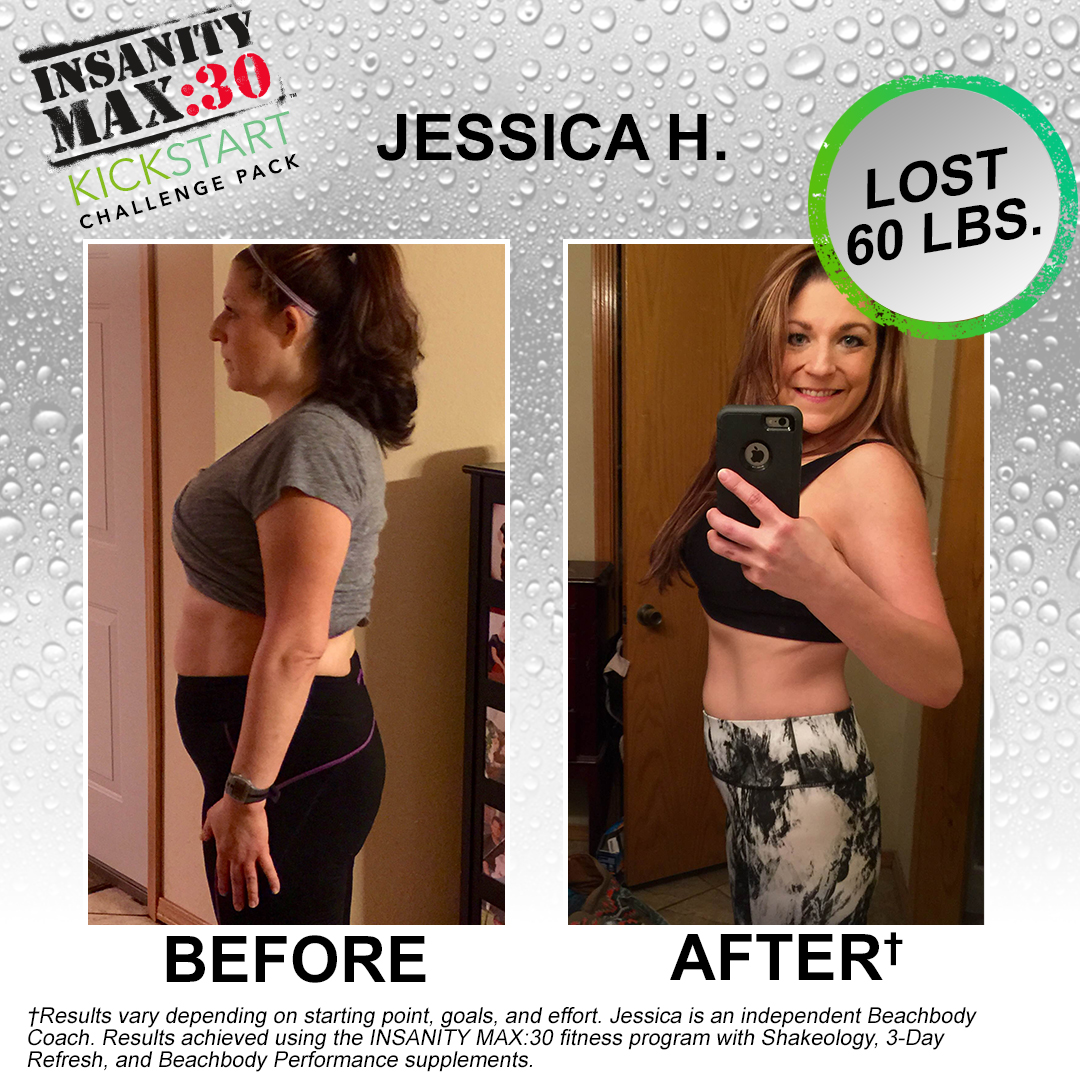 "I've lost 63 lbs. and 23% of my body fat!"
"Before I transformed my life with INSANITY MAX:30, Shakeology, and 3-Day Refresh, not only was I overweight, I was self-destructive, had zero confidence, and never thought I could be happy again. I wanted to lose weight but didn't know how. I had done every diet on the planet—from Atkins, to pills, to starvation, and NOTHING worked! Right before hitting rock bottom, I saw my cousin's "before" and "after" Beachbody photos on Facebook, and that curiosity and admiration of her transformation triggered my new life.
I didn't start my weight-loss journey with INSANITY MAX:30, but after losing a ton of weight in seven months with a previous program, I was motivated to push myself to MAX OUT. I knew this workout would take me to the next level as well as help me lose the weight from baby #3. And boy was I right!
I really love Shaun T's workouts. Every time I felt like quitting, he'd say something inspirational and lift up my spirits, which would make me give it my all. Three weeks into this program I did the 3-Day Refresh in an effort to restart my metabolism after it hit a slight plateau, and in just three short days I lost an additional 5 lbs.! I also drink Shakeology every day and will never give up that magical shake. Not only does it help me maintain my energy and keep me regular, it fuels my body with the nutrition it needs after completing these intense workouts.
Today I feel so empowered, strong, motivated, and humbled with my transformation. Because I feel a deep passion to help others change their lives, I'm now a Beachbody Coach along with my husband, who lost 30 lbs. alongside me. Together we're changing lives and passing on the gift of great health. Honestly, I don't think either of us would feel as accomplished as we do today without Beachbody!"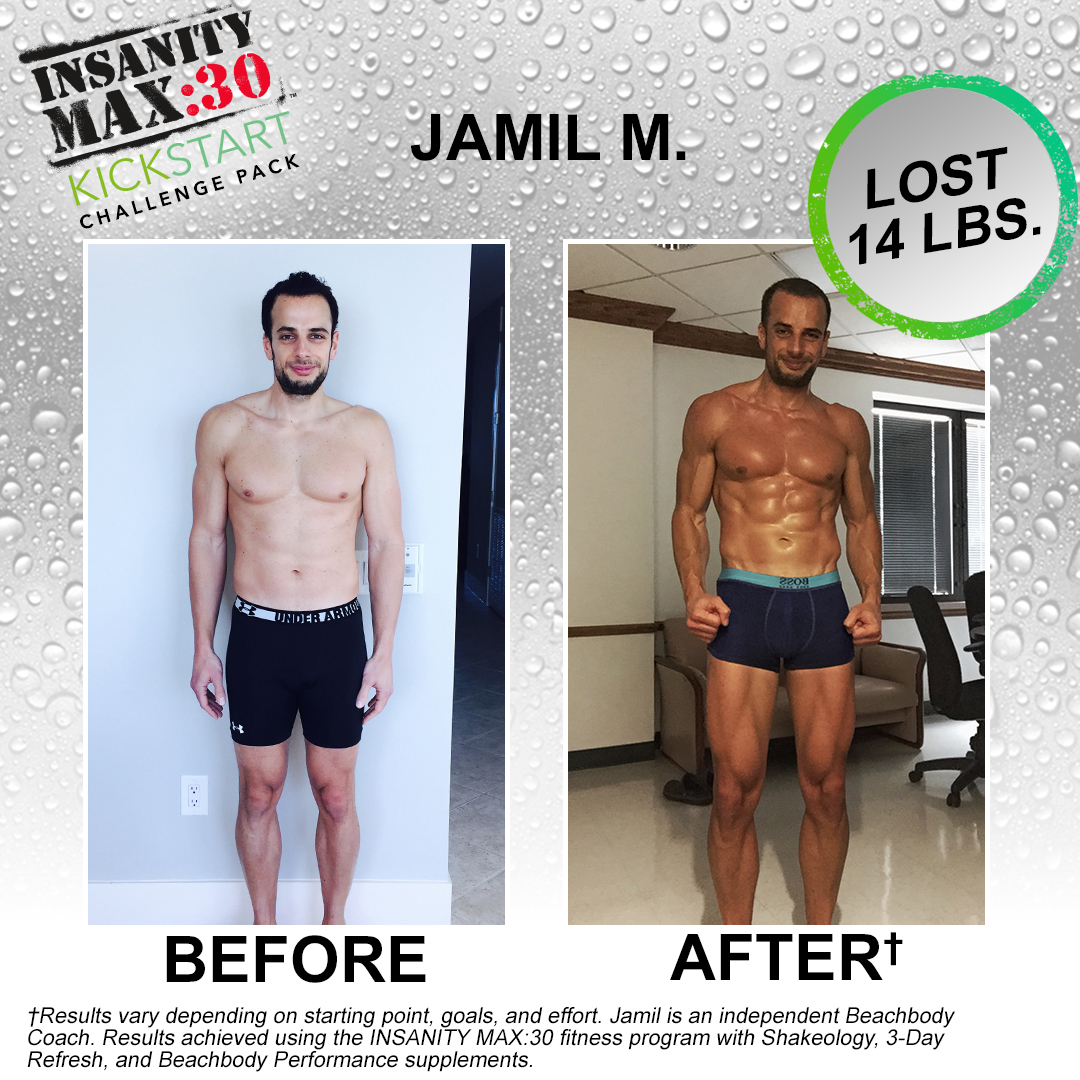 "I lost weight while gaining strength, definition, and durability!"
"I was working out regularly but had reached a plateau with no gains. I wanted to tone up and feel more energetic. I wanted a real beach body—so I turned to Beachbody! It just so happened that I saw a P90X infomercial late one night, bought it, and from there, a love story sprouted.
I kick-started my transformation with 3-Day Refresh and decided to give INSANITY MAX:30 a try. While I love lifting weights, doing cardio is another story. However, I trusted that if anyone could keep me motivated and committed, it would be Shaun T—and I was right. I stuck with INSANITY MAX:30 for three months and got AMAZING results! His workouts are effective, concise, and they gave a whole-new meaning to cardio. In just 30 minutes, I was drenched in sweat. It was unlike anything I've ever experienced before.
When I started drinking Shakeology, my energy levels and digestion greatly improved. Plus, Shakeology helped me stay true to my recently adopted nutritious diet, which was key to my transformation.
Due to the fact that I was consistent with my workouts and disciplined with my diet, I eventually transformed my body into the machine I've always desired. At 43, I've overcome physical barriers that I only dreamt about doing in my teens and 20s. So far I've lost all my unwanted fat, maintained my energy levels, and I look and feel amazing!"