Have you heard of CIZE? Alright maybe you haven't. Have you heard of EXERCISE? Well, obviously.
CIZE is the end of exercise. What that means is CIZE is a dance program that teaches you how to work your way up to choreographer extraordinaire, no matter how inexperienced you may be. In addition to learning trendy dance moves to songs you actually know, you also tend to lose weight–without even realizing it's happening. CIZE is made to teach you rhythm and coordination, but delivers much more. Similarly disguised is Shakeology, a superfood shake, that tastes so good that you'd think you were downing something less than healthy for you.
If you're looking to be active and have FUN, CIZE and Shakeology might be your dream team. Between the dense superfood nutrition of Shakeology and the addicting dance routines in CIZE, you're bound to have a good experience. Don't believe me?  I get it–you have no idea who I am. How about if we show you two women who signed up for the end of exercise, but found so much more!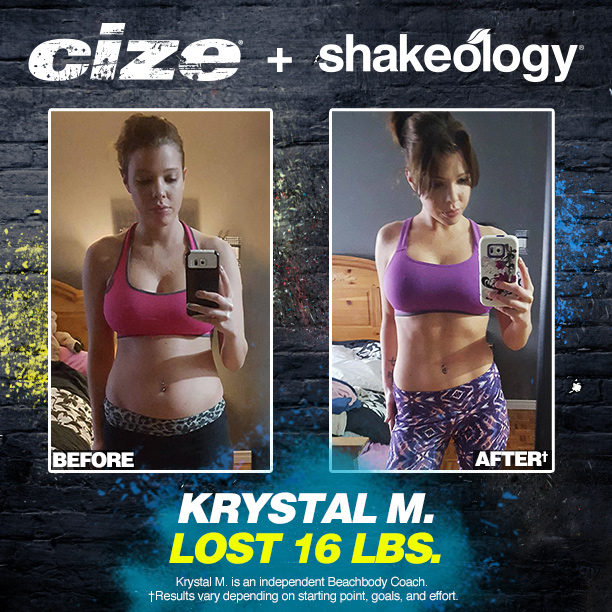 "With CIZE and Shakeology, the weight just fell off!"
"Before Beachbody and CIZE transformed my life, I was really feeling down in the dumps. I found myself tired all the time, had zero motivation to do anything (especially when it came to going to the gym), and was pretty much hibernating. Then I came across a Beachbody Coach on Facebook and she looked really happy. So I decided to do a little digging to see what lit her fire.
Next thing I know, I'm dancing it up with CIZE, losing weight, and having the time of my life. What I like most about this program is that it doesn't feel as if you're working out at all. I was just dancing, having fun, feeling like a superstar! Shaun T is a great trainer because he has a ton of energy, is incredibly inspiring, and totally makes me laugh. After every workout I felt so accomplished—it was a great feeling.
I also absolutely LOVE Shakeology! Shakeology has everything I need. I also suffer from IBS so I have to be extremely careful with what I eat. But with Shakeology, I have no problems what so ever. And ever since I started drinking it, have better energy levels, and feel good.
Cize and Shakeology helped me change my life because I wanted it. I think anyone who wants it enough can get the same results from these programs. These days, I truly do feel like a million bucks!"
---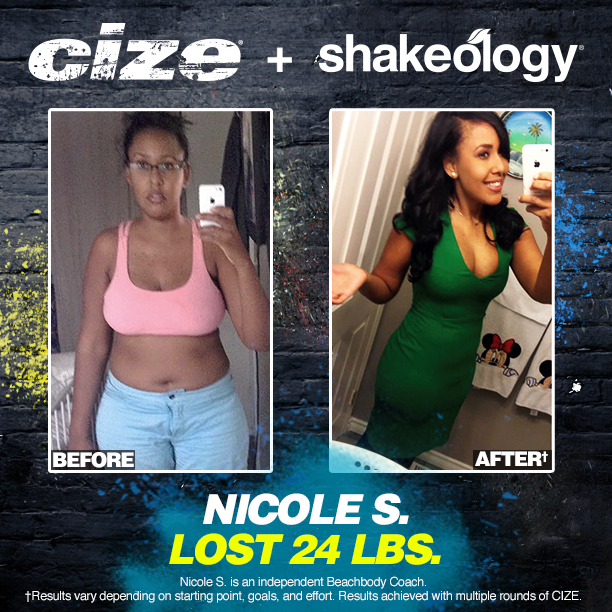 "CIZE and Shakeology turned my life upside down, in the most amazing way."
"After trying out CIZE, I instantly knew that this program was going to be the game changer for me! I used to LOVE to go out dancing, but after years of gaining weight, as well as developing severe arthritis, moving around wasn't as easy as it used to be. But for whatever reason, when I started to CIZE IT UP, everything just fell into place.
CIZE was so much fun that I couldn't wait to press play, every single day! Even when the moves were challenging and I was exhausted, I'd still have a huge smile by the end. By the end of each routine, I was drenched—yet completely energized. I was just so full of life with CIZE because not only did I get my workout in, I was having the time of my life doing it! I really loved how Shaun T joked around, and even messed up from time to time—which made him so much more relatable. Even though I always gave it my all, my dance skills still aren't the best. But who cares? I get to work out, lose weight, and have fun!
And then there's Shakeology, which I tell everybody I know about. When I'm drinking it regularly, I don't crave as much junk food, especially sugar, which is my total weakness. Plus, I know it's fueling my body with the vitamins and nutrients that it's not getting on a regular basis from our food supply.
Thanks to CIZE and Shakeology today I'm so much leaner, happier, and healthier. Plus I'm proud to say that I actually did a program from beginning to end, and that I lost a significant amount of weight. But even though I look and feel great, this isn't the end. No way. This is just the beginning—of a brand new me!"