Beachbody has always provided a variety of at home DVD workouts, but with its launch of Beachbody on Demand last year, people are taking fitness to a new level. Literally. People now have the ability to download their workouts from club and LITERALLY go to different levels (think mountains, rooftops, get creative!) to work out. Sometimes a change in location or a little kick to the same routine is all it takes to go from good results to great results. In addition to the portability of BOD, there are also several workout options within the program to shake things up. Speaking of shakes, (see what we did there?) if you decide to take the plunge into the digital side of Beachbody, you might as well get your nutrition, the other component to healthy lifestyle and weight loss, up to speed with Shakeology. In fact, if you buy the duo this month, you even get some portion fix containers to help you learn healthy eating habits as well.
If you're not sold quite yet on the advantages of Beachbody on Demand and Shakeology, check out Christy and Bryan's success stories below. Not only did they both overcome huge obstacles, but they did so through completing several workouts through the digital platform to allow for a wider range of results! Read the stories, try the programs, get that summer BOD (we are really on our pun game today) ready, and feed your body the nutrition is craves from an active lifestyle with Shakeology.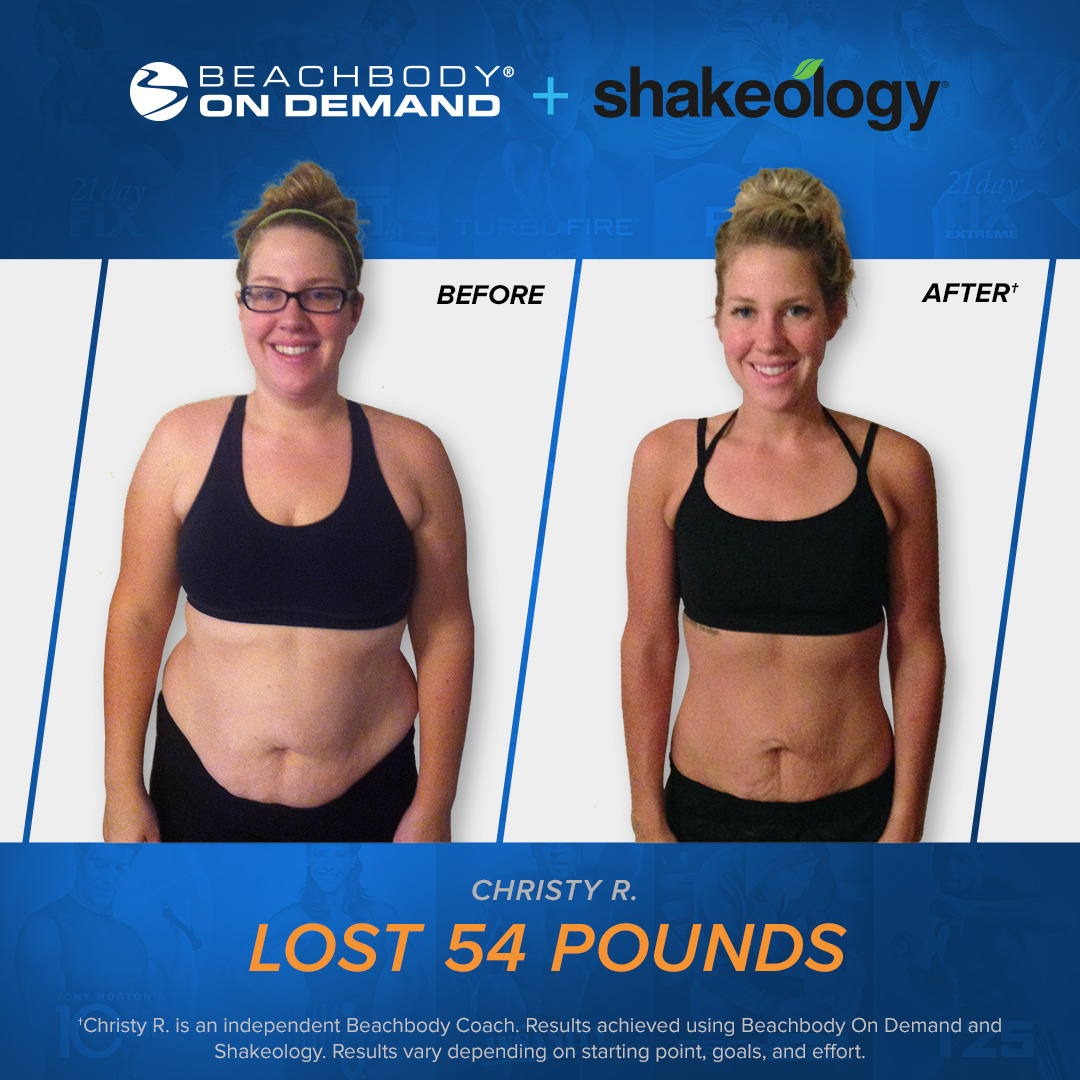 "I always thought of myself as a thick girl, but after losing so much weight I realized I'm actually pretty small!"
"Growing up, I was always that chubby, clumsy, and un-athletic girl. But when I got pregnant a few years ago, I went from being overweight—to obese. When my son was old enough to start running around, I could barely keep up with him. The thought of him going through life, seeing me as the fat mom who could only sit on the sidelines absolutely killed me. But the ah-ha moment came when we went on vacation and I could barely fit into the airline seat. I was so incredibly uncomfortable in my own skin and desperate for help. Thankfully a friend of my husbands was a Beachbody Coach so I reached out to her and she set me up with 21 Day Fix and Shakeology!
Throughout my weight loss journey I've also done 3-Day Refresh, INSANITY MAX:30, 21 Day Fix EXTREME, and P90X3. All these amazing programs, along with Shakeology, have helped me lose inches and sizes. I've lost 54 pounds and have gained an immeasurable amount of confidence. Not only was Shakeology instrumental in keeping my cravings at bay, my energy levels are up and I've never felt better.
I've exceeded my weight loss goals. I'm able to take on new challenges like running my first 10k and finishing in 4th place. Not only did Beachbody change my lifestyle, it also changed my husband's too. He did the workouts and drank Shakeology with me and dropped 40 lbs. My son cheers me on when I'm working out and I love that he won't remember how I was before. We're both are grateful that we found Beachbody because of the numerous ways it has changed our lives! Thank you Beachbody.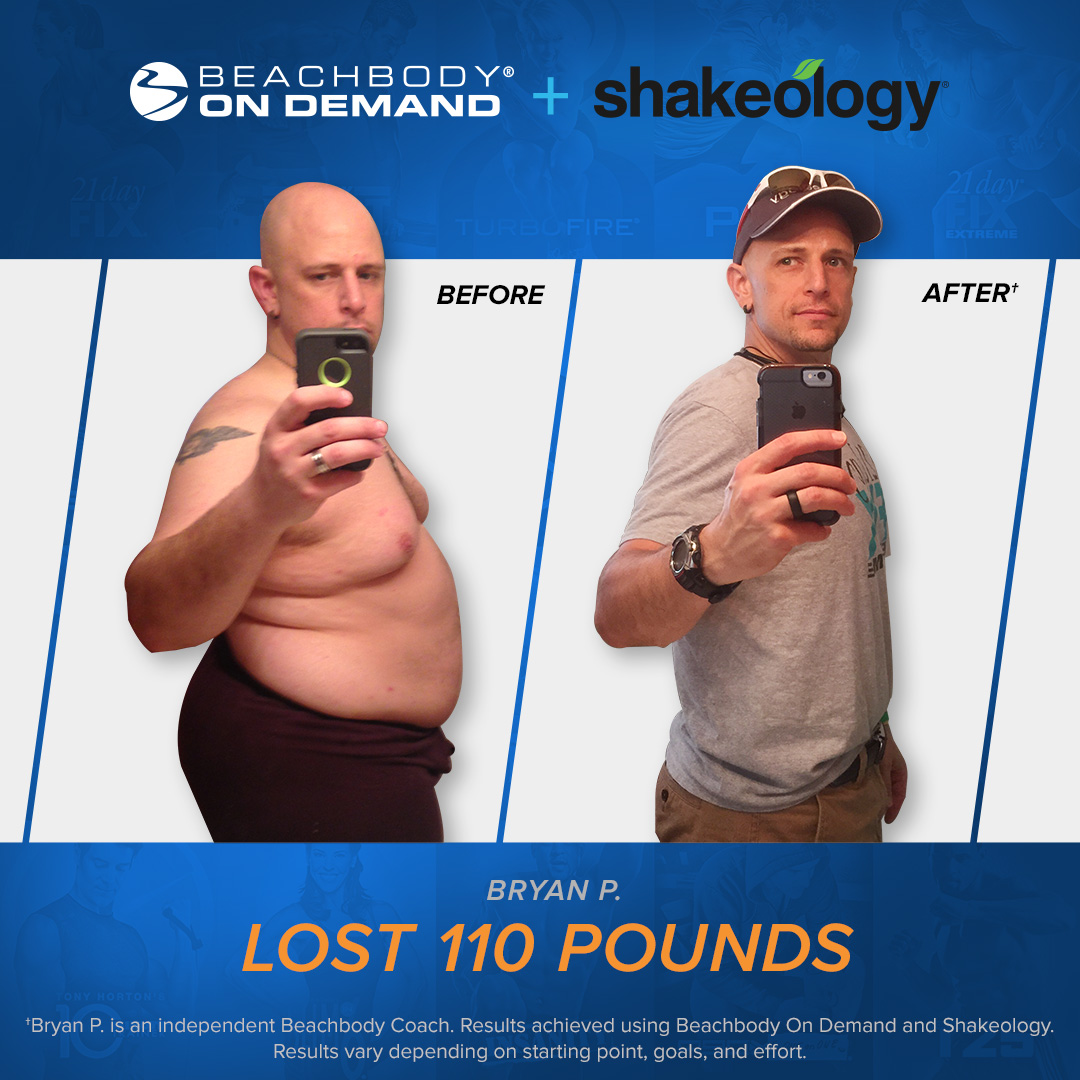 "Losing 110 lbs. has been incredibly humbling—and inspiring!"
"For as long as I can remember I've always battled my weight. I hated the way I looked and the way I felt.  The thought of losing weight and keeping it off seemed impossible to accomplish! In October of 2013, I was the heaviest I'd ever been, and was considered morbidly obese. I knew I had to change. Not only for myself, but for my two young boys as well. Being overweight prevented me from being able to play and keep up with them the way I wanted to, and the way they deserved.
Thankfully a co-worker introduced me to Beachbody  throough 21 Day Fix and Shakeology. After completing 21 Day Fix with my wife and losing 13 lbs. I was inspired to continue. So I did a few more rounds, then moved on to the 3-Day Refresh, P90X2, PiYo, 21 Day Fix Extreme, Turbo Fire, and am just about to start P90X3. Ever since the beginning, Shakeology has been instrumental to my success—plain and simple. I started with it on day 1. Have not stopped. And don't plan on stopping. Ever!
I even stream my workouts on Beachbody On Demand. I love knowing that no matter where I am, as long as I have at least my iPhone with me, I can get in a workout. In just a year and a half, I lost 110 lbs. and went from a size 54 to a 36. For once in my life, I truly do love my body. I know I still have more work to do to get my body where I really want it, but at this exact moment, I've never been happier.  Beachbody has changed my life completely; this company is the whole package. I have finally found my passion and calling in life, and that is to be a Beachbody Coach and help others do what I personally thought was impossible! Get ready world. Here I come!"