---
It's February, which means the inevitable Valentine's Day is happening this month. Sure, it's wonderful to celebrate love. We love love. But what about making the concept of love present every day? And furthermore, what about making yourself the object of your affection? Self-love is a huge part of transformation, and it's a lot easier to love yourself when you stick to important goals like serving the right food portions, daily exercise, and getting the nutrition you need.
How do you do that? We've got you covered with 21 Day Fix EXTREME and Shakeology. You see, 21 Day Fix EXTREME is a workout and a food portion-control program that combines simple eating and simple fitness for fast results. Shakeology is also part of that program, so you can rest assured that your body will be getting the adequate fuel it needs to complete one 30-minute workout a day for 21 days. It's hard work and less lenient meals, but it's also only 3 weeks. And it's definitely worth it. This month, you can even get the duo on sale here: CLICK
It's always easy to claim certain things without validation, but that's not our style. Here are stories from two people who found exactly what they needed with 21 Day Fix and Shakeology. Have you tried the program? What did it do for you?
---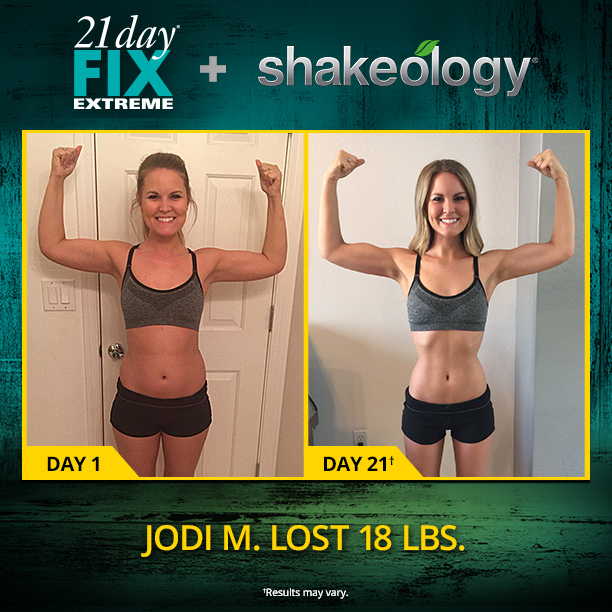 "The workouts were tough, but they were so worth it because my whole body transformed."
"My fitness level before 21 Day Fix Extreme was a 4 out of 10, which was probably why I was always tired. And while I knew the difference between healthy and unhealthy eating, I truly did not understand portioning. So when a friend achieved amazing results with this program, I just had to try it. I'm so glad I did because it changed my life 100%!

My goals with 21 Day Fix Extreme were to trim body fat and build lean muscle. I loved exercising with Autumn because she was incredibly motivating and I always felt as if she was talking directly to me. Not only did I lose 17 inches, 18 pounds, and go from a size 6 to a 2, but I saw the biggest transformation in the shrinking down of my love handles and in the building up of muscle in my arms and shoulders. Plus, my fitness level increased tenfold; I feel so strong now and have way more energy every day.

I've got to be honest, when I first saw the containers, I thought: wow, those are so small. But I was quickly surprised at how much food I actually got to eat every day. They truly did teach me portion control, so now I know what food to eat and how much I can eat daily. I also drank Shakeology, which played a huge role in my success. It filled me up, fueled me up, helped me feel energized, and helped support my regularity. That shake is awesome! Another part of the program that was awesome was my Coach. She was so positive and motivating and continuously kept in contact with me to help keep me on track. I felt like I was never being judged, which is so important when you're doing something like this."
---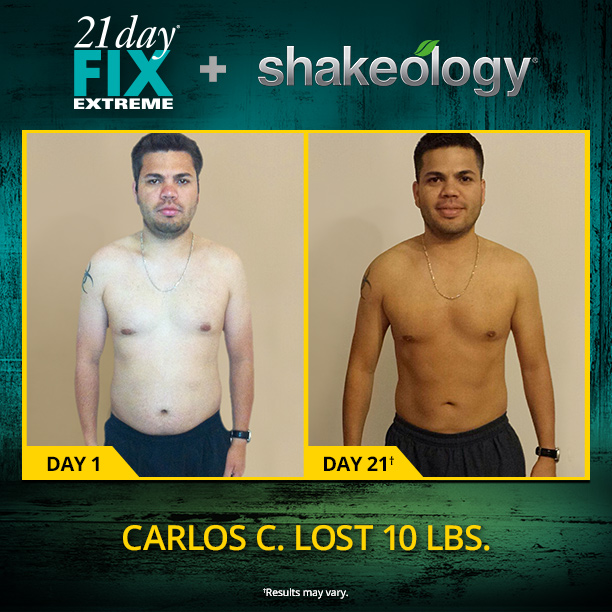 "There's a difference between thinking you're in shape and truly being in shape."
"I really enjoyed 21 Day Fix EXTREME and Autumn truly did take it to the next level. I really liked her style—how she starts the exercises with you, corrects the form of the people in the video while providing tips, then comes back and finishes the moves with you. I saw most of my results in my arms, shoulders, and core. And ­I'm most proud of my abs, since they're now way more defined.

My Challenge Group was absolutely amazing, but my Coach was the main reason I was so successful. She not only helped me with meal planning, but she made sure I got up each morning and did my workouts. Now, that's much easier when you're married to your Coach, but without her I would not have achieved the results I did.

Like everyone probably says, at first the containers seemed small. But once you understand the color codes and what goes in them, my food portions were fulfilling and provided the nutrition my body required to be able to complete the exercises. And I drank Shakeology every day for breakfast. It kept me regular and full, and really helped me reach my goals.

Of course, I lost weight with this program, but I didn't know how much I changed until I had to go to the DMV to get a new license. After the clerk saw my old picture in the system she looked up at me and said, 'OMG, you look great! I can even see the difference in your cheeks.' That totally made my day."