---
Did you know that in just 3 days you CAN get help to lose weight AND break the cycle of bad eating habits? That is, if you do the 3-Day Refresh. And the best part is, you can help maintain those good eating habits by continuing to drink Shakeology day after day, which will supply your body with its daily dose of dense nutrition.
What is 3-Day Refresh?
It's a program of specially formulated shakes, fiber, and recipes for easy-to-prepare clean meals. It helps puts you on the fast track to losing weight and eating healthier by helping you break the cycle of bad nutrition. And unlike a juice fast or an all-liquid cleanse that's high in sugars and low in protein, this program is designed to keep your energy up while your weight goes down. And the best part is, it's not a starvation diet.*
Here are two inspiring Success Stories from women who felt stuck and frustrated, but were able to begin to change their lives in just 3 short days with 3-Day Refresh and Shakeology. They lost weight, felt energized, and got the nutritional knowledge they needed to keep going and going and going.
---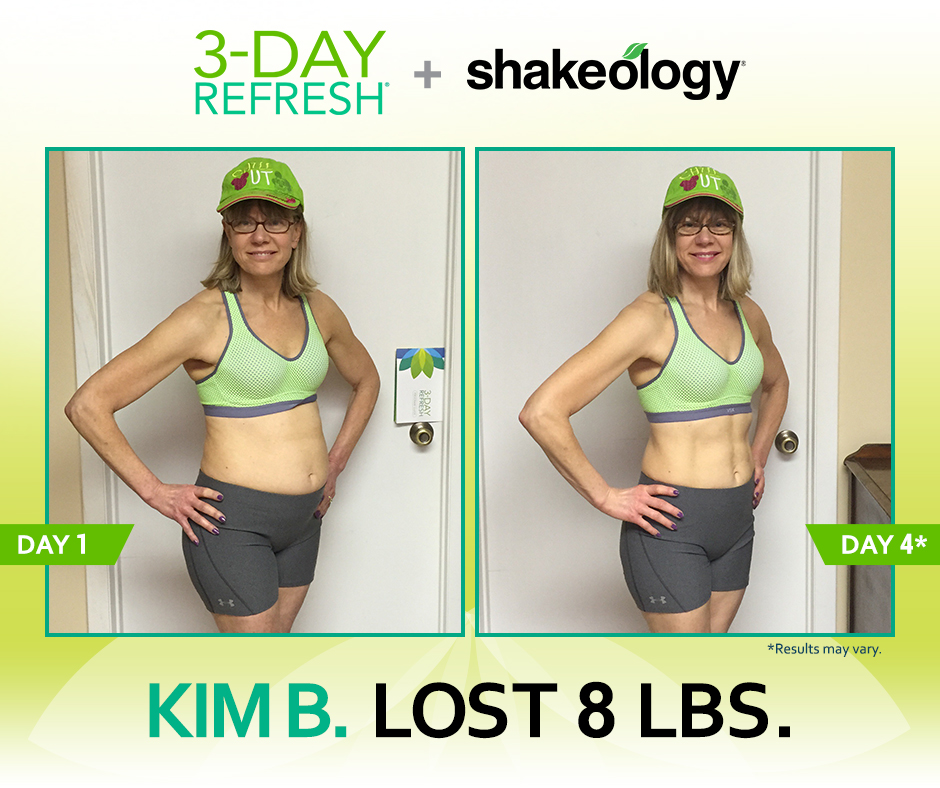 "In just 3 days I was able to get back into my jeans."
"I had been eating impulsively during a recent vacation and came back with what I call a 'vacation bloat'—a puffy belly from poor restaurant choices as well as gobbling down too much packaged junk food in airports. I knew I needed something to help me not only get back on track with my eating, but stay on track—home or away.
Thankfully, I discovered 3-Day Refresh and Shakeology and in JUST THREE SHORT DAYS I lost 7.8 pounds ! Bye-bye, vacation bloat, puffy belly, and feeling chubby. And hello, renewed and smaller me! I was in such a great mood after achieving these powerful results that my confidence soared beyond belief.
Not only did 3-Day Refresh teach me that I could change my body fast, it also taught me that I could change my eating habits for the long haul. I still fuel up every morning with Shakeology, eat healthy snacks and meals, and make the extra effort to stay hydrated throughout the day. And now that I'm eating so much better I no longer experience the sugar cravings I had before.
One of the greatest things about this program is that instead of being told just to eat less, I was given a specific game plan. My astounding results were NOT achieved using weirdo chemicals or cheap junk diet gimmicks. I had a focused meal plan that included a ton of delicious and healthy choices. I never missed a meal and I didn't have a growling, starving experience. Instead, it was enlightening and invigorating and I truly did feel refreshed. It's only 3 days. Anyone can do this."
---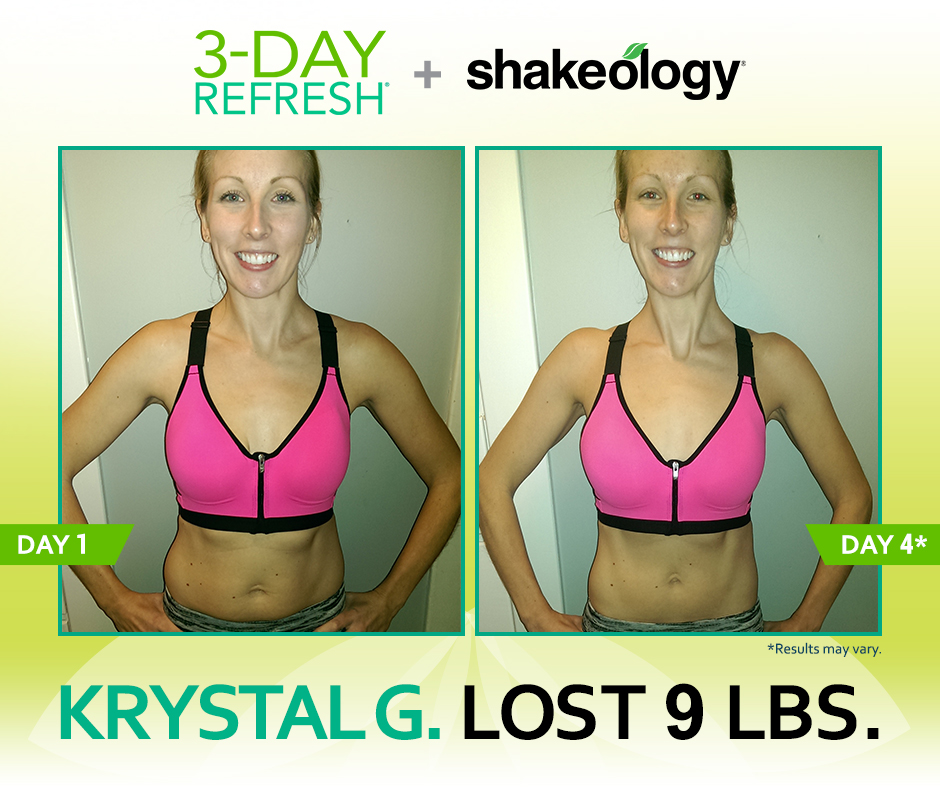 "I never thought I could lose 9 pounds in 3 days. But I did! And I gained a whole new perspective on life."
"Prior to doing 3-Day Refresh I felt incredibly bloated and sluggish, and was losing motivation to get on the right track with my health. I had never done any type of cleansing or resetting of my system, but I knew I needed to do something to get me out of the funk I was in.
So I gave 3-Day Refresh a shot and in just 3 days I felt like a brand-new me! My stomach felt great and I lost my bloat. Sadly, until that point I never realized how bloated I was. There was never a lack of nutrition on this program and my body got exactly what it needed. The Shakeology in the program helped me feel energized, which allowed me to focus more on what I was doing.
The one thing I tell others about is how 3-Day Refresh helped me stay focused and disciplined. This program helped me prove to myself that I really could focus on my nutrition and follow the plan to a T. It was a great feeling knowing that I had enough control within to complete the 3 days—which really wasn't that difficult once I started
I plan to do the 3-Day Refresh every 3 months to keep my system in top working order and to help kick-start any loss of motivation I may be suffering from. Everyone should do the 3-Day Refresh. Well, everyone who wants to feel amazing, refreshed, and alive."
*These statements have not been evaluated by the Food and Drug Administration. This product is not intended to diagnose, treat, cure, or prevent any disease.