---
You've made your New Year's Resolution to get in shape and lose weight.
But exactly how do you plan to get this done? One of the quickest and most effective ways to achieve this goal is with 21 Day Fix and Shakeology. It's the easy-to-follow and easier-to-love combo that can help make your New Year's Resolutions come true!
This simple 21-day exercise and portion-control program, plus the superfood nutrition from Shakeology, has helped thousands of people lose weight the right way. Seems too good to be true, check out these Success Story testimonials and see what the 21 Day Fix and Shakeology did for them!
"21 Day Fix and Shakeology taught me that everything I was doing prior to this program was wrong."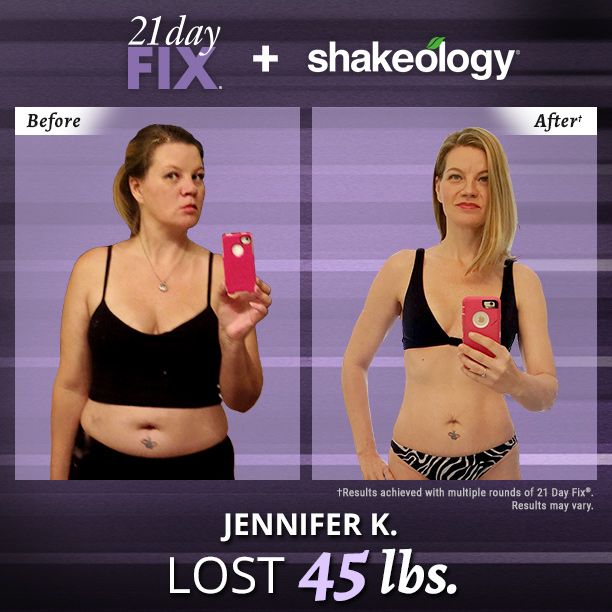 "I had just turned 40 and had never felt worse about my body! My clothes were all too tight and I was extremely concerned about my health. I was desperate and just needed to do something. But what? I never exercised regularly before and I really didn't know how to lose weight. But the second I saw 21 Day Fix and learned that not only was it a fitness program that anyone could do, but also a portion-control food system, I was sold.

The best thing about 21 Day Fix was that it taught me how to replace bad habits with good, healthier ones. The containers were so incredibly easy for me to know exactly what to eat and how much to eat. There was NO calorie counting, just healthy eating. And Shakeology made the eating part even easier. It was my sweet treat every single day! Plus, because it was loaded with all kinds of nutrients, I knew I was fueling my body with what it needed to help me power through my workouts.

Autumn was a great trainer. I loved her! She was so positive and encouraging, yet her words pushed me at the same time. But the best part about the program was my Challenge Group. They were the single greatest reason I achieved success. The accountability and the support made all the difference in the world for me. And in just 5 short rounds, I lost 54 pounds and went from a size 16 to a 6. My stomach, arms, and thighs shrank significantly and I feel so incredibly alive. Thank you Beachbody. You truly did change my life!"
---
"After losing almost 82 pounds, now when my kids hug me, they can reach all the way around me!"
"Prior to 21 Day Fix, I truly had no idea how to eat healthy or exercise. I was born and raised in the Midwest where I learned to cook for an army of farmers where everyone was in the "clean your plate club". I never thought about serving sizes, instead I just ate and ate and ate. I never consumed enough protein and rarely ate veggies (which now I absolutely LOVE). But thanks to 21 Day Fix, I totally get it!

The containers have taught both me and my kids what a real serving size actually is. I also drink Shakeology every day for lunch, which not only makes eating feasible due to my jam-packed work schedule, but it provides my body with what it needs to stay strong and stay on track.

And when it comes to the workouts, I absolutely love Autumn's encouraging style. Exercise has now become a habit in my life, not a reward for when I have time to get it in, nor a consequence for a "bad meal." Because this program focused on my entire body, I was able to shrink head to toe and not look out of proportion. My double chin is gone, I have cheekbones, and my skin glows. I feel incredibly energized, finally have endurance, and can actually outplay my kids!

I no longer say that I'm a "product of my genetics" or that I just have to love what I was "given." I am in total control of what I put into my body, and I'm in charge of how much and how hard I exercise. After all these years, my body is finally my own! This program helped me create a new lifestyle that I will forever follow."
†Results vary.