Do you love Shakeology? Do you love it so much that you've treated yourself to the densely nutritious supplement shake for at least an entire year? Then you're eligible to be a member of The Healthiest Year of My Life.
What is that? It's Shakeology's first members-only club, which honors serious Shakeology 365ers that have ordered 12 consecutive months of Shakeology!
What you get…
If you become a member of the club, you're in for some serious awesomeness. Not only do 365ers get to personally reap the rewards of what a year's worth of Shakeology did for their bodies, you also get a premium reward package including an exclusive 365er shaker cup and a much-revered, often imitated, but can-only-be- earned Golden Scoop.**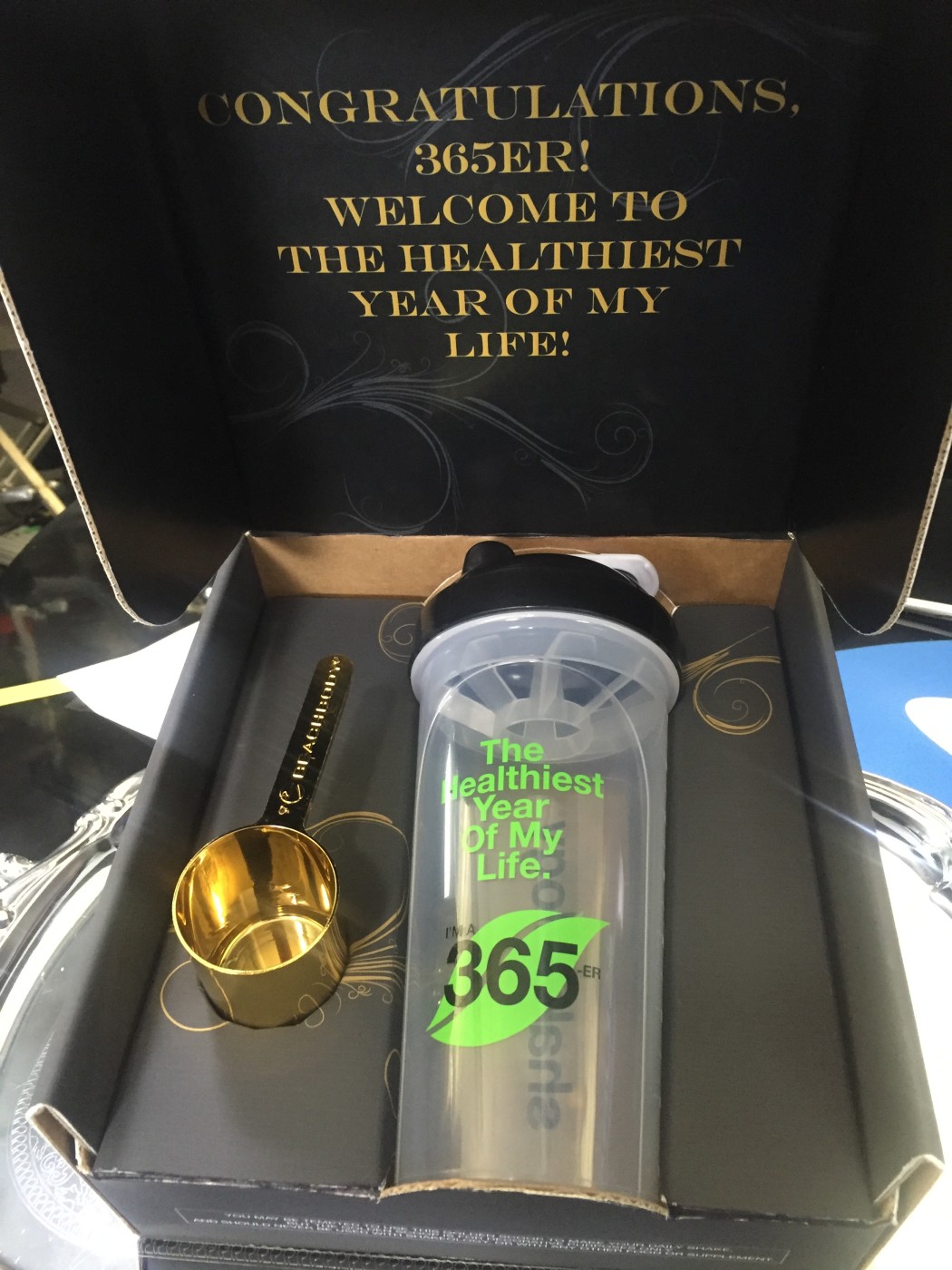 This status is a pretty big deal. People should be giving you VIP parking and letting you skip to the front of the line at theme parks. But until they do, make sure you're using #GoldenScoop on your social media and posting selfies on selfies on selfies with your Golden Scoop and shaker cup. Let people know you're a 365er—you've earned it!
Want in to The Healthiest Year of My Life Club so you can enjoy the prestigious rewards?
Here's what you need to do:
Buy Shakeology every month for at least a year (and drink those healthy and delicious shakes daily)
Earn your place as a 365er in The Healthiest Year of My Life
Receive your exclusive 365er shaker cup and Golden Scoop reward package
Share your success on social media using #GoldenScoop
Revel in your awesomeness knowing that your dedication to nutrition paid off
Sound like a club you want to be part of?
If you're already on Shakeology Home Direct then keep on doing what you've been doing—and in no time your determination, perseverance, and dedication to an exceptionally healthy lifestyle will be rewarded. But if you're not already a monthly Shakeology customer, what are you waiting for? Secure your stash of Shakeology now! There are six delicious flavors to choose from, and our newest flavor, Café Latte, will be available on January 11.
Already a 365er? Then CONGRATULATIONS!
You've worked incredibly hard (and drank a lot of Shakeology) to earn this coveted honor. Keep drinking Shakeology and keep sharing your success on social media with the hashtag #GoldenScoop. You'll be receiving your rewards no later than February. You're truly an inspiration to all!
Still have questions? Click HERE for more detail.
**Golden Scoop is for decorative purposes only and is not to be used with Shakeology, or with any other food or supplements.