Mac and Cheese. This dish is probably not the first thing that comes to mind when thinking of healthy meals for you and your friends or family. Typically, this assumption would be correct. When researching top-rated macaroni and cheese recipes online, one of the best ones we found was the following (click image for source)
Cafeteria Mac and Cheese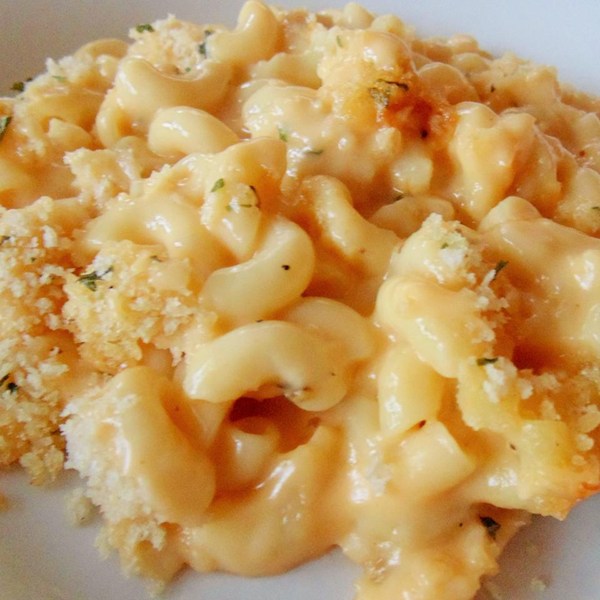 Nutritional Information
1 Serving
Calories: 544
Calories from Fat: 283
Total Fat: 31.4
Saturated Fat: 19.2
Cholesterol: 92
Sodium: 850
Total Carbohydrates: 39.4
Sugars: 4.4
Dietary Fiber: 2.2
Protein: 25.4
Ingredients: standard pasta, butter, milk, mustard, Worcestershire sauce, salt, hot sauce, cheddar cheese, bread crumbs, paprika
The ingredients contain very little nutritional value, and are high in fats and sodium, contributing to the high calorie count. But Mac and Cheese is too yummy to completely nix from the diet, so we transformed it.  Actually, Autumn Calabrese did. We pulled this recipe from her cookbook, Fixate, and did a little comparison. We also gave you the recipe so you can see just how delicious healthy food can be:
---
Fixate Macaroni and Cheese with Broccoli and Chicken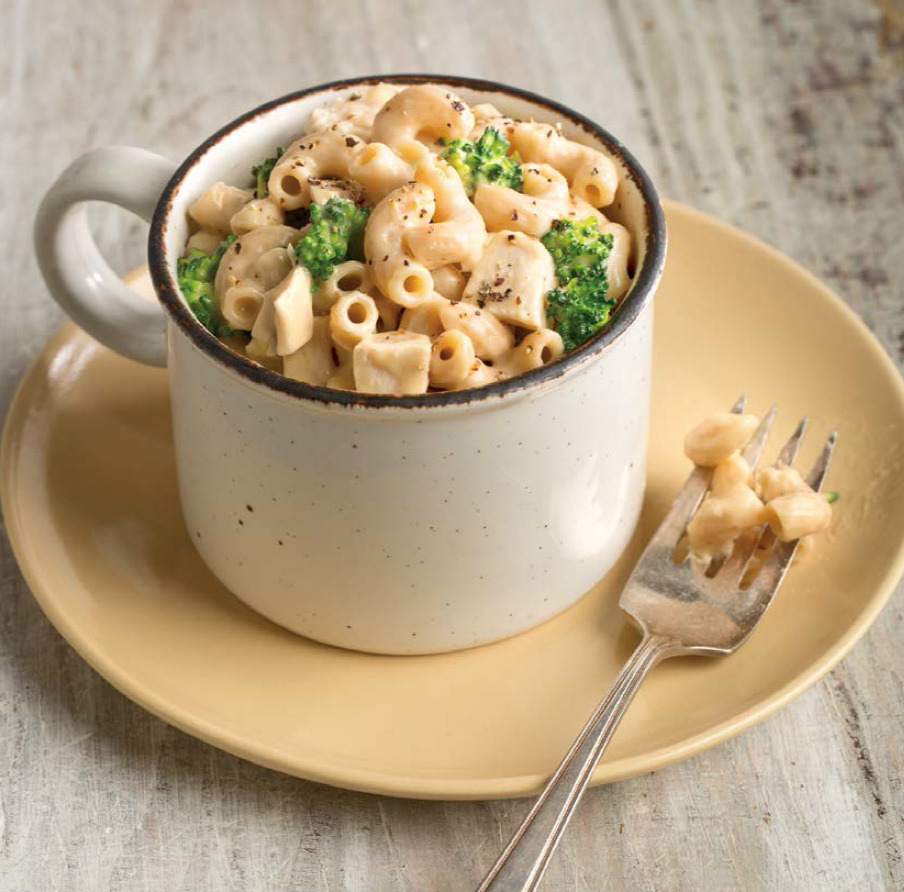 Total Time: 37 min.
Prep Time: 20 min.
Cooking Time: 17 min.
4 oz. dry whole wheat elbow macaroni (or pasta)
4 tsp. organic grass-fed butter (or organic coconut oil)
2 Tbsp. unbleached whole wheat flour
1½ cups unsweetened almond milk
1¼ cups freshly grated extra-sharp cheddar cheese
3 cups cooked chopped chicken breast, boneless, skinless
4 cups chopped broccoli florets, steamed
1 tsp. sea salt (or Himalayan salt)
½ tsp. ground black pepper
Cook macaroni according to package directions. (Do not use salt or oil if suggested in directions.) Set aside.
Melt butter in large saucepan over medium heat.
Add flour; cook, whisking constantly, for 1 minute, or until brown (don't let it burn).
Slowly whisk in almond milk; cook, whisking constantly, for 1 to 2 minutes, or until mixture thickens and there are no lumps.
Reduce heat to low. Add cheese; cook, whisking constantly, for 2 to 3 minutes, or until melted.
Add chicken, broccoli, salt, and pepper; cook, stirring constantly, for 1 minute, or until heated through.
Serve immediately.
Tips and Variations:
Use quinoa pasta and gluten-free flour if you're following a gluten-free lifestyle.
Asparagus, green beans or Brussels sprouts can be substituted for broccoli.
A combination of cheeses like cheddar and Gouda, cheddar and Monterey jack, and cheddar and Asiago can be substituted for sharp cheddar.
Nutritional Information (per serving):
Calories: 245
Total Fat: 10 g
Saturated Fat: 5 g
Cholesterol: 68 mg
Sodium: 486 mg
Carbohydrates: 14 g
Fiber: 2 g
Sugar: 0 g
Protein: 25 g
The swap of whole milk with unsweetened almond milk, the addition of lean proteins and veggies, and the removal of breadcrumbs reduces the fats, carbs, calories, and sodium and adds a bit more variety to your typical pasta dish. Give it a try and let us know what you think!
---
And for those doing portion control:
Container Equivalents
½ Green
½ Yellow
½ Red
1 Blue
½ tsp.