---
We cannot believe that it is officially November (and has been for about 5 days)! Just because you're starting to layer on the clothing doesn't mean you should cheat and go for the calorie-laden comfort foods. While it may not be as apparent under those chunky sweaters that you're upping your sugar and fat intake, your body will feel less than awesome and your hard work will be stalled.
To help make the temptation of comfort foods that come with the cold weather, we at Beachbody are giving healthy "makeovers" to these traditional treats. One of the snacks we see popping up all over once Daylight Savings Time passes is the Oatmeal Cookie. Check out how we re-did this one:
BEFORE: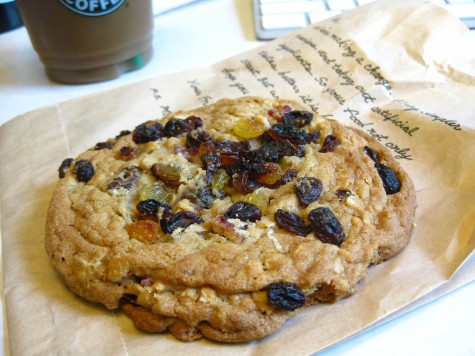 This is the nutritional info and ingredient list for one Starbucks Oatmeal Cookie.
Nutrition Facts Per Serving:
Calories: 290
Total Fat: 12 g
Saturated Fat: 7 g
Cholesterol: 45 mg
Sodium: 190 mg
Total Carbohydrates: 40 g
Dietary Fiber: 3 g
Sugars: 20 g
Protein: 5 g
Ingredients:
oats, butter (cream), enriched wheat flour (wheat flour, ascorbic acid [dough conditioner], niacin, reduced iron, thiamine mononitrate, riboflavin, folic acid), raisins, brown sugar, sugar, eggs, liquid invert sugar, apricots, spice (cinnamon), baking soda, natural flavor, salt. 
As you can see, even with "enriched" flours, the ingredients still consist of sugars (3 different kinds) and the second ingredient is butter. One slice also brings in a whopping 12 g fat, 20 g sugar, and 40 g carbs (on top of the 410 calories for a slice)!
AFTER:
Apple Oatmeal Cookie Shakeology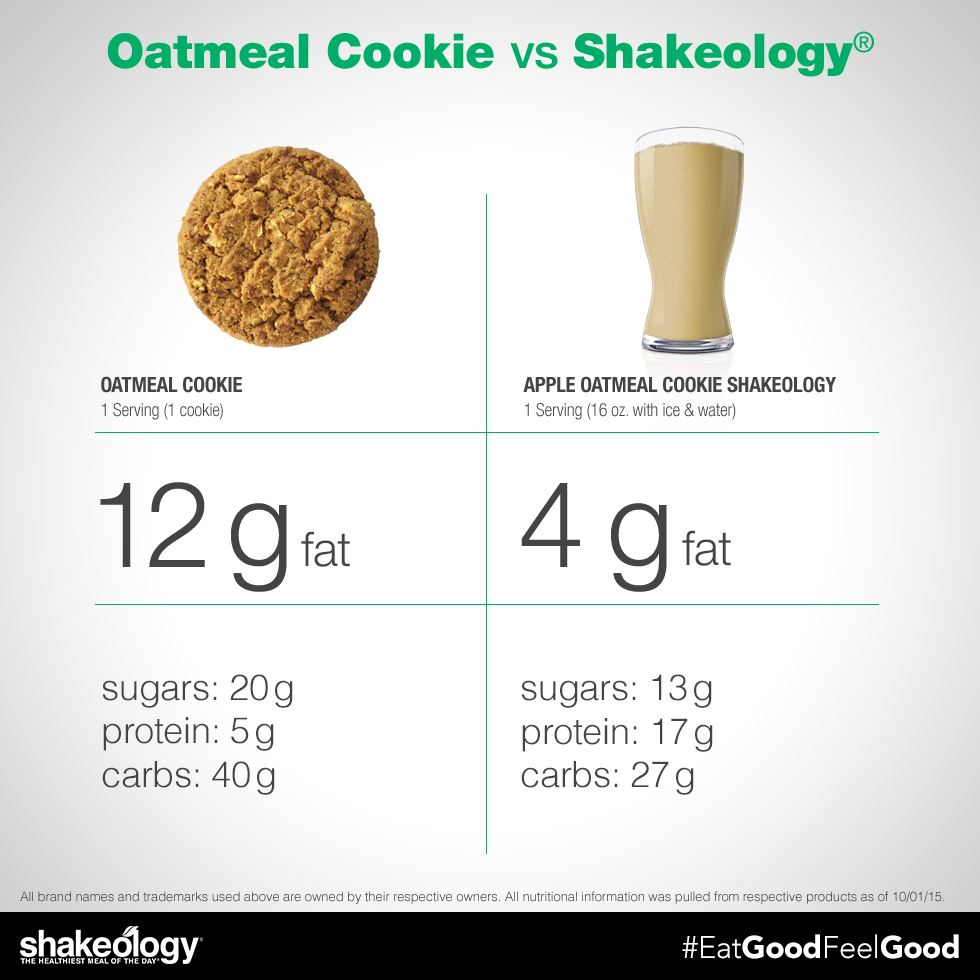 What better way to get nutritional value and the taste of an oatmeal cookie? Turn it into a Shake!:
Ingredients:
½ cup water
½ cup unsweetened almond milk
1 scoop Vanilla Shakeology
1 Tbsp. quick-cooking rolled oats
¼ cup unsweetened applesauce
1 tsp. ground cinnamon
1 cup ice
Nutrition Facts Per Serving:
Calories: 200
Total Fat: 4 g
Saturated Fat: 0 g
Cholesterol: 5 mg
Sodium: 301 mg
Carbohydrates: 27 g
Fiber: 6 g
Sugars: 13 g
Protein: 17 g
We did not add any sugars (other than fruits that have natural sugars) and we incorporated the oats and some applesauce to amp up the fall flavors. We cut the sugars, calories, fats, cholesterol, and carbs while increasing the proteins and fibers. As always, this is a super easy recipe to make: just combine ingredients in a blender and enjoy!