---
Transforming your body does take work. There's no way around that. But when you do PiYo and drink Shakeology daily, it doesn't feel like work at all. That's because PiYo is a low impact program that melts fat away with its precision crafted moves. And Shakeology is a nutrient-dense shake that fuels your body with what it needs to help you power through your workout and day.
To prove that this killer combo works wonders, check out stories from people who tried PiYo and Shakeology. Then treat yourself to the dynamic duo for similar results.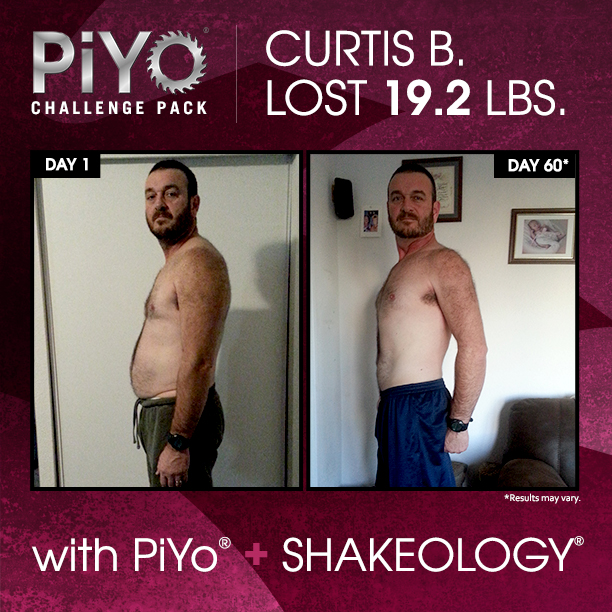 "I'm a disabled veteran with back, shoulder, and knee problems so I needed a workout that wasn't going to beat up my already broken body. My wife's a Beachbody Coach and knows the workout programs inside and out, so when she recommended PiYo to help me lose weight and regain my strength, I was all over it.

PiYo really worked on my flexibility and range of motion more than I thought that it would. The routines were easy to remember and flowed really nice. Plus, I got amazing results without getting beaten up. The strength part was very modest, and depending on how I felt it was up to me to go easy or push hard. I highly recommend this program for anybody—regardless of their fitness level.

Even though PiYo did phenomenal things for my body, the real game changer in my weight loss journey was due to Shakeology. During the first 30 days I didn't use Shakeology or change my eating habits. But during the next 30 days I drank a Vanilla Shakeology with a banana and peanut butter every day for lunch. Not only did it hit the spot, my fire was lit. It made my workouts so much easier and I wasn't as hungry in between meals. My friends can't believe how much weight I've lost in such a short period of time. I'm 50 years old and people 20 years younger have trouble keeping up. Thanks Beachbody, you truly did transform my life."
---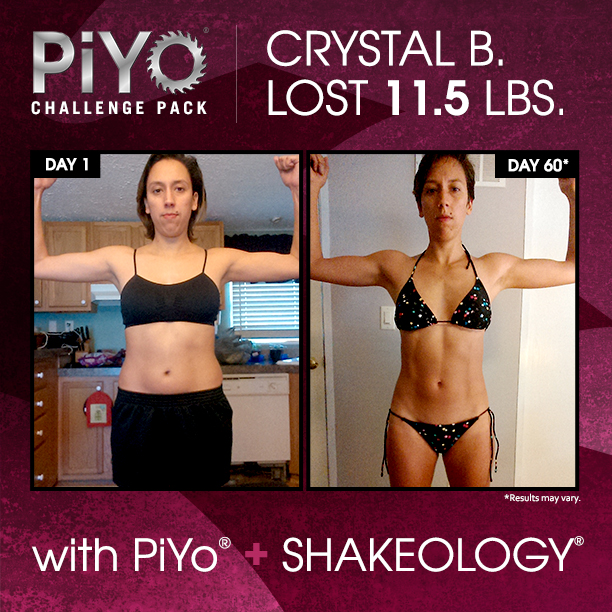 "Prior to PiYo my only experience with Pilates and yoga were videos on YouTube, and I pretty much hated them. While the movements seemed like they were something my body needed, I didn't find traditional Pilates or yoga very fun. I prefer moving and pushing and all the other stuff to be mixed in with it. So when my friend started a PiYo Challenge Group I decided to give it a shot—and I'll be forever thankful that I did.

Never in my wildest dreams did I think my body would look like this again. I really did think that getting back to looking like I do now would require insane amounts of exercise and sacrifice. Sure I had to buckle down, get my diet under control, and get my body moving—but it was a lot easier that I thought. It didn't require eating some crazy restrictive diet that left me starving, and I didn't have to spend endless hours every day exercising. Instead, I learned how to fuel my body with proper nutrition so that I had the energy to power through a short workout.

Being fit is a pretty awesome feeling, both physically and mentally. My clothes that were once snug finally fit again! I'm incredibly proud of my physical transformation because I worked my butt off to get these muscles and this strength. I'm starting to see the old me again and am loving it! Thanks Beachbody, the old me is BACK!"
---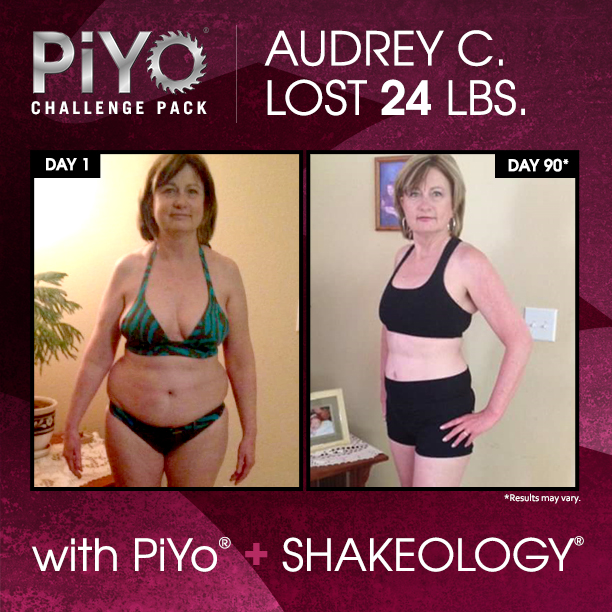 "After completing one round of 21 Day Fix, I felt like I needed to increase my flexibility while continuing to tone-up my body and get stronger. I discussed these desires with my Coach and together we decided that Shakeology and PiYo were the right fit. Plus, it was part of a Challenge Pack that month, which made it a no-brainer.

I had never tried Pilates or yoga before PiYo, and it was much more challenging than I thought. I loved how sweaty I could get from doing moves that simply stretched my muscles. Plus, I'm pretty darn proud of the fact that I can now comfortably touch my toes.

I also drank Shakeology every morning during the 8 weeks and it definitely helped keep my nutrition in check, as well as increased my physical results. Before doing PiYo and drinking Shakeology my clothes were tight and uncomfortable. But afterwards, not only did my clothes not fit me anymore, they were all too big for me. I'm talking fall-to-the-floor too big!

Plus, I have way more energy than ever before and it's so easy to keep up with my 3 kids. Lately I've been wearing them out, versus the other way around. I can't thank you enough Beachbody, these products truly have changed my life."
Learn more about how PiYo can help you achieve your goals.