Sometimes getting on the right track is a little daunting—we get it. We understand that your goal might seem like a million miles away and getting on the road there is the hardest step. We're here to help. Check out 3-Day Refresh.
What is 3-Day Refresh?
It's a program of specially formulated shakes, and recipes for easy-to-prepare clean meals, that puts you on the fast track to losing weight and eating healthier by helping you break the cycle of bad nutrition. This is a quick way to get yourself on the road from point A to point B with a helpful guide and options so you can tailor the program in a way that works for you.  3-Day Refresh includes Shakeology as a breakfast component, but this month the 3 Day Refresh and Shakeology Challenge Pack is on promotion, so you can continue to maintain your success and drink something delicious every day if you choose this duo.
Below are three Success Stories from women who felt stuck and frustrated with their size and weight. But instead of staying down in the dumps, they got the tools they needed to make a change for the better. And in just 3 short days, they turned their lives around.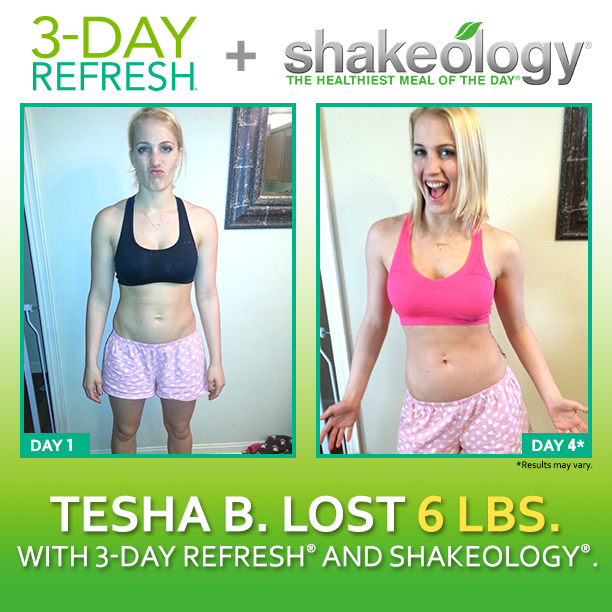 "If you want to feel great about your body in a short period of time, 3-Day Refresh is the way to go!"
"The great thing about an all-inclusive vacation is that you're not nickeled and dimed to death for every little thing you do and eat. The bad part is that in order to feel like you're getting your money's worth, you eat and drink everything, and I mean EVERYTHING, you possibly can. Sure, I feasted like a queen and had the time of my life during my all-inclusive vacation, but I also gained 10 pounds by the time I returned home. I was bloated beyond belief. My clothes were tight and uncomfortable. My love handles came back. And all my hard work of getting to my pre-vacation goal size and weight was gone. Very, very gone!
I needed to detox my body from all the garbage I stuffed myself with, so to get me feeling like myself again, I turned to the 3-Day Refresh—and thank goodness I did! I had no idea I was going to lose 6 lbs. so quickly, but 3 days of a little hard work paid off immensely. I no longer craved sweets or carbs the way I did when I first returned from vacation. I no longer was living meal to meal, nor was I ever hungry. And I was a million times more satisfied with my regular clean eating after the Refresh—which is EXACTLY what I needed."
---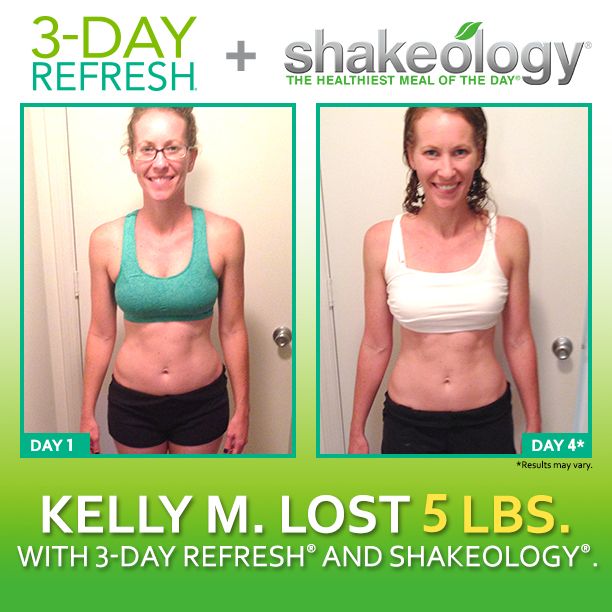 "I lost 5 lbs. and 1 pant size…IN ONLY 3 DAYS!"
"Even though I had been working very hard at getting fit for the past 4 years, after spending only one summer eating and drinking whatever I wanted, I gained around 6 to 8 pounds. Physically, I was extremely tired and felt gross carting around all that unwanted weight on my stomach. Emotionally, I was exhausted! I was feeling down and depressed due to the weight I had gained, and was not happy with how I looked or felt at all.
I knew what my problem was. I didn't have my nutrition under control. So it didn't matter how hard I worked out, the extra pounds were NOT coming off! And thankfully, I also knew what the solution was—the 3-Day Refresh.  In just 3 short days I lost 5 pounds, my bloating went away, and I was full of energy. I felt light and airy, my clothes fit again, and I felt incredibly accomplished. I'll be honest, day three was tough. But I did it. And I felt amazing!
Losing a few pounds fast like that is so encouraging. I was able to establish healthy new habits like: Drink more water, and eat more veggies and healthy fats versus stuffing yourself with fruit. This program is definitely a great jump-start to establishing a healthy lifestyle. Thank you, Beachbody, for getting my nutrition back on track."
---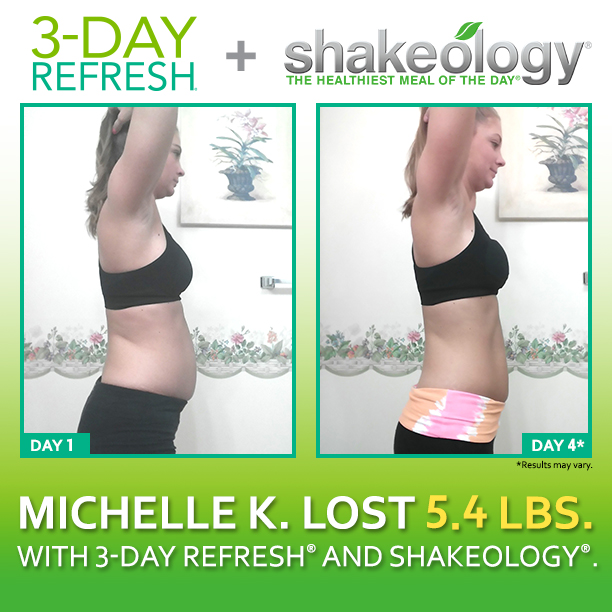 "In just 3 days I felt lighter and more energized—the results were absolutely amazing!"
"Before the 3-Day Refresh I was very unhappy with the size of my belly. Not only was I bloated all the time, I struggled daily with having energy. Plus, I needed something that could help me ditch my cravings. Even though I was working out consistently, my nutrition was off and I couldn't lose weight.
Yes, it's true—I wanted fast results. And with 3-Day Refresh, fast results are what I got! In JUST THREE DAYS I lost 5.4 lbs. and 7.25 inches and felt incredible. My stomach looked and felt so much lighter. My headaches and brain fog were gone. And not only did my energy shoot up, so did my mood. I no longer felt sluggish, especially in the afternoons when I'd typically crash. All in all, I was less stressed and so much happier in life.
I learned that by eating the right mix of healthy food, in the right amounts, truly does fill you up. I also learned that eating healthy doesn't have to be bland and boring. This program was such a great way to cleanse and rejuvenate my body. I had plenty of food to eat each day and it all tasted great. I plan to do 3-Day Refresh every 3 months, just to give my body a chance to renew itself on a regular basis."
*These statements have not been evaluated by the Food and Drug Administration. These products are not intended to diagnose, treat, cure, or prevent any disease.