---
It's that time again–the time when you can vote to pick the Beachbody Challenge Grand Prize winners. If you need a reminder on what the Beachbody Challenge is, click here. The grand prize and final round of voting is upon us and you can help someone who has decided to make a positive life change win $100,000! Click on the below images to vote for the Beachbody Challenge grand prize finalists and read a little bit about each person below! (or click here to vote too)
Meet Shelley: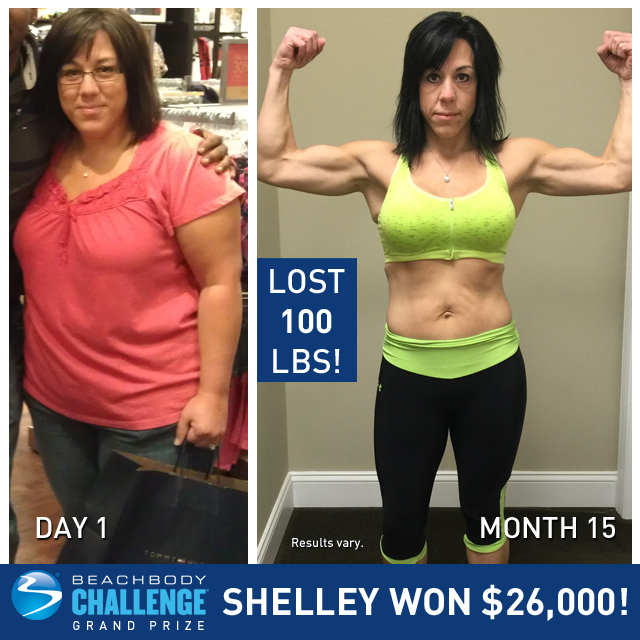 What Shelley has to say about her transformation: 
It was very difficult at first to exercise due to being so overweight and there were so many times I just wanted to give up! Thankfully with my group of very supportive friends, I pushed through. Utilizing the Beachbody website has been very helpful in this journey. Shakeology has also been very key to my weight loss. After each program, I became stronger and leaner. I hit my 100 pound weight loss in 15 months using nothing but Beachbody programs and Shakeology
Meet Timothy: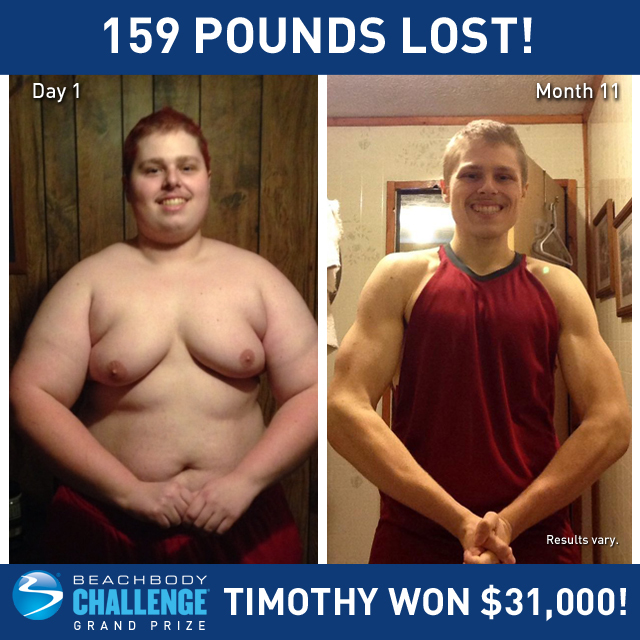 What Timothy has to say about his transformation: 
My greatest challenge was committing to the diet plan. I have never ate healthy in my life. I hated nearly all vegetables. How was I going to do this? I needed my pizza and fries. However, through research and reading stories on Beachbody about how other people overcame this, it gave me hope. As I started to change my diet I saw dramatic changes, not only in my body but how I felt too, my energy was through the roof! Healthy eating along with Shakeology had changed my life, and now I crave healthy food instead of junk food!
Meet Randi: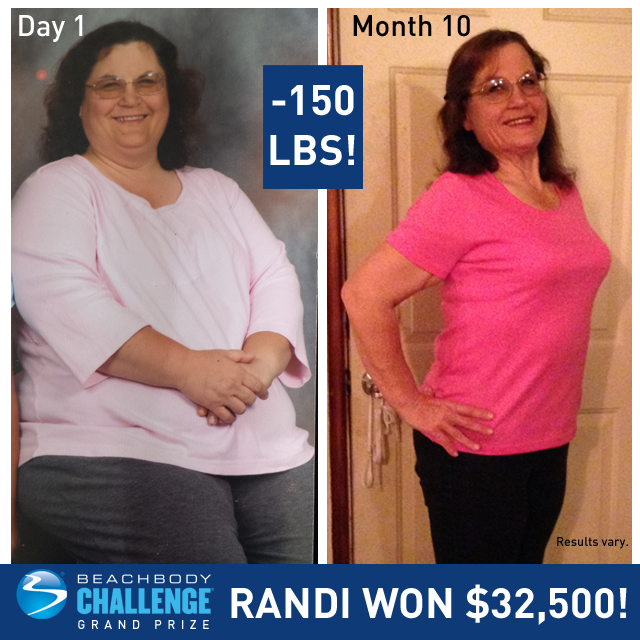 What Randi has to say about her transformation: 
Since starting the 21 Day Fix I have lost 150lbs. I have lost 100 inches overall. I am proud of not quitting. This time I am not a failure. I have gained a feeling of self worth, and self respect…like I matter! I finally matter! I can walk with my head held high, and I'm not afraid of how others look at me. I actually love how people look at me now. Although, I have to say, it is a change to hear how great I look- I'm still getting used to that! Beachbody has made my hopes and dreams into a reality. I'm healthy, happy, and so blessed. My daughter can look at me now and see that I am strong and confident, and this time I succeeded. I am the most proud of being this kind of example for my daughter.
Meet Caleb: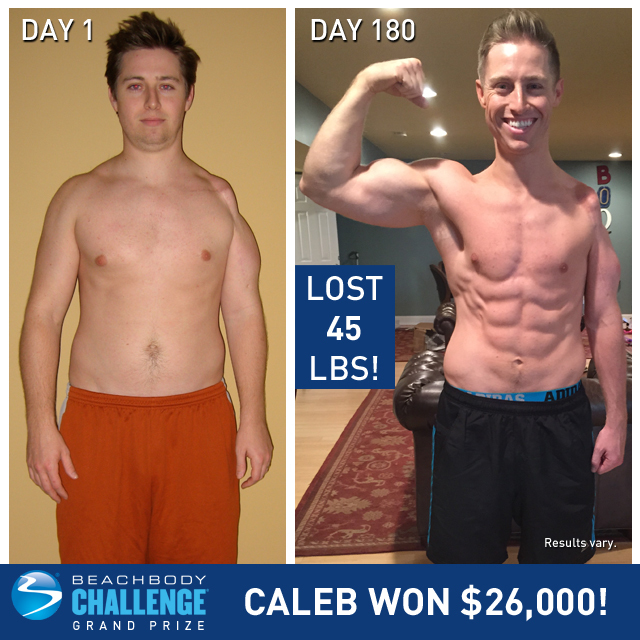 What Caleb has to say about his transformation: 
With Beachbody, I lost nearly 40 pounds! I dropped several pant sizes, and regained a confidence in my own strength and athleticism. My wife and I often remark that the program is 30 minutes but the Beachbody lifestyle is constant. It's a change in the way we think, the way we live, the way we feel. Thirty is better than twenty. A life of fitness, wellness, and youth is a 24 hour ever-evolving consciousness that has become a part of who we are. We have cultured and nurtured a life-style of wellness. Take the stairs. No fries thanks. We'll walk. Aging is for people who don't know better.
Meet Jessica: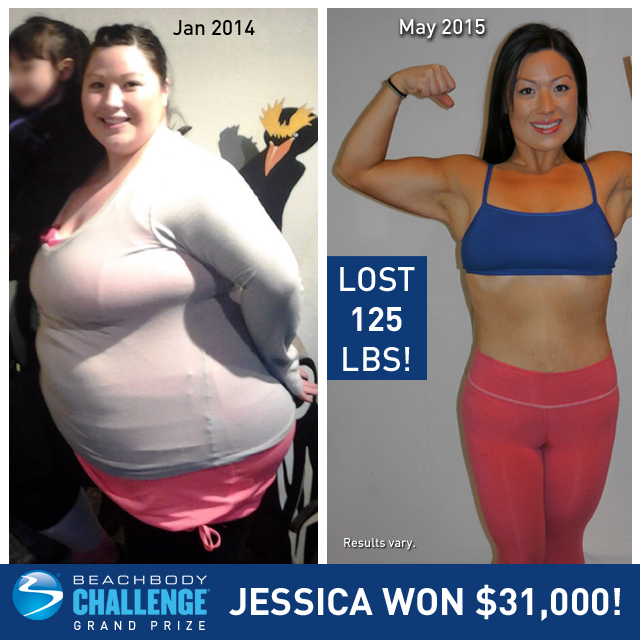 What Jessica has to say about her transformation: 
I feel alive! I am So happy, and everyday feels like a blessing! I get up everyday and am excited to see what the day has in store for me and my little one. We go on adventures almost everyday! I find any excuse to get out of the house and go for a walk with my daughter, whether its to go the library or the park or the neighborhood aquarium, we just grab the stroller and start walking!!! Beachbody has given me a life I thought was lost, a life I could never see because I was in the dark. 
Meet Casey: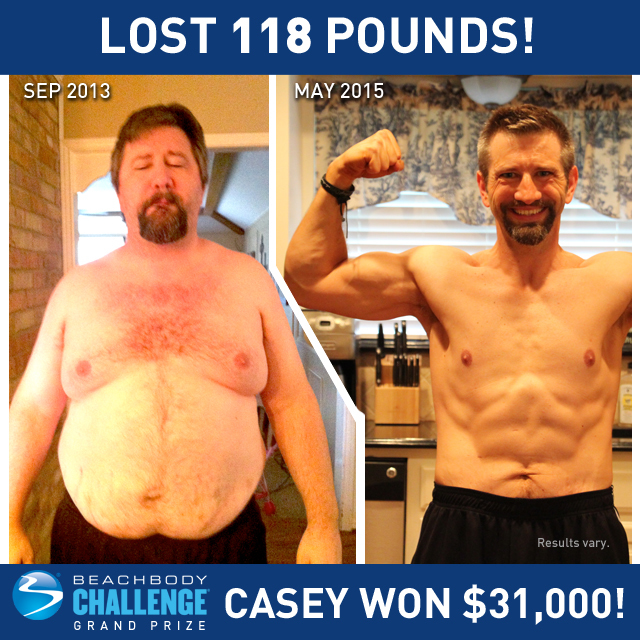 What Casey has to say about his transformation: 
T-25, P90x3, and Insanity…and of course Shakeology everyday has changed my life by giving my life back! How? I can play with my kids! My wife has never seen me look and feel so good! I have suffered through this auto immune disease by having multiple lumbar punctures, multiple trips to the hospital, sometimes spending up to two weeks at a time getting a flare up under control. This has changed my life!!! I AM SOLD OUT TO TBB! I have my life back because I can run with my kids, I am not hurting. I have energy. I AM HAPPY again I am spreading a passion now for fitness for those who feel like they have no hope. Well, there is always hope and its my life's aim to ignite fitness and clean eating by sharing with people what TBB can do for them.
Meet Diane: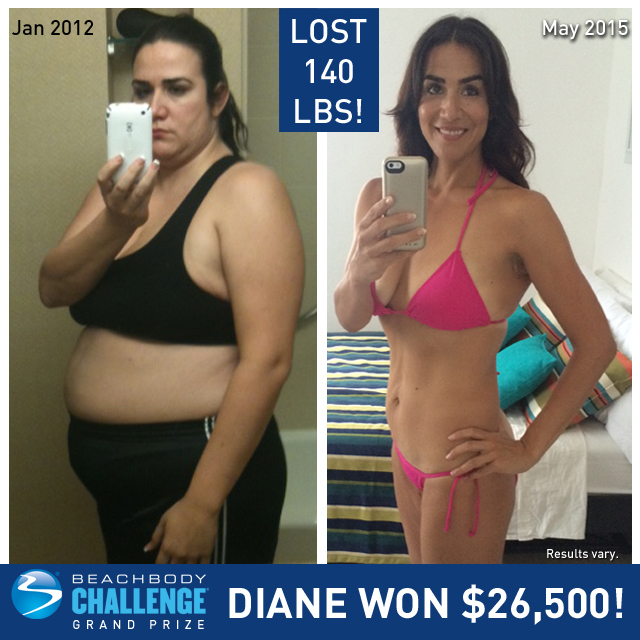 What Diane has to say about her transformation: 
Beachbody has transformed my life is so many ways, and I am forever grateful. Prior to Beachbody, I was obese, severely depressed, filled with sadness and fear, hopeless, completely defeated and had a bad relationship with food. After being introduced to the Beachbody program, I have lost 135 pounds, improved my overall health, overcome my severe depression, overcome my eating disorder, I have learned to incorporate health and fitness into my life and I have begin to live again. I was such a strong believer in Beachbody that I became a Beachbody Coach to help, inspire and motivate others to achieve their dreams
Meet Martin: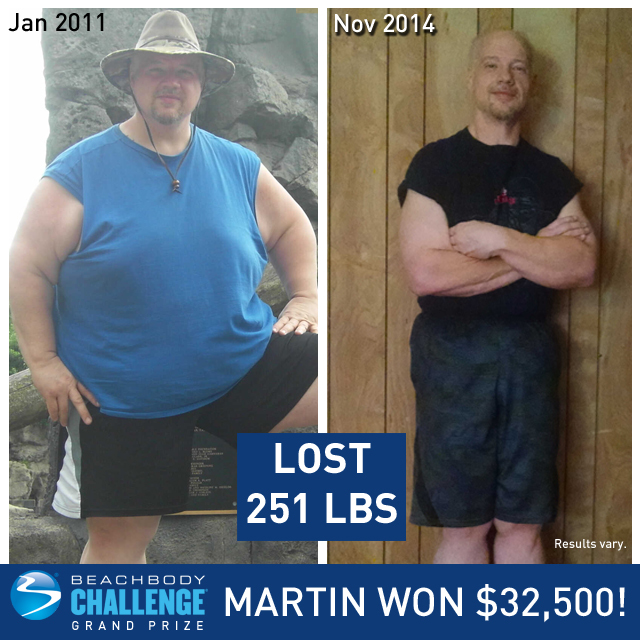 What Martin has to say about his transformation: 
My life before I started my fitness journey was literally a living hell on earth. Day to day tasks like tying my shoes or picking something up from the floor was almost impossible. I had gotten to the point where I could barely walk. Every type of day to day task has become easier for me since doing T25. I can now bend over and tie my shoes with ease. And I actually enjoy it when there is some type of physical labor to be done at home or at work. The biggest achievement by far for me is the amount of toning these workouts have done to my body. My overall appearance continues to improve even though most of the weight I needed to lose is already off of my frame. I have dropped from an XL shirt and 42″ waste to a large shirt and a 34″ waist. People who used to tell me I needed to do some type of cardio workout are now telling me they need to start being more committed like me.
Click the photos to vote or HERE and don't forget that ANYONE can do the Beachbody Challenge. Voting period ends 6/30/15 before midnight.