Muscles are hot. Skinny and flabby are not. But don't take our word on it; take it from these three people who tried Body Beast and Shakeology. While they didn't necessarily set out to "Beast Up", transform their nutrition, and completely overhaul their lives, it happened. And if they did it, you can too. Let their words be the inspiration you need to create a brand new, happy and fit, you.
This month only, you can get this combo for a fantastic deal with the Body Beast and Shakeology Challenge Pack.
---
"I've never felt better in my entire life than when I lost 17 pounds with Body Beast."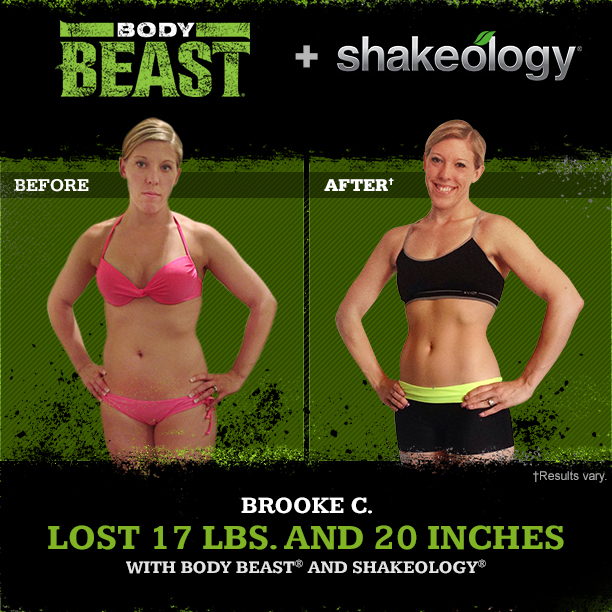 "I started Body Beast during the lowest point in my life. Not only did I feel flabby and out of shape, my husband was deployed to Afghanistan, and I'd been to two family funerals in the past 2 months. But instead of letting the loneliness and sadness define me, I knew that my happiness was my choice, and I was going to take it back. And take it back I did…with Body Beast!
Today I'm more confident than I've ever been in my entire life. I'm physically and emotionally stronger because of the incredible support from my Beachbody peers, my family, my friends, and most of all, my husband. Because of the physical and emotional strength I gained with Body Beast, I'm now the most confident wife, friend, and sister I've ever been. In just 90 days I lost 17 pounds, 4 dress sizes, 9% body fat, and 20 inches overall.
Body Beast picked me up when I needed it most and built me into a stronger person. My transformation wasn't easy, but it was worth it. Every day I wake up with a smile knowing that I'm accomplishing my goals and nothing can stop me. NOTHING! Yet I never believed that until Beachbody became a part of my life."
---
"I lost over 23 lbs. and 4 pant sizes with Body Beast and Shakeology."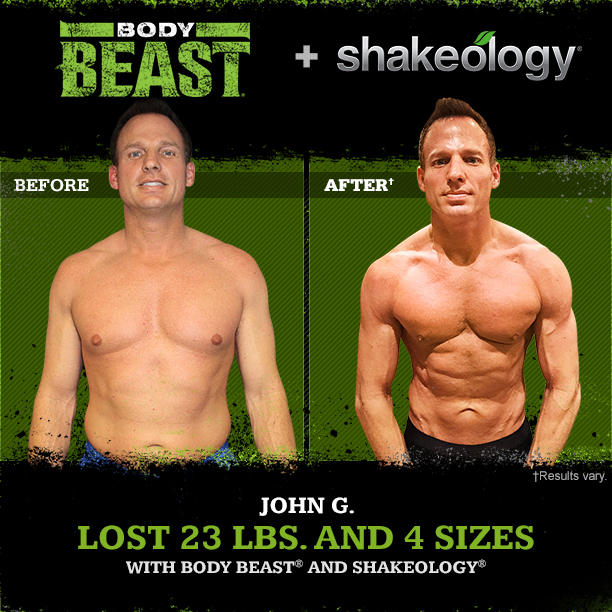 "Prior to Body Beast, I was doing various routines based on recommendations from Men's Health magazine but wasn't getting the results I wanted. So when we began a 90-day fitness challenge at work, I told my Beachbody Coach, Jen Thatcher, to pick whatever program she thought would work best for me. And Body Beast it was.
I drank Shakeology following my workouts, which not only reinforced what I was doing in the gym, it helped me stay on track with my meal plan throughout the day. In just 30 days I saw a significant increase in my strength, energy, focus, as well as a decrease in weight and inches from my waistline. At the 60-day mark I was obsessed with the program and moved my target weight down to 175, a weight I had not been since high school. At the end of my 90-day challenge, I hit my goal and exceeded all expectations I had for this program.
So many people have commented on my transformation, saying I look healthier, younger, stronger, and very fit. Hearing that feels good. But living in my newly transformed body feels downright amazing! I haven't looked or felt this good since high school and have a brand new outlook on life. Thanks Beachbody, I couldn't have done it without you."
---
"Body Beast and Shakeology helped me feel less like a wimpy chick and more of a tough woman."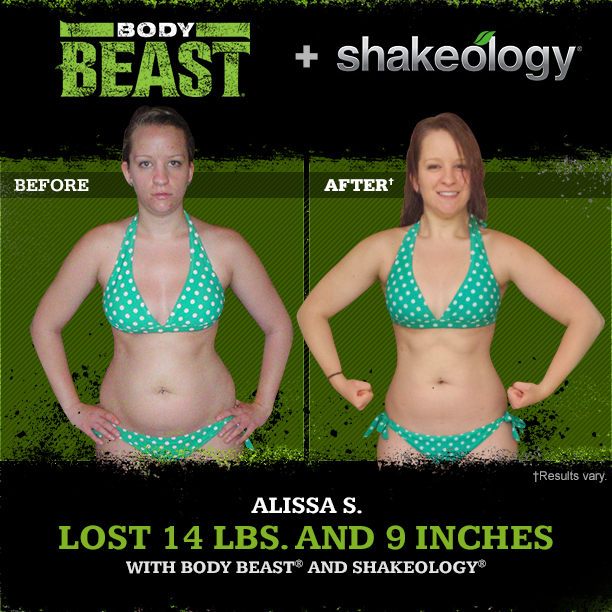 "Before Beachbody transformed my life, I was suffering from Stage IV Endometriosis which has painfully controlled me since I was 15. Three years ago I had surgery (which gave me short term relief) and was put on a hormone pill that had a possible weight gain side effect—which I used as a crutch to emotionally eat my way through every situation. As my weight increased, my frustration grew, and I found myself in a vicious cycle of: cry, eat, cry because I ate badly, eat more since I already ruined my diet for the day—repeat.
I knew I had to change and really wanted to feel strong. So even though I had never enjoyed weight lifting before, I bought the program and went with it. To my surprise, I fell in love immediately! My goals with Body Beast wasn't to lose fat or look thinner, it was to do pushups on my toes, a pull-up unassisted, and to be viewed as a "tough" woman.
One year later I feel like a completely different person. I finally have quad muscles, strong shoulders, and can do real pushups. I'm addicted to Shakeology. I have more confidence than ever before and my self-doubt has flown out the window thanks to proper fitness and nutrition.
Most importantly, I no longer hide behind baggy clothes, love being active and fit, and really enjoying looking like a lady and strutting with confidence! Finally, I'm in control of my body instead of it being in control of me. Today I'm stronger than anything I ever imagined, but my strength isn't just physical, it's also emotional. When I'm feeling weak, I just press play and forget my troubles. Thanks Beachbody, you truly did change my life!"