---
Want to get in shape for summer? There's still time. That is, if you MAX OUT with the INSANITY MAX:30 and Shakeology Challenge Pack.
Check out these inspiring Success Stories of super busy people, just like you, who were crunched for time, yet got unbelievable results. All it takes is a dream and some drive—and you, too, can transform your life.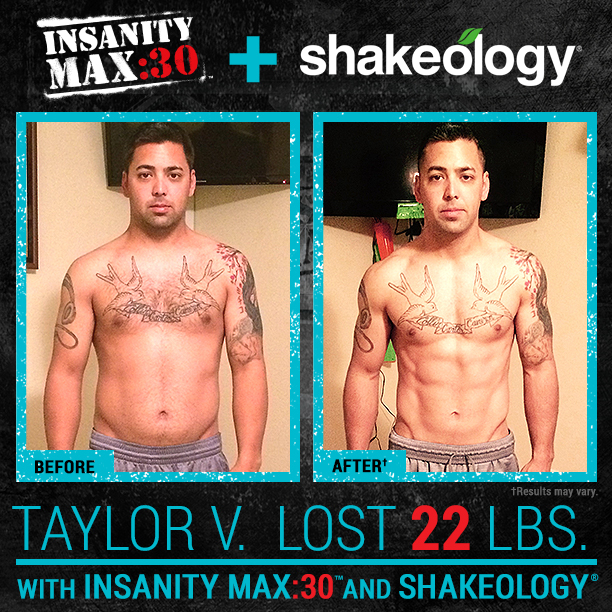 "I'm in better shape now that I was in high school—and that was 12 years ago."
"After losing 22 pounds with INSANITY MAX:30 and Shakeology I feel amazing and have more energy than ever before! I went from 16% body fat to 9% and lost 5 inches overall. I can take off my shirt in front of anyone and not think twice about it. My confidence is through the roof and my self-esteem continues to grow.
INSANITY MAX:30 completely changed my life. Shaun T. pushed me to the point of hating him during the workouts, yet loving him afterwards. He inspired me to do better than I ever thought was possible and was pushed to my max—which is why I got amazing results. I've gotten better results with these 30-minute workouts in 60 days than I have by working out in gyms for years with tons of equipment. Plus, I made it my New Year's Resolution to not miss a single day of Shakeology. So far, so good!
I'm an extremely busy person. Work long hours, go to school fulltime, have a second job as a Beachbody Coach, and on top of all that, I have a wife and four children! Needless to say, 30-minute workouts were perfect for my hectic life. 30 minutes a day comes out to 2% in 24 hours. Who can't find 2% of their day to achieve their goals?"
---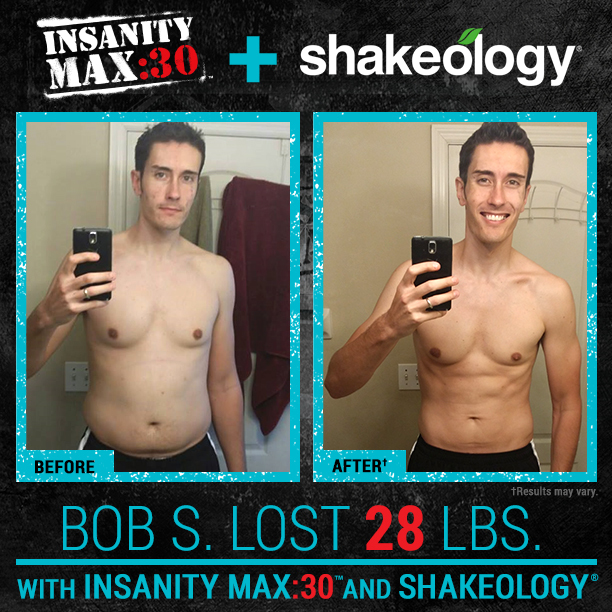 "I lost almost 5% body fat with Shakeology and INSANITY MAX:30, and now my energy is through the roof!"
"When INSANITY MAX:30 was introduced, I got that gut feeling that THIS is the program that would change my life—and it did. In 60 days I lost 28 pounds, 11 inches total, and went from 15.2% body fat to 10.8%. I can finally see my abs, but most importantly, I feel incredibly lean and in charge of my life. All those amazing results were 100% fueled by INSANITY MAX:30, Shakeology, and the "Nutrition to the Max" food guide.
I drank Vegan Chocolate Shakeology daily and found it most effective as a post-workout shake. Shakeology gave me the right nutrition and energy to feel great right after my workouts and prepare for the next day of success.
The thing I loved most about INSANITY MAX:30 was the fact that it was short and intense. Plus, the nutrition plan was simple enough to stay committed to throughout the entire day. Now I sleep for 5 hours and feel AMAZINGLY rested. My focus at work has improved and I'm fired up for the future. I feel BETTER at 30 than I did when I was 18 years old. Now I look young and have the energy I need to tackle life. Thanks INSANITY MAX:30 and Shakeology!"
---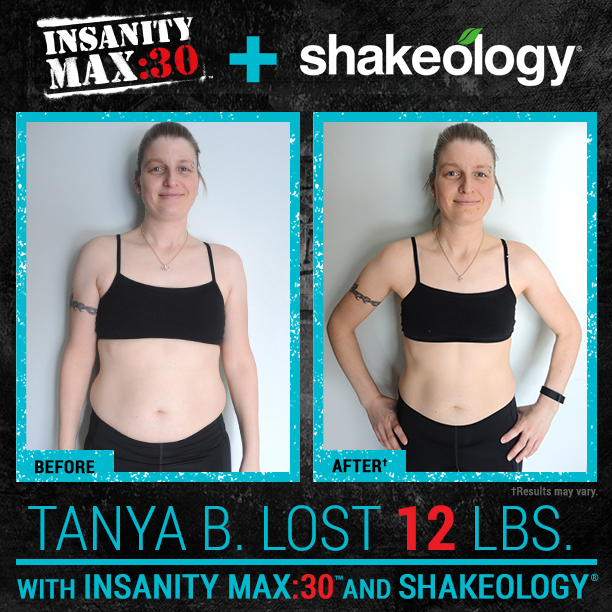 "I have more energy, confidence and self-esteem after losing 12.6 pounds and 6.8% body fat!"
"After gaining 40 pounds while pregnant I was shocked that that losing the baby weight wasn't as easy as I thought. I was running 15K's, half-marathons, even participated in my company's sponsored fitness campaign, but I just couldn't lose the weight. I watched what I ate and even used a meal replacement, from a local fitness store, yet got minimal results. That's when I turned to INSANITY MAX:30 and Shakeology—and I'm so glad I did.
Within the first few days the scale finally moved! My original goal was to lose those "last 10 pounds" and get back to my pre-pregnancy weight. But when I hit that goal I became motivated to lose even more. Not only did I lose weight, but I greatly improved my muscle tone, strength, and energy. When I started I could barely do one push-up, not even a modified one, but now I just pound them out.
I love the idea of working out with NO equipment! There's no set up time and I didn't have to spend any extra money. The concept of maxing out is great. It helps keep me working hard. Having the time written down motivated me to improve, because I was determined to beat it the next time I did that workout.
Plus, I firmly believe that Shakeology had a HUGE impact on my results. I started noticing a difference within days after I began drinking it. I love it so much that I even signed up to receive it every month. Not only did I lose over 12 ½ pounds and drop 4 dress sizes with INSANITY MAX:30 and Shakeology, best of all, I fit back into my old jeans that I haven't worn in a few years!"
†Results vary.
These statements have not been evaluated by the Food and Drug Administration. This product is not intended to diagnose, treat, cure, or prevent any disease.