---
Yacon Root. What the heck is it? It looks kind of like a sweet potato, but it is so much more. Yacon is one of the supernutrient-packed superfood ingredients found in Shakeology. Why is it awesome? We'll tell you!
WHAT IS YACON?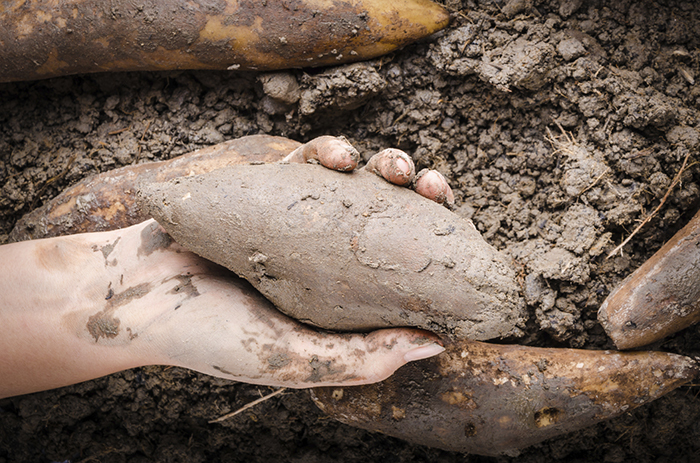 The yacon is a perennial plant traditionally grown in the Northern and Central Andes from Ecuador to Argentina. It is known for its crisp, sweet-tasting, tuberous roots. Its texture and flavor are very similar to jicama, except that yacon has slightly sweeter undertones, attributed to a sweet substance called inulin. Until as late as the early 2000s, yacon was hardly known outside of its limited native range, and was not available in urban markets. However, press reports of its use in Japan for its low-glycemic properties made the crop more widely known in Lima and other Peruvian cities. And the word has continued to spread; we are now seeing product offerings such as yacon syrup, juices, jams, and teas. All products are popular among diabetics and those trying to manage their weight.
Supernutrient Powers
Yacon contains fructooligosaccharides, an indigestible natural sweetener.
Fructooligosaccharides (or FOS) taste sweet, but break down slowly, passing through the digestive tract unmetabolized, and thus have very low caloric value. As an additional nutrition bonus, these FOS have a prebiotic effect, meaning that they are used by "friendly" bacteria (probiotics) that favor colon health and digestion.
Probiotics are the good, healthy bacteria strains that live in your intestines, help to digest food, and help keep you "regular." These healthy bacteria need special nutrients called prebiotics to grow and thrive.
Yacon is known to contribute to better digestion, colon health, and healthy immune function. It's a powerful antioxidant, and studies show that yacon may help support ideal blood sugar levels and healthy cardiovascular function.
There are few published studies on the health benefits of yacon, due to its more recent "discovery" and commercialization.
Here are a few highlights:*
Yacon syrup has been shown to have beneficial effects on obesity and insulin resistance in humans. Read more here.
A study published in the European Journal of Nutrition, conducted by the Institute of Organic Chemistry, suggested that four different components of yacon each provide their own "potent antioxidant activity" and have been shown to reduce blood glucose levels in rats. Read more here.
*For general information and education purposes only. All trademarks, products, and service names are the property of their respective owners.