---
Need some inspiration to help you get off the couch, ditch your excuses, and get into shape? Then check out these three incredible transformation stories of women who finally had enough…enough of dealing with clothes that no longer fit. Enough of the rollercoaster weight loss and gain. And enough of the lame excuses!
If you're up for the challenge to transform your life like these women did, then you're in luck. Because this month the Turbo Fire and Shakeology Challenge Pack is on an incredible promo. So read their stories, check out the promo, and get moving and get losing (weight, that is).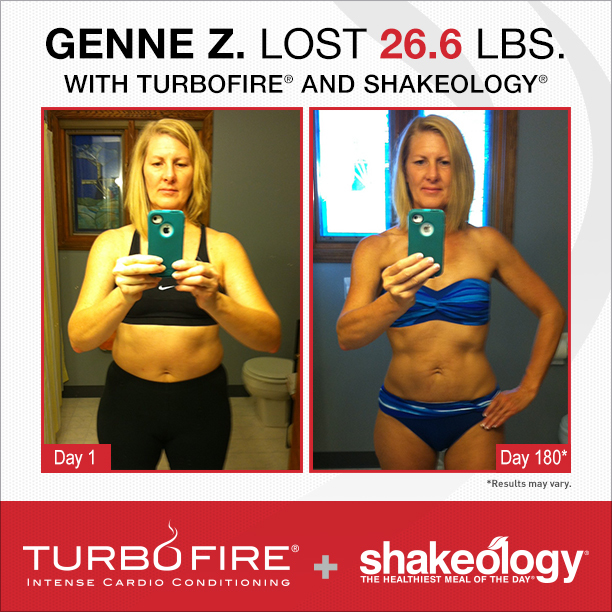 "The TurboFire routines hit all my problem areas, especially my favorite workout: HIIT 25."
"When I tipped the scale at 170 pounds I just couldn't take it anymore. I didn't even weigh that much when I was pregnant. I almost gave in to the idea of being chubby for the rest of my life when I saw an infomercial for TurboFire that said I could burn 9x more fat than I would with a regular workout. That promise gave me hope that maybe, just MAYBE, I could finally break my yo-yo dieting and weight lose/gain cycle. It also gave me hope that maybe I could get back into that little black dress that I was saving for my 35-year reunion.
Not only was TurboFire incredibly fun, it left me dripping with sweat. I also started drinking Shakeology daily, which gave me the energy I needed to push harder and work out longer than I ever thought possible. Within just a few months I lost 31 pounds, went from a size 12 to a 6, and lost 26.9 inches total. And the best part is, that little black dress finally fits! My message to all women, especially those 50+: If I can do this, YOU CAN TOO! I did not settle, nor give in to age. Finally, I'm back in control of my body and life and couldn't be more proud."
---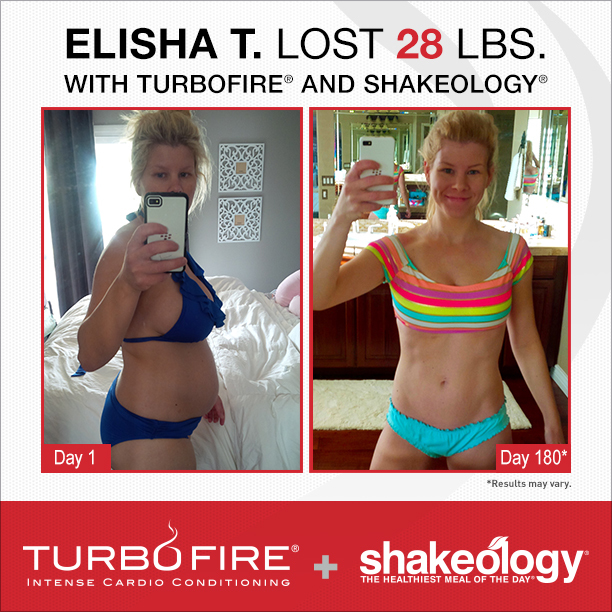 "TurboFire was so much fun that it changed my mind-set from: I have to do it, to I want to do it!"
"After having three kids back-to-back, one day I woke up and realized that I was just another fat, out-of-shape mom, full of excuses why I couldn't work out. I hated my body, none of my clothes fit, and I just felt sloppy all the time. I had to change, and change I did.
With 3 kids, all under 4 years old, I only had short periods of time to get the best results and maximize my efforts, so that's why TurboFire's HIIT 15 was one of my favorite workouts. It's short, intense, and I can do it when the kids are napping. And then there's Shakeology, which was key to my transformation. Not only does Shakeology provide my body with the vital nutrients it needs, it gives me so much energy and satisfies my cravings like no other shake I have ever tried. I absolutely love this stuff!
I lost 28 pounds with TurboFire and Shakeology and went from a size 10 to a 4. Today I'm fit, healthy, love how I look and feel, and have amazing amounts of energy. I'm not going to lie and say it was easy, especially with 3 little ones running around, but when you really want something bad enough, you find a way."
---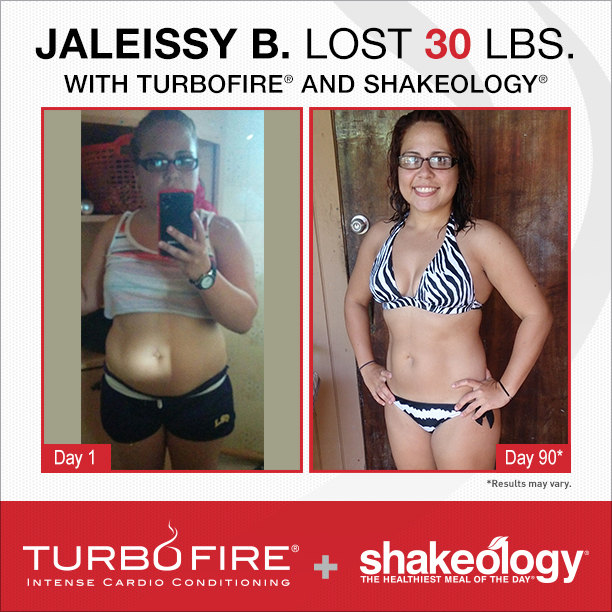 "I love TurboFire so much that even if I'm exhausted at the end of the day, I still do the workouts."
"I was only in my early 20s and every day I felt like I was getting bigger and bigger. I felt ugly. Clothes looked ugly on me. Nothing fit. I hated who I'd become, yet I was the master of excuses as to why I couldn't eat healthy or exercise. As a working mom of two young kids, my main excuse was that I was too busy.
Then one day I discovered TurboFire on Facebook and bought the Challenge Pack pretty much because there was a promotional deal going on—and thank God I did. In the first week of doing TurboFire and drinking Shakeology I saw incredible results! Every single day I witnessed my body changing and it felt so great.
My favorite workout is TurboFire HIIT 15 because I love to jump. And before I knew it, I lost 30 pounds. I went from 150 lbs. to 120, and a size 9 to a 3. After losing so much weight and changing my diet, today I can truly say that I love how I look and feel. I no longer hide from cameras. And I'm finally out of excuses why I can't work out or eat healthy. Thanks, Beachbody, for changing my life!"
†Results vary.