---
Enough is enough. No more excuses about not having the time to eat healthy or work out. Shakeology is the most nutrient-dense shake on earth that only takes a few minutes to make. And FOCUS T25 is a hardcore, cardio-packed workout program that gets the job done in 25 minutes a day. Sound too good to be true? It's not. And to prove it, here are three amazing Success Stories of former excuse-makers who finally transformed their lives. If they inspire you to ditch the excuses too, you're in luck—because for the month of March you can save over $70 on the FOCUS T25 and Shakeology Challenge Pack.
Michael G. // "I've never achieved the results I did with any other workout, like the ones I achieved with FOCUS T25."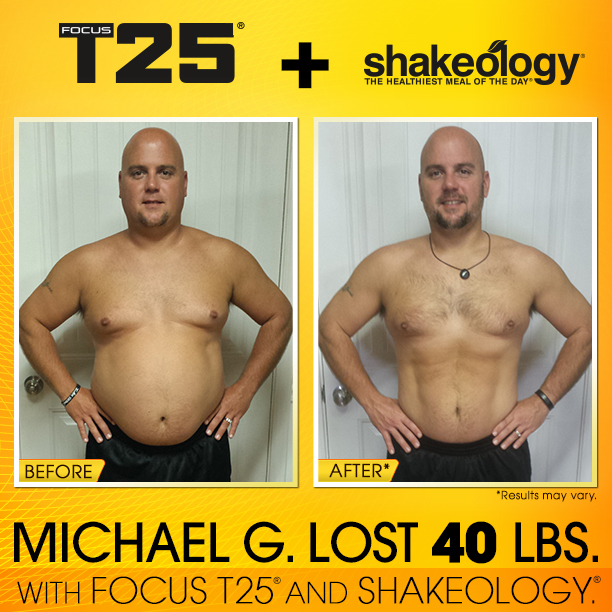 "I wasn't even 40 yet and my wife worried that I'd have a heart attack soon if I didn't lose weight. Sure, I put on 20 pounds over the past year, but I never thought I had a weight problem. However, my wife was persistent about me getting into shape, so I turned to Shaun T for help. Week One was the hardest. Not the workouts, but the change in lifestyle and diet. But before I knew it, 10 weeks had passed and I lost 40 lbs. I just bought some new scrubs for work, and this time they were not XL. One was a medium. The other was a SMALL! I haven't worn a size small since kindergarten. When I finally looked back at my "before" photos, I realized that my wife was right: I did need to lose weight. Today I have so much more self-confidence and energy. Plus, a day doesn't pass without someone telling me that I look like a new person. It sure feels great to finally feel healthy and look good again."
---
Ashley J. // "With T25, I achieved weight loss, fat loss, lean muscle growth, increased energy, and better sleep patterns."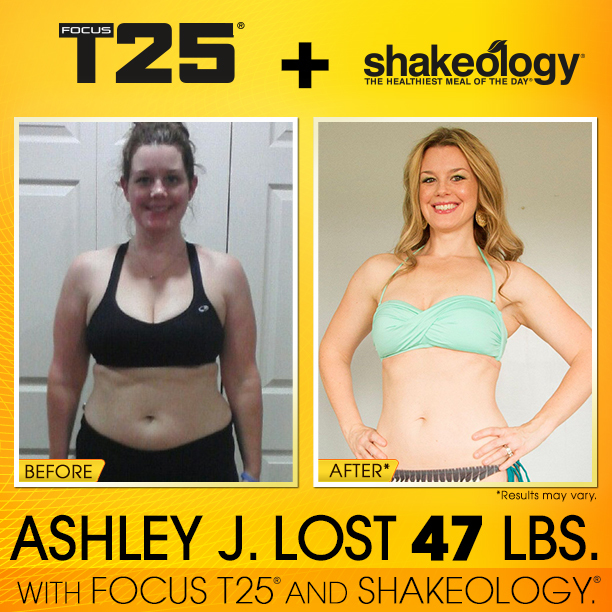 "I was only 5′ 3″ but tipped the scale at 200 pounds. Sure, I just had a baby, but nobody at my height should weigh anywhere near what I did. I thought about working out, but my excuses were: I'm too tired, I'm in too bad of shape to even begin a program, and I have NO time. Well thanks to T25, all of my excuses got left in the dust.
My goal with T25 was to lose the baby weight as well as to find my health and myself again. I so desperately wanted to be happy, fit, and the Ashley I remembered. I'm not going to lie, the T25 workouts were INTENSE, but that's why they're only 25 minutes. After only ONE round I lost 47 lbs. and went from a size 16 to a 6! Today I feel strong, confident, HEALTHY, and in control of my own health and fitness. My endurance is through the roof and I have so much energy. Not only am I physically fit, but I transformed inside too! I wear my smile all the time because I feel better about myself now than I have in years."
---
Sarah M. // "After losing 45 lbs. with Shakeology and T25, I'm now so happy, energetic, and full of life!"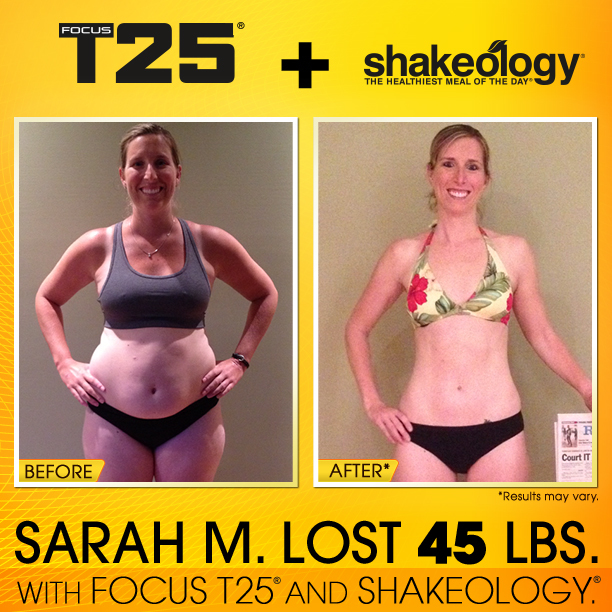 "After my 2nd child was born in 2013, I gained 60 pounds, tipping the scale at 210. After losing 30 of those lbs. on my own through walking and jogging, I fell into a rut. Only to be pulled out by my cousin, who's a Team Beachbody Coach. After one round of Shakeology and T25, I was down 20 lbs. and 19 inches. But if I was to reach my goal of fitting into a size 10 dress for my brother's wedding, there was still a lot more work to do. So I did a 2nd round of this killer workout while continuing to feed my body with Shakeology—and now I weigh 135 lbs. and sport a sexy size 8. If I could find 25 minutes a day to work out, even though I have 2 kids under 2 and a 3rd one on the way, anyone can find the time. They've just first got to ditch the excuses. After turning my life around, I now have so much more energy for my kids and more confidence than I've had in years. I love my new life and body."