---
It's the New Year, which means: OUT WITH THE OLD, AND IN WITH THE NEW! New eating and exercise habits, that is. Because changing one without the other won't give you the results you want. No matter how hard you try.
To help inspire you to start moving and start eating right, check out these INSANITY MAX:30 and Shakeology Success Stories below.
The INSANITY MAX:30 workouts are only 30 minutes long (which busts your excuse of not having enough time to work out) and will help you blast fat and build muscle while pushing yourself to the max. And the best part is, you don't need ANY equipment. All the exercises are done with your own body weight as resistance.
To help get your nutrition on track, there's Shakeology. It tastes like dessert. Yet acts like a salad.
And right now you can get the INSANITY MAX:30 and Shakeology Challenge Pack and save $95.
So get this year off to a great start. Because if these guys and gals can lose weight and get in shape, so can you!
---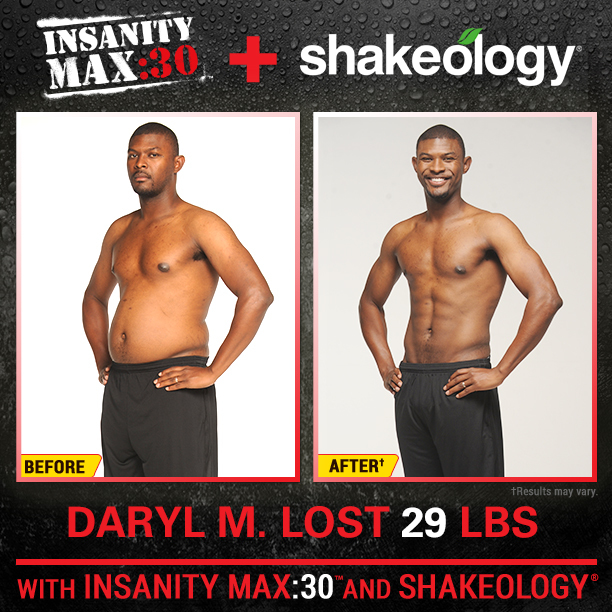 ---
 Daryl M.
"My goal was to lose 25 lbs. in 60 days, and I ended up losing 29! Yes, INSANITY MAX:30 was intense and required commitment, but it was all worth it. The hardest part was simply telling myself to "push" every day. Now I feel like a different person. I finally have endurance and can perform activities I haven't been able to do in years (such as jumping and lunging) with ease, and my knee pain went away. Plus, Shakeology took away most of my cravings. I used to eat fast food and sweets 80% of the time, and I almost ALWAYS skipped breakfast. But not anymore. Cake, cookies, ice cream, cheesecake—they no longer have control over me. Shakeology was a great meal substitute and a huge energy boost."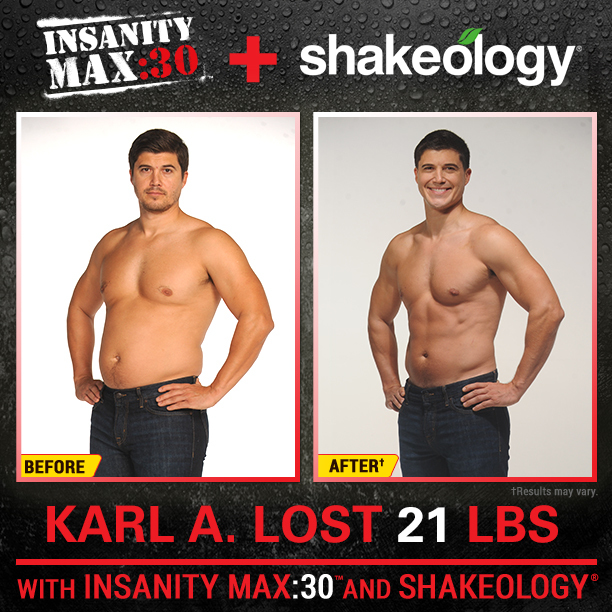 ---
 Karl A.
"I used to be out of shape, a little overweight, and had NO concept of portion control. But that all changed with INSANITY MAX:30 and Shakeology. And in 60 days I lost 20.5 lbs. Even though I had ACL reconstruction surgery awhile back, I was still able to do MAX:30 with modifications. Shakeology was great because it truly killed my donut cravings. My favorite flavor is Tropical Strawberry Vegan and that one little shake made me feel full for a very long time. I used Shakeology as my postworkout recovery drink which was key to helping my body build muscle and lose fat."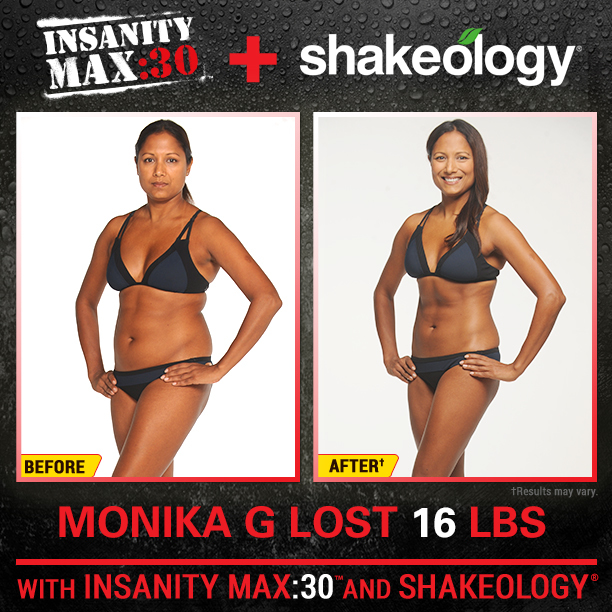 ---
Monika G.
"At my pre-weight of 135.5 lbs., I was overweight and had too much body fat on me, especially around my midsection. My goal with INSANITY MAX:30 and Shakeology was to lose 10 lbs. and 5% body fat, but I exceeded that goal by losing 15.5 lbs. and 10% body fat. I loved the variety of the daily workouts and learned a lot about meal planning and portion control. Chocolate Shakeology with a banana and almond milk is my favorite. It killed all my junk-food cravings and kept me full for hours. I love this product! It also curbed my hunger headaches instantly. Plus, Shakeology gave me the energy I was looking for to play a sport."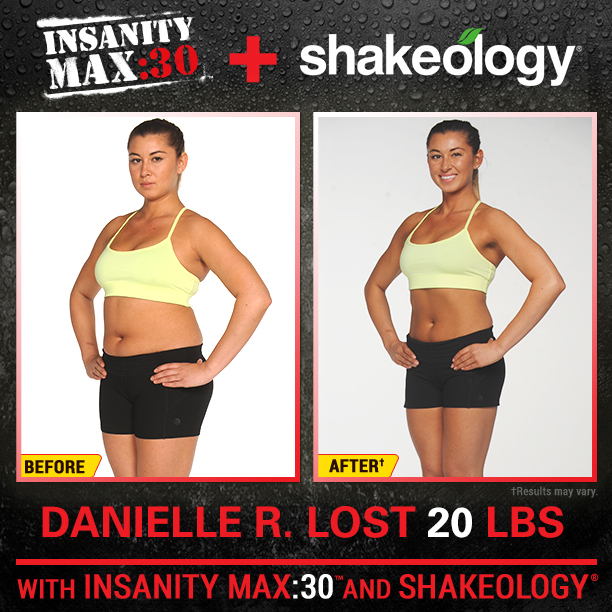 ---
Danielle R.
"I used to think I was healthy. But after 60 days of INSANITY MAX:30 and Shakeology, I discovered that I was wrong. I was completely UNHEALTHY! No wonder I lacked confidence and felt tired all the time. I really loved the 30-minute time frame and the bodyweight workouts. I got in, got out, and got results. Shakeology was great because it helped me lose my cravings for salty snacks. And now, I honestly crave Shakeology."
Get the body you always dreamed of with the INSANITY MAX:30 + Shakeology Challenge Pack. You've got nothing to lose, but some weight and bad old habits.