---
We're a few weeks into the new year and chances are you recently declared that this would be "The Year" that you clean up your eating, start working out, and lose a few pounds.
Yes?
YES!
What a wonderful mantra! But if you're like most people, the biggest problem with that resolution is the fact that losing weight and getting in shape is soooooo much easier said than done. Why? Because our lives are filled with TONS of unhealthy habits.
But that's okay, we're all human, don't beat yourself up about it. Instead, just change your ways. And the easiest way to do that is with the 3-Day Refresh. This quick, yet very effective program will help you kick your bad habits to the curb and replace them with healthy new ones. Plus, you can lose 3–5 pounds in just 3 days!
So what exactly is the 3-Day Refresh?
It's a 3-day program that's comprised of specially formulated shakes alongside a clean eating plan.
Need proof that this program works? You got it.
3-Day Refresh Success Stories: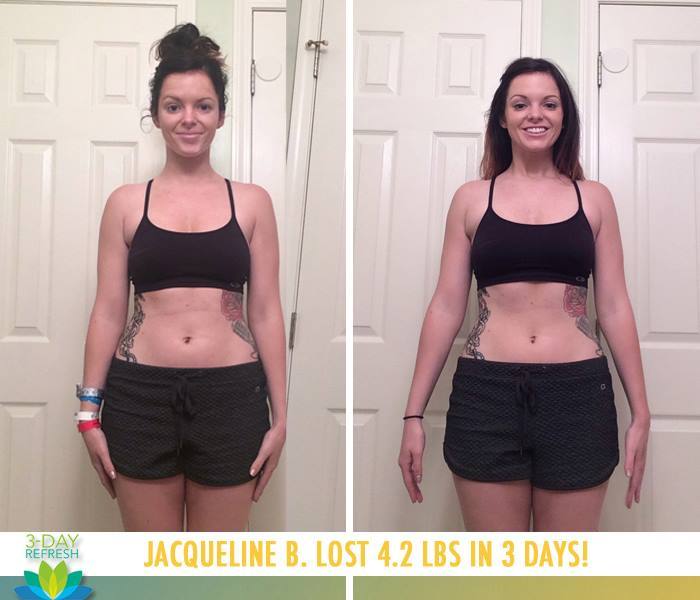 With 3-Day Refresh, say GOODBYE to these bad habits:
Gorging on junk food
Eating when you are not hungry
Craving stuff that lacks nutrients,
and say HELLO to these healthy, new ones:
Eating clean, healthy foods that are full of nutrients
Consuming the correct portion size for meals
Be on track to losing weight and getting in shape
Ready? Set. Gooooooo get the 3-Day Refresh!
What are you waiting for? Get your 3-Day Refresh and Shakeology Challenge Pack today. You can save $70 for a limited time only on delicious and nutrient-packed Shakeology and the 3-Day Refresh!  You've got nothing to lose but some annoying weight and a bunch of not-so-great eating habits.
Plus, you'll be able to take what you learned and implement it into your daily life for the long haul. And that, my friend, will truly make this year, "The Year" you once and for all, ditch your bad, bad, bad habits and replace them with healthy, new ones.