Isn't it time you take control of you life, ditch your bad eating habits and implement some healthy ones, and do a workout program that helps sculpt lean muscles while you define your body? Then the PiYo Kickstart Challenge Pack is for you!
The PiYo Kickstart Challenge Pack includes the 60-day PiYo program, one full month's supply of Shakeology, and the 3-Day Refresh kit. This Challenge Pack is the best way to get back on track with your nutrition, ditch junk food cravings, and load up on energy all while you quickly sculpt the body you want—and deserve.
Want to see what's possible? Check out these three Success Stories from inspiring women who got amazing results with PiYo, Shakeology, and the 3-Day Refresh. Each one shares their life-changing story in hopes of inspiring others to take the first step toward a "brand-new you."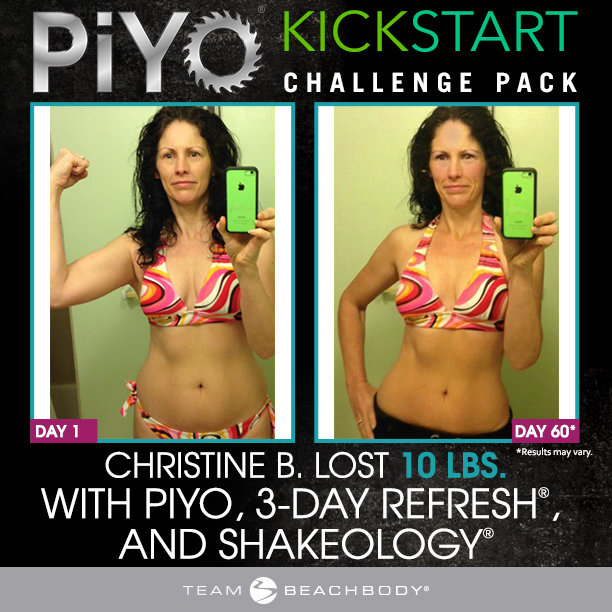 BEFORE WEIGHT: 144     AFTER WEIGHT: 134
Christine B. // "I lost 10 lbs. and am noticing muscle all over that I didn't have before."
"PiYo, Shakeology, and 3-Day Refresh have significantly changed my body—both inside and out. I did PiYo because I love the trainer, Chalene Johnson, and wanted to try something other than intense cardio and weights. So when I heard about PiYo at Summit, instantly I knew that program was for me.

PiYo was amazing. The workouts made me feel tighter, leaner, and even a bit taller. Now I'm more flexible, and much stronger in my core, arms, and legs. And best of all, I have that overall feeling of balance within. I lost a total of 3.75 inches, and losing the ones around my waist means the most to me because it was always harder to lose fat there! I truly felt that my body craved PiYo.

Then there was Shakeology, which I absolutely love! It's not only the healthiest part of MY day, but also my favorite. It gives me a ton of energy (which helps with the workouts) and takes away my junk food cravings. Shakeology gives me mental clarity and has done wonders with my digestion and regularity. It has also greatly improved my mood, sleeping patterns, skin, and hair. I also noticed that my allergies are now gone. Just poof, gone, no more—and that is awesome. I never want to be without my Shakeology. EVER.

The 3-Day Refresh was great, too, because it REALLY helped me get back to my healthy eating regimen. It helped boost my weight loss and keep me on track. Today I can honestly say that I LOVE the way I look—which is really powerful considering the fact that I have battled emotional eating and a bad body image for many years. I also love that I can now fit into clothes that had gotten too small. Thanks, Beachbody, I am hooked!"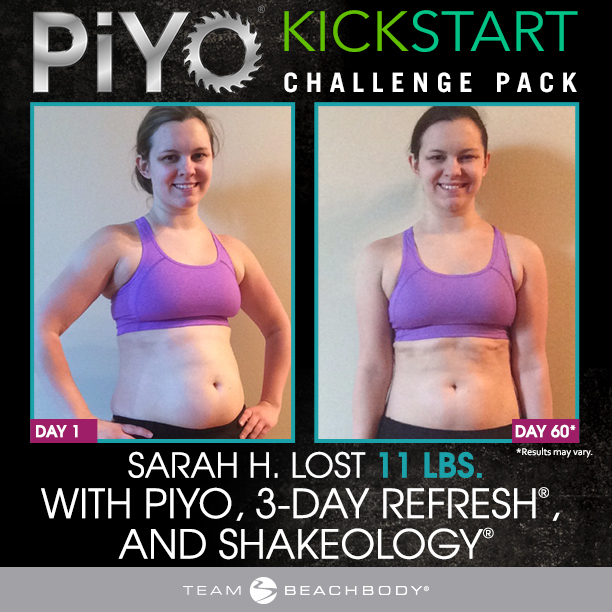 BEFORE WEIGHT: 136 lbs.            AFTER WEIGHT: 125 lbs. 
Sarah H.+ // "I can't believe that in 60 days I lost 19 inches all over my body and I didn't do heavy cardio or lift heavy weights!"
"PiYo was the perfect workout for me to do while I was recovering from a stress fracture in my left foot. It was low-impact and promised to deliver incredible toning results. So I did the program and couldn't be happier. The changes I saw in my body were absolutely AWESOME! Plus, I loved the fact that I did not have to pick up a single weight during the 60 days of PiYo. Instead, I just used my body as resistance and it really sculpted my muscles.

The amount of inches I lost around my waist is incredible! I felt the toning everywhere. My arms, my glutes, my abs, and my thighs all leaned out. I used to have horrible neck and back pain, but after strengthening those muscles, the pain is gone. And for the first time in 25 years I'm finally able to do real push-ups, not the ones on my knees!

Not only did the 3-Day Refresh take away my bloating, it gave me a ton of energy, and I actually learned to like vegetables. I even tried new veggies that I wouldn't try before, and it made me realize how much better I felt after eating fresher foods. Plus, I really enjoyed Shakeology and the Vanilla Fresh protein shake. I loved their taste and texture, and for a picky eater like me, that's huge! I felt so good after the Refresh that I plan on doing it once a month.

Now that I've lost weight, am leaner, and so much more toned, clothing just feels and looks a million times better on me. When I took my AFTER photos from PiYo, I couldn't even wear the original shorts I had on because they were falling off of me! I really sculpted my body with a low-impact workout and I can see the changes all around. Not just physically, but emotionally as well."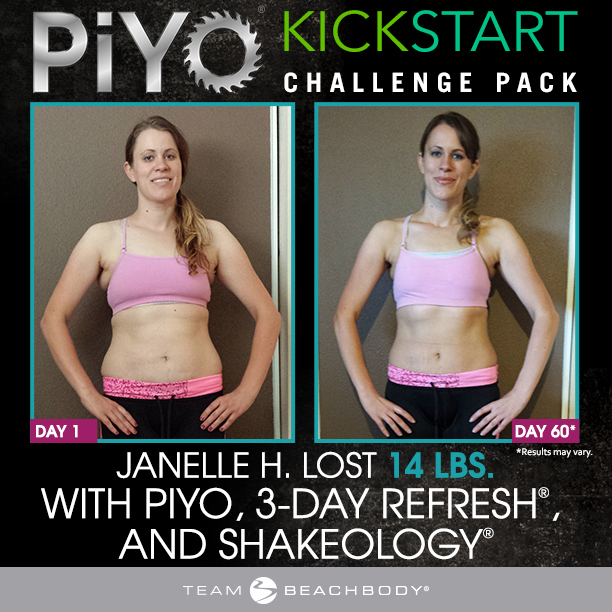 BEFORE WEIGHT: 155.6                 AFTER WEIGHT: 141.6
Janelle H.+ // "After years of struggling with my weight, I finally broke through my plateau and lost 14 lbs."
"Before finding Beachbody, I was overweight and didn't love my body. I was always tired, and with three kids keeping me busy, I often made excuses not to work out. I've struggled with my weight ever since junior high and have always been a size L or XL. Six weeks into PiYo I went shopping and was shocked to discover that size large shirts and skirts were too big and that my size had changed to a medium or even a small. This was a first for me!

PiYo transformed my body in ways other workouts never have been able to do. Not only did I lose 14 lbs. in 8 weeks, for the first time in my life I feel like a strong person. My body feels tighter, leaner, and stronger than ever before! And here's a first, today I can actually see my abs! My flat butt has lifted and become rounder, and the flab on my arms is gone. Plus, PiYo helped me overcome physical and mental barriers that have held me back in the past. I love this program. And I will never feel weak or wimpy again.

Shakeology was great, too, because it helped change my eating habits like nothing else has ever done before! Not only did it help me lose weight, Shakeology helped me blast through the plateau that I thought was impossible to get past. Then I was able to lose even more weight when I did the 3-Day Refresh.

Today I am now healthier and stronger than ever. Plus, I have so much more energy to chase my three young kids around. I now know how important it is to take care of myself, because when I take care of myself I have more energy to be a better mom for my kids!

I can't say enough good things about PiYo and the Beachbody programs. And I love the fact that I can get a great workout at home WITHOUT a gym membership, especially since I live in a very rural area and going to the gym isn't an option for me. Pretty much, I love it all!"
Interested in transforming your life, too? Then do the PiYo Kickstart Challenge Pack. You've got nothing to lose but bad habits, lame excuses, and a bunch of unwanted pounds and inches. The time to define and refresh yourself is NOW!
+is Beachbody Coach