Time and time again, the Ultimate Reset and Shakeology have dramatically changed people's lives. People look at food differently after having completing this program.
Check out these three Ultimate Reset Success Stories and let their words inspire you to take the first step towards a much, much, much healthier you.
Marc D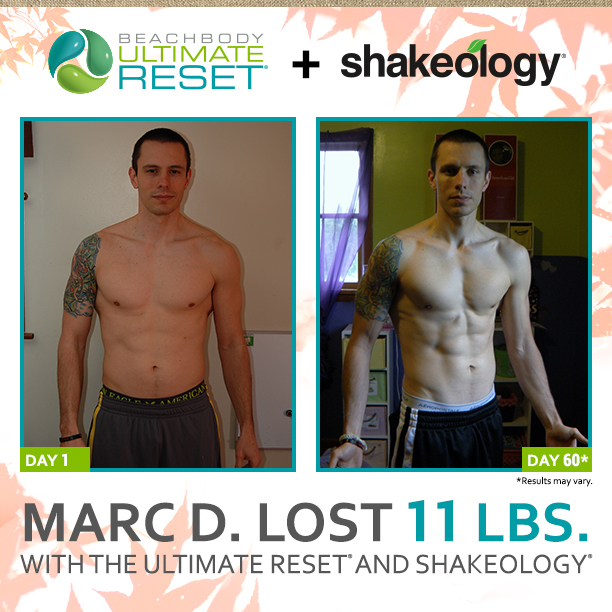 "The Ultimate Reset and Shakeology helped me get shredded in ways that exercise, alone, never could."
"After transforming my body over the years with a ton of Beachbody products, there came a point when I tried everything to cut that last bit of body fat, but I was stuck. My wife wanted to lose weight as well, so we did the Ultimate Reset journey together and are both so glad we did.
At first, I was worried about not exercising for 21 days, but the program quickly showed me that my diet is so much more important than I thought. I "thought" I was eating good, yet I quickly realized how much better I could do. I really loved the Resets healthy options.
But I owe a lot of the credit for my success to my Challenge Group, Team Ripped, and to my Coach, Wayne Wyatt. My Challenge Group was always answering my questions while constantly providing encouraging support along the way. There is no other team like Team Ripped! Plus, Wayne gave me so much info on nutrition that I was able to dial into my diet like never before. Shakeology made a huge impact on my results as well. When I was in a hurry, a quick shake for a snack changed everything and kept me feeling full. Shakeology was the key to this program's success for me.
Now I'm 11 pounds lighter in just 3 weeks! I have never even lost that much in such a short period of time, even when I was working out hard. The weight just dropped off so easily and I'm proud to see my six-pack in the mirror! I really like having my shirt off in public and I also really like the fact that I no longer have to suck in my gut. I know I can hang with mostly anyone at the pool, or the beach, and not feel uncomfortable. I'm finally proud of who I am and that is such a great feeling."
Jennifer G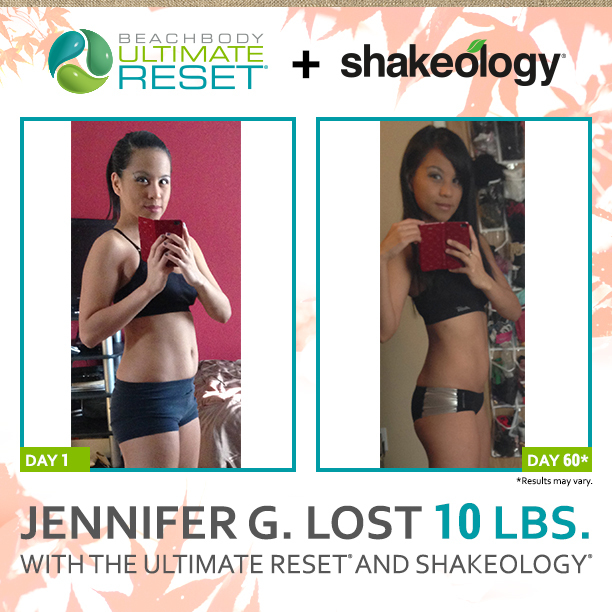 "I no longer look in the mirror and see that 'fat girl' staring back at me."
"Back in 2005, I was in a really bad place in life and had gained 80 lbs. while pregnant with my son. At my heaviest, I weighed 200 lbs. and was miserable. But with some blood, sweat, and tears I lost that weight but had never been able to push past the plateau I consistently found myself stuck on!
I'd do all the latest diet fads and even starve my body—which always backfired. I also loved making excuses. I'd tell myself that I should be proud of how far I've already come and that I deserved to eat bad sometimes, but sometimes quickly turned into all the time, and it felt like my clothes were shrinking on me. Even though I've always known that one's diet plays a HUGE role in losing weight and living a healthy lifestyle, but like many people, I wasn't even sure what that meant. And that's when I decided to do the Ultimate Reset.
I couldn't believe it, in just 21 days I lost 10 pounds! The greatest two things the Ultimate Reset gave me were guidance and structure. Not only did I change physically with this program, I changed emotionally and mentally as well. I learned so much about how to live a healthy lifestyle and how to treat my body. The recipes were amazing and I was able to rid my body of a ton of toxins.
I got to say that Shakeology was my best friend over the 21 days when I was dying for dessert! Vegan Chocolate Shakeology was my lifesaver on days that I didn't have time to eat when I was supposed to. It helped me stay on track on my busy days, and gave me comfort in knowing I was always giving my body exactly what it needed.
Today, I have a new passion for life and a new determination to not necessarily "look skinny" but to "be healthy". I'm determined to teach my son how to do the same so he doesn't fall into the traps society lays out for us with all the junk in today's market. The only regret I have with this program is not having done it sooner! I plan on doing the Reset at least once a year from now on. Thanks Beachbody. I feel amazing!"
Dale R.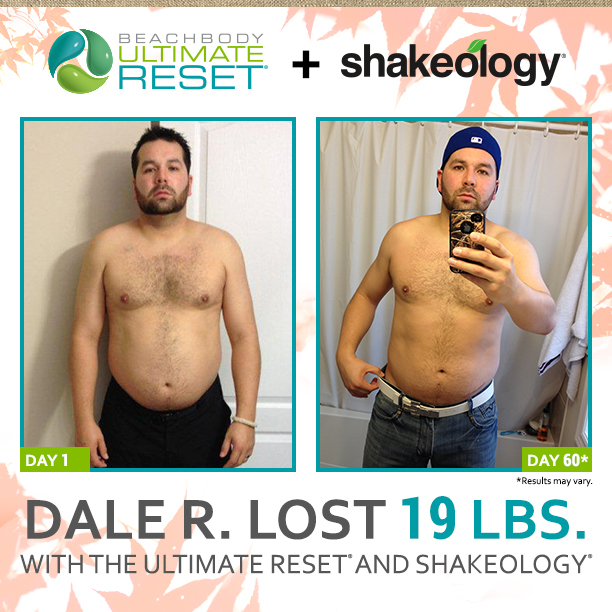 "After giving up sugar and changing my diet, I pretty much lost one pound a day."
"Before doing the Ultimate Reset, my health was a huge concern. My blood pressure was at a daily high of 150/100. I drank energy drinks on a regular basis even though they triggered chest pains every time I drank one. I'd wake up at night trying to catch my breath and never got a good night's sleep. I was at an all time high weight of 235 pounds, and felt horrible! And the last thing I want to do was die young, desert my wife, and have my two little girls grow up without a father.
Knowing I needed to change, I looked into The Ultimate Reset and was blown away with the results people were having. And these were people who were experiencing the same health issues that I was. Plus, I knew that I needed to get all those toxins out of my body that I had been putting in it for so many years.
The biggest challenged I faced prior to the Reset was sticking to a healthy change in my diet. I loved fast food and my biggest downfall was SUGAR! I ate a ton of it and it never made me feel sick. I used to think that there's no way the Reset meals could taste better than sugar, BUT I WAS WRONG!!! I crave Reset meals every single day.
But I must say, I couldn't have completed this journey if it weren't for my amazing support team, ShredNation, and my fabulous Coaches, Lyndsay Beech and Robb Pearson. With them on my side and through their support and motivation, I was able to overcome my daily struggles. They both have truly inspired me to become this new man.
In 21 days I lost 19 lbs., my blood pressure dropped to 120/80, and I sleep extremely well at night. I no longer crave energy drinks, but instead drink Shakeology daily. And my energy level went from being in the dumps to soaring high above Mount Everest.
And while I'm proud of all of these achievements, I'm most proud of becoming healthy—that was my #1 GOAL. The weight loss was just a bonus. This is just the beginning of my long, new, healthy life. Thanks Beachbody. And thanks ShredNation. Without you guys I wouldn't be where I'm at today!"
Inspired? You should be.
Learn more about the Ultimate Reset and Shakeology and how they could change your life, too.
Shop Ultimate Reset Challenge Pack
These statements have not been evaluated by the Food and Drug Administration. This product is not intended to diagnose, treat, cure, or prevent any disease.