When it comes to losing weight, gaining energy, learning what to eat and when, as well as doing quick workouts that truly work, no one can tell an amazing transformation story better than those who've experienced it for themselves. Check them out. Get inspired. And be the next Success Story!
NAME: Ruth S.
AGE: 28
STARTING WEIGHT: 132 lbs.
ENDING WEIGHT: 123 lbs.
RESULTS: Lost 9 lbs.†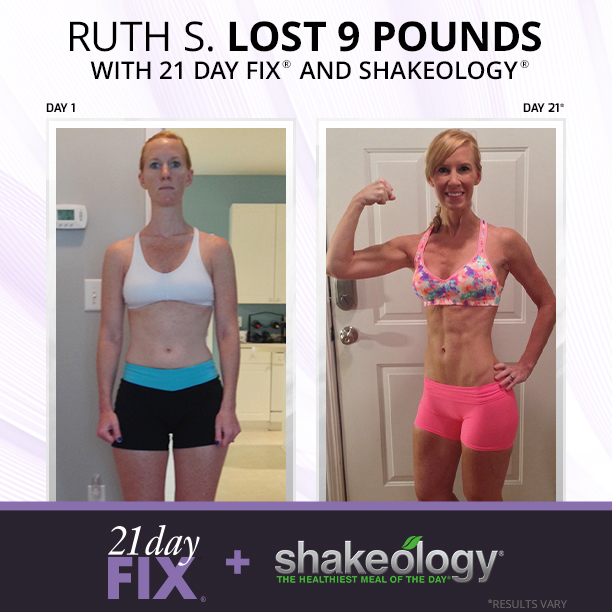 HELLO MUSCLES! Where have you been my whole life?
21 Day Fix taught me exactly what healthy foods to eat, AND how much of those foods I needed to consume in order to lose fat while building muscle. And while I've never been a "nutrition shake drinker," when I started drinking Shakeology as part of the program, I noticed a significant difference in my energy levels, plus my cravings for sweets has almost entirely gone away. After 3 weeks I felt like the Energizer Bunny! Holy moly, this stuff is a game changer!
---
NAME: Alexis B.
AGE: 24
STARTING WEIGHT: 125 lbs.
ENDING WEIGHT: 119 lbs.
RESULTS: Lost 6 lbs. and 10.5 inches†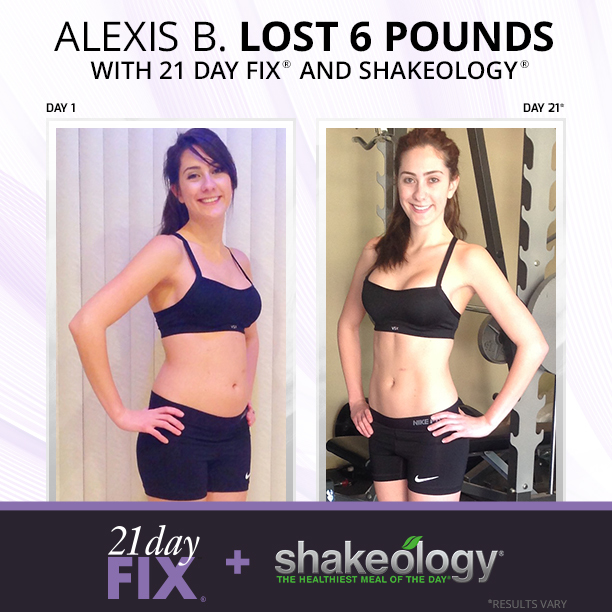 My life has been forever changed by 21 Day Fix and Shakeology.
I've tried every fad diet known to man and have never found anything that not only worked as well as 21 Day Fix, but was so easy to do and understand. I feared that I was going to crave junk food during the program, but Shakeology completely curbed my appetite. The only thing I craved during those 21 days was MORE Shakeology! And it gave me so much energy that I no longer needed a nap during the day. Shakeology tasted like dessert and it was the one meal each day that I couldn't wait to consume. Now, instead of being skinny fat, I'm skinny fit!
---
NAME:  Crystal S.
AGE: 27
STARTING WEIGHT: 153.6 lbs.
ENDING WEIGHT: 145.6 lbs.
RESULTS: Lost 8 lbs.†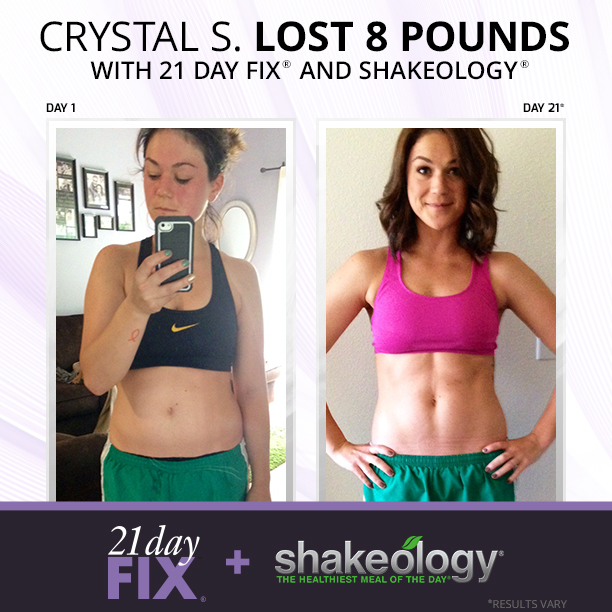 I tell EVERYONE I meet about 21 Day Fix and Shakeology and how much it can change their life!
I've been on every protein diet you can think of and 21 Day Fix and Shakeology is by far the best! My husband was super-skeptical when I ordered this program, but now I have to hide my Shakeology from him. Shakeology is amazing; it's helped me a ton with my energy levels and cravings. Plus, I gained so much physical strength and energy from 21 Day Fix and Shakeology that weight loss was just an added bonus. I'm most proud of the fact that I can now compete with my USMC husband in a burpee challenge.
†Results may vary. Exercise and proper diet are necessary to achieve and maintain weight loss and muscle definition.These statements have not been evaluated by the Food and Drug Administration. This product is not intended to diagnose, treat, cure, or prevent any disease.