Demetri P. // Shakeology® saves him money on his monthly grocery bill.
"I no longer need a nap at 4 PM!"
"Before I lost 31 lbs. in 3 months with FOCUS T25 and Shakeology I felt like a 67-year-old in a 37-year-old's body. I was killing myself at the gym and never saw any results. I was exhausted and in pain all the time, and would down 4 cups of coffee a day just to stay awake. BUT NOW…I feel YEARS younger, have a ton more energy, I've lost a significant amount of belly fat, my sweet cravings are almost gone, and I've actually saved money because I no longer go out for lunch (instead I have my Shakeology). I truly am a new person. I don't know if I would have achieved the results I did without Shakeology. And if I did, it would have taken much, much longer!"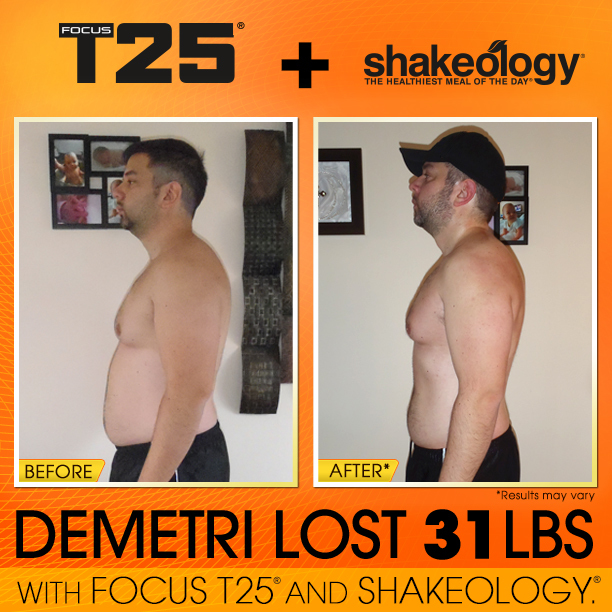 Sarah M. // She finally put away her maternity clothes.
"I love the new body Shakeology and FOCUS T25 have given me."
"My health before Shakeology and FOCUS T25 was horrible! I had no energy or motivation, couldn't keep up with my kids, was depressed with my appearance, and couldn't fit into my old jeans (only maternity jeans). Don't know why that surprised me—I lived off of pizza, wings, chocolate, and ice cream. But all that changed when Beachbody came into my life. In 60 days I lost 21 lbs. and 19 inches. And over the past 6 months, I'm down a total of 42 lbs. My energy has skyrocketed, I'm no longer bloated, and my digestion has improved. I will stay on Shakeology forever. Where else can you get a meal that's so nutritious for $4? It's so worth the money!"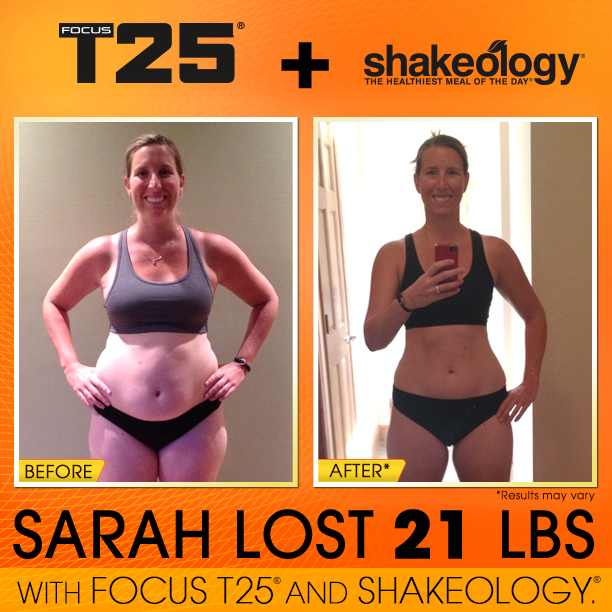 Sarah W. // This mother of two has more energy than ever.
"Shakeology and FOCUS T25 have given me back my life."
"After having my secondchild I weighed 184 pounds—felt fat, ugly, sluggish, depressed, and hated how I looked in the mirror.I just wanted my old body back so I turned to FOCUS T25 and Shakeology. I replaced breakfast with Shakeology and it kept me full and satisfied until lunch. Almost instantly I felt more energized and healthy and I stopped craving junk! In just 14 weeks I lost 30lbs. and the inches just melted away. Finally, I'm finding my love of health and fitness again and I'm so proud of my results. I love hearing people compliment me and ask what my secret is. So I tell them: I start each day with a workout, a Shakeology, and a smile!"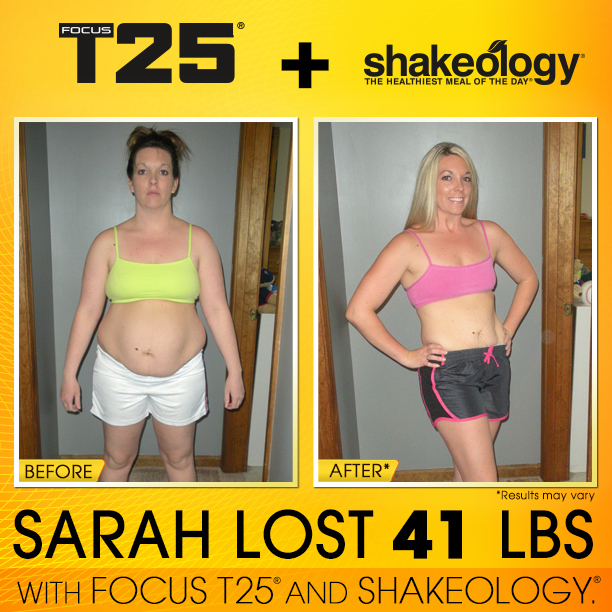 Janelle F. // Lost 6 lbs. in the first week, without exercise.
"I couldn't be happier with my results—physically, mentally, and emotionally."
"Prior to drinking Shakeology I was in a complete slump and my dietary habits were horrible. I was an impulsive and emotional eater, drinking Coke with my sugary breakfast cereal, and wanting dessert every night!A year after my daughter was born I had yet to lose all of the baby weight and was miserable. So I purchased the FOCUS T25 Challenge Pack that came with Shakeology, and gave it a try. In 4 months I lost 16 lbs., no longer crave junk food, can fit into clothes I haven't worn in 6 years, and am in a great mood all the time. Plus,my energy has significantly increased! Shakeology takes the guesswork out of eating and it's DELICIOUS!"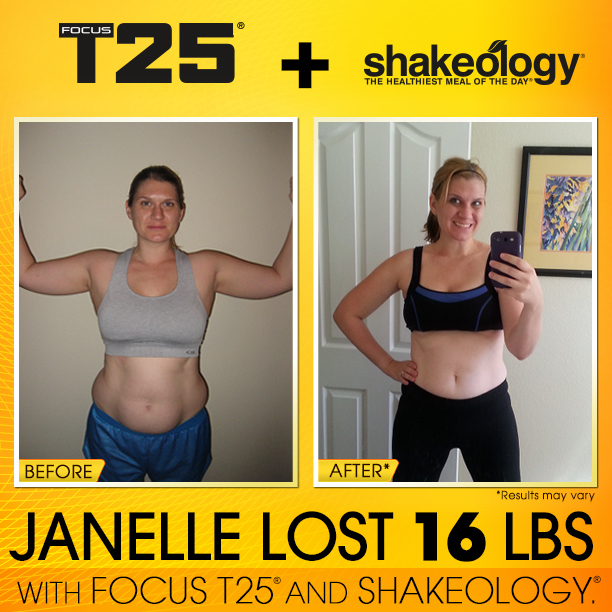 Shop T25 + Shakeology