"Shakeology: The Workouts were a great way to get back in shape. I lost 80 lbs ., I feel incredible, I won $1,000, and it's all thanks to Shakeology and the Shakeology DVDs."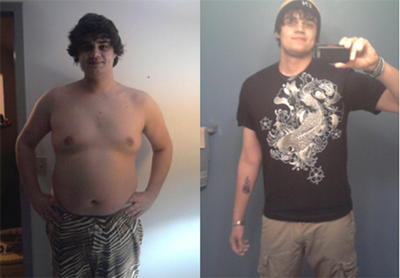 Tell us about your life before you started the program. How did you feel about yourself and your body? 
Before I started Shakeology: The Workouts, I was a very immobile and lazy person. I was completely embarrassed by my body and wore the largest and baggiest clothes I could find because I thought they would make me appear to be skinnier. I was wearing 4XL shirts and 42 waist pants at my worst. I felt like everywhere I went, especially restaurants, people were watching me and secretly making fun of me for how I looked. I had no confidence in myself whatsoever and was usually withdrawn from my peers.
What inspired you to change your life and begin your transformation journey? 
While on a vacation with my family last summer, I had sudden chest pains, trouble breathing, and could barely move. I was taken to the emergency room and the doctor told me that I needed to start treating my body right, or I'd be lucky to reach my mid-30s. I was scared but I could tell my family was really scared for me. I had done a lot of research on what I should choose to get in shape, and I came across Shakeology and read through pages upon pages of transformation stories.
What is the greatest challenge you faced before beginning the program? How did the program and Beachbody® help you overcome that challenge? 
The biggest challenge that I faced before doing this program was that I didn't have the motivation to make it to the gym every day and would come up with an excuse to not go. The Shakeology DVDs helped me overcome this challenge because I would set them right in front of my TV every day and forced myself to put the DVD in and press play. When you're working out with a trainer through the DVD, you have an almost automatic reaction in that you want to push harder and try to keep up with them. It's like working out with a friend; the trainers provided a great sense of support and motivation, even though I was alone in my living room.
Why did you choose this particular program? 
Being obese, I didn't want anybody to see me working out, so public gyms were out of the question. I didn't want to be breaking a sweat after walking on the treadmill for five minutes while the fit people next to me were running as if they didn't have a care in the world. I needed a program that I could do within the privacy of my home, and I needed one that wasn't going to be a waste of time, which is why I decided to give Shakeology: The Workouts a try. The transformation stories were too good to pass up, not to mention the DVDs were free with my order of Shakeology. I actually looked forward to popping in the Shakeology DVD every day!
What in particular did you like about the program you chose? 
I was hesitant to try this program at first because I figured that if they were free with my Shakeology order, they weren't going to be very effective—how wrong I was. This program was effective because they provided a lower impact workout that I needed for my joints and were actually really fun. The trainers and participants in the video were awesome and made me want to push even harder. This program is great for people who want to take a break from their other programs.
Describe the results you achieved with your Beachbody program. Which achievements are you proud of? 
My results were more than just physical. I lost 80 lbs., and am now wearing Large and XL shirts—down from a 4XL! I have confidence that I never had before. I walk around with my chest out and my chin up high because I'm proud of what I not only accomplished, but also in the way I look.
How did Shakeology support your transformation? What are the greatest benefits?
Shakeology is incredibly delicious; something that's hard to come by in meal replacement shakes these days. I can say with 100% honesty, that after drinking Shakeology, you just feel healthier, even if you are sitting there on the couch, relaxing. After starting on Shakeology, I noticed that my overall health was much better. I haven't had a cold since . . . I don't even know when! I love that Shakeology fills you up as well.

If you have a Shakeology or Beachbody product Success Story of your own, submit it in the Beachbody Challenge™ like Brett for a chance to win up to $100,000! Click here for more details.
Results may vary