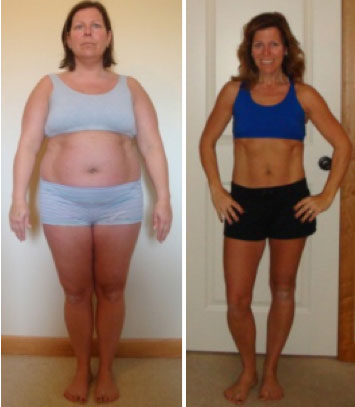 "I love Shakeology!!! It is so good for you and it made me feel as though I was taking a proactive step each day towards being healthier!"
What inspired you to change your life and begin your transformation journey?
My children are my inspiration. When I looked at my activity level and their activity level, we were on opposite ends of the spectrum. Fortunately a friend had found Beachbody workout programs and Shakeology a few months earlier and encouraged me to give it a try. (Prefacing it with, this isn't an overnight process.) I knew at this point in my life, I needed a program that was long term…I needed a lifestyle change!
Tell us about your life before you started the program. How did you feel about yourself and your body? 
Prior to starting my Beachbody Challenge in January 2012 I had hit a record (non-pregnant) high for my weight. I hated my body and was extremely self-conscious. I was lethargic, depressed and uncertain of what steps to take to get back on track with my weight and my health. I knew I needed to do something, but I didn't have the energy or the focus to lay out a plan of attack.
What is the greatest challenge you faced before beginning the program? 
I had always focused on dieting and not on my overall fitness. Turbo Fire, Les Mills Pump, ChaLean Extreme and Insanity helped me to realize that weight loss isn't the only goal I should have, thus helping me to adhere to the workout schedule. The workout schedule was a great motivator!!!
Why did you choose this particular program? 
The programs I chose have been based on my goals at the time, weight loss to strength building to toning, each program has had a major impact on reaching my goals! Top priority though is fun workouts that I enjoy doing! Whether it be the great music with TurboFire, the rockin' bodies of Les Mills Pump, the amazingly motivational Chalene, or most recently the overly zealous and fun Shaun T, they have all made working out enjoyable!
Describe the results you achieved with your Beachbody program. Which achievements are you proud of? 
I have regained my energy and confidence! I know that I can and will continue this journey to a healthier lifestyle! Most importantly my children, husband and family no longer view me as being on a diet, this is my new lifestyle!
How has your life changed since completing your Beachbody program? 
I have become more focused and active. My confidence is higher and I feel healthy, not just "fit". I love the knowledge I have gained about health and fitness and my ability to share it with others! Plus, I have met a new group of people who share the same goals for a healthier lifestyle!
Posted in Carl Daikeler, Inspiring Stories "Melanie T. Lost 75 lbs with Shakeology's Help"
Results may very